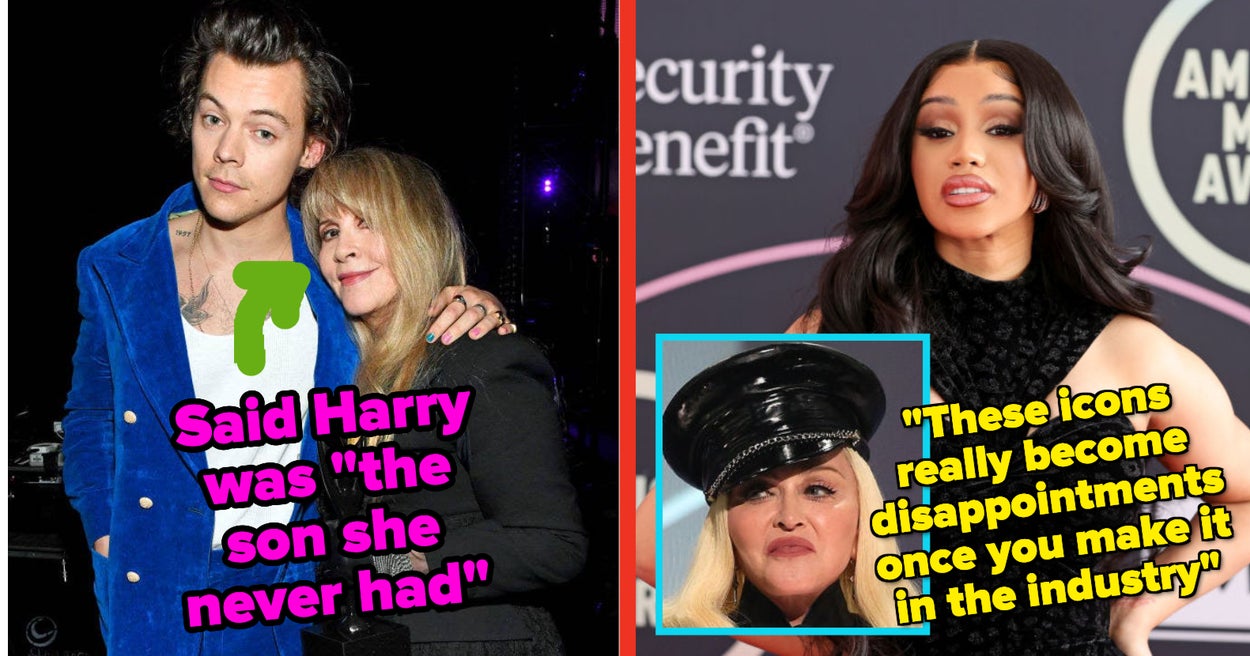 "These Icons Really Become Disappointments": 10 Spicy Feuds And Heartwarming Friendships Between Older Musicians And Younger Stars,I will never stop gushing about Lil Nas X and Elton John's friendship
"These Icons Really Become Disappointments": 10 Spicy Feuds And Heartwarming Friendships Between Older Musicians And Younger Stars
Older generations are often pitted against the younger, sometimes for good reason, and sometimes (honestly) for no reason at all.
In that spirit, here are a few Boomer/Gen X musicians that get along great with the younger generation, and a few more that…definitely don't.
1. In case you're new: Madonna recently brought up Cardi B by name in her Instagram story after discussing the backlash she received after publishing Sex, a book that, in addition to featuring photographs of Madonna kissing men and women, also described her sexual fantasies. In the story, she said, "Now Cardi B can sing about her WAP. Kim Kardashian can grace the cover of any magazine with her naked ass and Miley Cyrus can come in like a wrecking ball." She finished the story up with "You're welcome bitches…….🤡."
Jason Merritt / Getty Images, Tommaso Boddi / Getty Images for Fashion Nova
2. Cardi B and Madonna have since reconciled, but this isn't the first time that Madonna has been in a so-called feud with another artist. As artists, Madonna and Lady Gaga have often had their music compared to one another, despite the fact that neither seems to enjoy the comparison. In 2012, Madonna called Gaga's single "Born This Way" "reductive" in an ABC News interview with Cynthia McFadden after the song had been compared to Madonna's song "Express Yourself," though she didn't specify if that was a good or bad thing.
3. Stevie Nicks and Harry Styles are close pals today, with Stevie once having called Harry Styles "the [son] she never had" in an interview with Vogue and added, "So, I adopted him." The pair apparently became friends after Styles presented Nicks with a carrot cake backstage at a Fleetwood Mac concert.
The two have performed together as well, with Nicks joining Styles on stage to perform her hit song, "Landslide." Styles gushed about the singer while inducting her into the Rock & Roll Hall of Fame in 2019. He said, "If you're lucky enough to know her, she's always there for you. She knows what you need, advice, a little wisdom, a blouse, a shawl. She's got you covered."
4. In 2020, Courtney Love accused Olivia Rodrigo of copying her band Hole in Rodrigo's promotional imaging for her album, Sour. Originally, Love posted a side-by-side image of Rodrigo's photo beside Hole's album cover for Live Through This, both featuring crying prom queens. Love captioned the image: "Spot the difference! #twinning!" and tagged Olivia Rodrigo. Love clarified in later comments that she felt that Rodrigo should have reached out to her as she felt that she was recreating Hole's album cover, and said, "It was rude of her, and Geffen [Rodrigo's record label] not to ask myself or Ellen von Unwerth. It's happened my whole career so i.d.c. But manners is manners."
Rodrigo actually responded to Love's post, commenting, "love u and live through this sooooo much." However, Love still seemed upset, and responded, "Olivia — you're welcome. My favorite florist is in Notting Hill, London! Dm me for deets! I look forward to reading your note!"
Ellen von Unwerth is the original photographer for the Live Through This album cover. Unwerth told the New York Times, "People copy all the time, they call it homage, but sometimes, the copy is just too blatant, and it is quite annoying." However, she added, "I'd love to meet Olivia Rodrigo. I think she's a wonderful young artist with a cool universe. … I could offer my vision to the team and make a truly original project!"
5. Miley Cyrus's godmother is actually country music star, Dolly Parton, and the two have a wonderful relationship. Cyrus discussed Parton visiting the set of Hannah Montana to guest star in a few episodes. Recalling the moment on The Tonight Show with Jimmy Fallon, she said, "That's one of those proud moments where people started saying, 'So, you call her Aunt Dolly. Is that your real aunt?' I'm like, 'Yes, she is!'"
Parton has also discussed the close relationship and mentioned that Cyrus will sometimes call her for advice, though both are sure to keep their independence. In an interview with the Evening Standard, Parton said, "If she needs my opinion on something, I will surely give it, and there have been times we've talked. But I would never dream of calling her and saying, 'Well, why are you doing this?' or 'You shouldn't do this or that.'"
Cyrus also commended her godmother in Parton's induction into Time's 100 Most Influential People, and said, "There's a theory that you shouldn't meet your heroes, but I wish everyone had the chance to meet Dolly Parton because she's even better than your sparkliest dreams." Cyrus also discussed looking to Parton as a mentor, both personally and professionally. She also told Cosmopolitan, "She's [Parton] taught me a lot about how you treat people. She always says hi to the person on the bottom of the call sheet. I love that." She also said that she tries to keep Parton updated on her life.
6. Parton also has a good relationship with Lil Nas X, who covered her song "Jolene" on Live Lounge. Parton responded on Instagram, "I was so excited when someone told me that Lil Nas X had done my song 'Jolene.' I had to find it and listen to it immediately…and it's really, really good." Parton added, "Of course, I love him anyway. I was surprised, and I'm honored and flattered. I hope he does good for both of us." Lil Nas X responded, rather aptly, "Holy SHIT."
7. Miley Cyrus and the late Foo Fighters drummer Taylor Hawkins were actually neighbors for a while, which Miley later tweeted about after his death, and said, "Growing up on a farm, I never could see the light of another house nearby, but living by Taylor for the years that I did out in LA were some of the most fun times of my life." She also shared a voicemail she had saved from Hawkins, who recommended that she someday cover a Def Leppard song. Cyrus later performed the song "Photograph."
Cyrus also added, "I miss Taylor so much like everybody else. It was such an honor to celebrate him last night. … So lucky to have known him not just as a superstar but to have spent time watching him just be a dad and a husband!"
8. Lady Gaga and Tony Bennett first met in 2011, where Bennett asked Gaga to sing a duet with him on his latest album. The two performed "The Lady Is a Tramp" together on Bennett's album Duets II. The two have since recorded two albums together, Cheek to Cheek and Love for Sale. Gaga expressed excitement at the relationship, and said to AARP, "The fact that Tony sees me as a natural-born jazz singer is still something that I haven't gotten over."
In 2021, Gaga and Bennett performed in concert together. At the end, Gaga said to Bennett, "Tony, we're all so grateful to have witnessed your talent, your generosity, your creativity, your kindness, and your service through all the years."
Amidst the duo's musical partnership, Bennett's family revealed that the singer had been diagnosed with Alzheimer's. Gaga recalled their introduction at the concert, and said, "When I walked out on that stage and he said, 'It's Lady Gaga,' my friend saw me, and it was very special." She continued, "I think what's been beautiful about this and what's been challenging is to see how it affects him in some ways, but to see how it doesn't affect his talent. I think he really pushed through something to give the world the gift of knowing that things can change and you can still be magnificent."
9. Lil Nas X and Elton John also struck up a friendship after appearing together in a number of different Uber Eats spots. John later said in an interview with Bustle that the two got on "like a house on fire," and even filmed a spot where the two swapped iconic looks. Here's a peek:
Elton has also commended Lil Nas X for his representation in the queer community. He said, "He's very smart. He's very intelligent. He uses his words wisely. And he's very, very courageous. We need more people like that in the LGBTQ community. … I took to him like a bee to honey. I just thought this is someone I love already."
Lil Nas X has also looked up to Elton John for a period as well, which is one of the reasons he asked John to feature in a song on his latest album, Montero. Lil Nas X described the decision to ask John to appear on the album, and explained, "I felt like I needed someone to add that extra oomph and someone who's probably been through similar situations, such as myself."
10. And finally, a "feud" that became a great friendship: In an interview, Whitney Houston was asked what she thought of Mariah Carey, to which the singer responded, "I don't think of her." This sparked rumors of a rivalry between the two, who audiences already saw as competing musically. However, Carey and Houston squashed rumors of a feud by performing a song together and even made fun of the rumors by appearing together at an awards show.