Jeff Cook's Family Has Special Request in Lieu of Flowers After Alabama Co-Founder's Death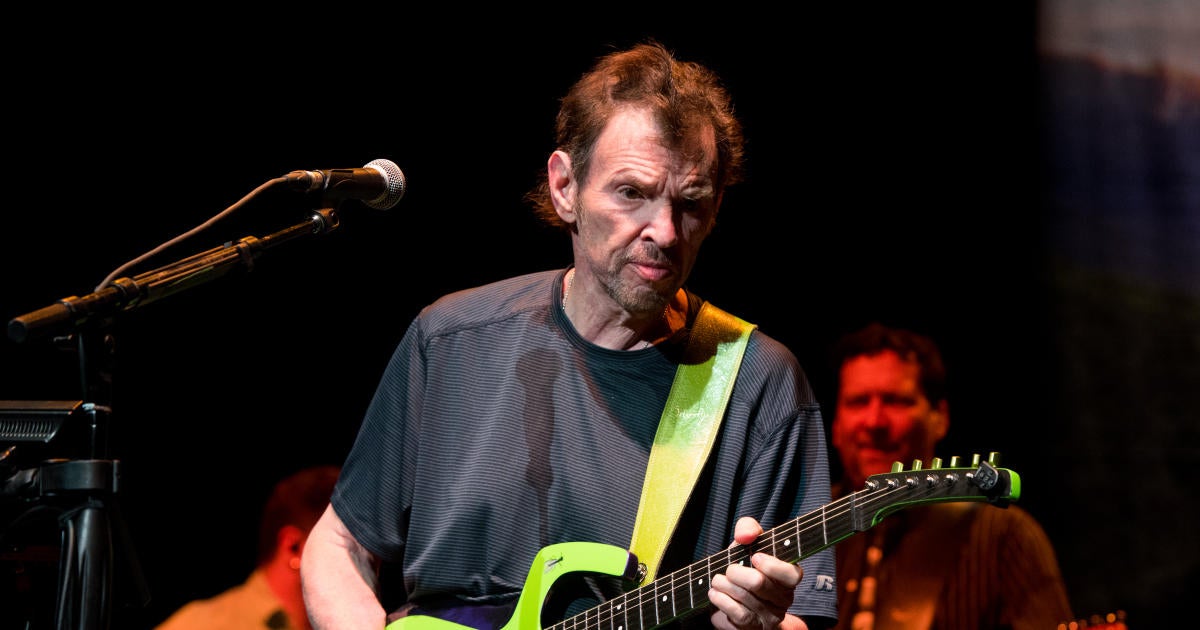 Jeff Cook's Family Has Special Request in Lieu of Flowers After Alabama Co-Founder's Death,The family of late Alabama co-founder Jeff Cook is looking to honor the beloved musician in a special way. Following Cook's death Monday at 73 after a long battle with Parkinson's disease, the musician's family has asked that in lieu of flowers, those looking to pay their respects make a donation [...]
Jeff Cook's Family Has Special Request in Lieu of Flowers After Alabama Co-Founder's Death
The family of late Alabama co-founder Jeff Cook is looking to honor the beloved musician in a special way. Following Cook's death Monday at 73 after a long battle with Parkinson's disease, the musician's family has asked that in lieu of flowers, those looking to pay their respects make a donation to The Jeff and Lisa Cook Foundation.
Founded in November 2021, eight years after Cook was diagnosed with Parkinson's disease and four years after he stopped touring with the famed country music band, The Jeff and Lisa Cook Foundation aims "to bring like-minded people together to inspire and educate for the well-being of all those involved," per the organization's website. The foundation was formed out of a desire to help educate and supply resources for people to "better help themselves and each other." Per the website, while we are fully aware of the journey, too often we face how it can take a toll on the caregivers. We want to help educate and give comfort to those who give so much of themselves. It is Jeff and Lisa's desire to assist and encourage as many people as possible." Donations to the foundation can be made via The Jeff and Lisa Cook Foundation website here or sent to P.O. BOX 680067, Fort Payne, AL 35968.
Born in Fort Payne, Alabama on Aug. 27, 1949, Cook died Monday at his Destin, Florida home while surrounded by family and close friends. His exact cause of death was not disclosed, though he long battled Parkinson's disease.
Cook's interest in music began young, the musician playing guitar and keyboards as a teenager before working as a local radio DJ and later owning radio and TV stations. He is best known, however, as one-third of Alabama, the country music band he and two of his cousins, guitarist Randy Owen and bassist Teddy Gentry, formed in the '60s. Regarded as one of the best-selling bands in country music history, Alabama's 1980 single "Tennessee River" started a streak of 21 number-one singles, with other hits including "Live in the First Degree," "Dixieland Delight," "Song of the South," "If You're Gonna Play in Texas (You Gotta Have a Fiddle in the Band)," and "Can't Keep a Good Man Down." The band enjoyed 13 Grammy nominations and two wins. In 2019, Cook was inducted into the Musicians Hall of Fame and Museum in Nashville. He is also a member of both the Country Music Hall of Fame and Fiddlers Hall of Fame.
0comments
Cook is survived by his wife of 27 years, Lisa Cook, mother Betty Cook, brother David Cook, Crystal Cook, father-in-law Jerrial Williams and brother-in-law Randy Williams, among several nieces and nephews. A "Celebration of Life" is set to be held at a later time, with details forthcoming.
Related News & Content
Aaron Carter Dead: Pop Stars and Celebrities Mourn the Late Singer

Aaron Carter Dead: Pop Stars and Celebrities Mourn the Late Singer,Aaron Carter passed away this weekend, leaving other entertainers shocked and grieving. The pop star was just weeks away from turning 35 years old, and appeared to be on the road to recovery in recent years. Social media filled with eulogies for the 'I Want Candy' singer.Carter was found dead at [...]

Tags: Aaron Carter Backstreet Boys cause of death Celebrity Couples Celebrity Deaths Christy Carlson Romano Death Hilary Duff I Want Candy Melissa Joan Hart New Kids on the Block Nick Carter popculture.com

Aaron Carter: Cause of Death After Pop Singer Found in Bathtub Remains Unclear

Aaron Carter: Cause of Death After Pop Singer Found in Bathtub Remains Unclear,Aaron Carter was found dead in the bathtub at his Lancaster, California home on Saturday. Authorities have not released a cause of death yet. The 34-year-old Carter struggled with addiction throughout his adult life and had begun an outpatient recovery program in September to regain custody of [...]

Tags: Aaron Carter brother cause of death Celebrity Deaths Death Music Nick Carter popculture.com sibling

'70s Rock Legend Nik Turner Dead at 82

'70s Rock Legend Nik Turner Dead at 82,Nik Turner, the multi-instrumentalist and member of the space rock pioneers Hawkwind, has died. He was 82. Tuner died on Thursday, Nov. 10, his family announced on his Facebook page.'We are deeply saddened to announce the passing of Nik Turner – The Mighty Thunder Rider, who passed away [...]

Tags: Celebrity Deaths dead Death hawkwind Music Music News nik turner popculture.com

'70s Rock Legend Nik Turner Dead at 82

'70s Rock Legend Nik Turner Dead at 82,Nik Turner, the multi-instrumentalist and member of the space rock pioneers Hawkwind, has died. He was 82. Tuner died on Thursday, Nov. 10, his family announced on his Facebook page.'We are deeply saddened to announce the passing of Nik Turner – The Mighty Thunder Rider, who passed away [...]

Tags: Celebrity Deaths dead Death hawkwind Music Music News nik turner popculture.com

Christine McVie Dead at 79: Stevie Nicks Mourns Fleetwood Mac Bandmate

Christine McVie Dead at 79: Stevie Nicks Mourns Fleetwood Mac Bandmate,Christine McVie, who wrote dozens of classic songs as a member of Fleetwood Mac, died on Wednesday. The music world, including her bandmates, is in mourning. Stevie Nicks remembered McVie as her 'best friend in the whole world' since they first met in 1975. McVie was 79.In a handwritten note [...]

Tags: cause of death Christine McVie Death Fleetwood Mac john mcvie lead vocals Music popculture.com Stevie Nicks

Aaron Carter Rapped About Being 'Gone But Not for Long' in Final Song

Aaron Carter Rapped About Being 'Gone But Not for Long' in Final Song,Aaron Carter's final song before his death included lyrics where he seemed to reflect on his own mortality. 'Lately' by Checkthestar featuring Aaron Carter was released just two days before Carter was found dead in his home in Palmdale, California. His verse now has grieving fans pondering his [...]

Tags: Aaron Carter Backstreet Boys cause of death Celebrity Deaths Death I Want Candy Music Nick Carter popculture.com

DJ Oz Mafra Dies After Being Struck by Falling Lighting Equipment

DJ Oz Mafra Dies After Being Struck by Falling Lighting Equipment,DJ Oz Mafra has died following a tragic accident in Brazil. The popular DJ, real name Osnir Silvino dos Santos Mafra, passed away on Thursday, Nov. 10, days after he was rushed to a local hospital in his native Brazil after he suffered serious injuries when a piece of lighting equipment fell and [...]

Tags: Celebrity Deaths Death DJ Oz MAfra Music popculture.com

B. Smyth, R&B Singer, Dead at 28

B. Smyth, R&B Singer, Dead at 28,B. Smyth, the R&B singer best known for his hits like 'Leggo' and 'Twerkaholic,' has died. Smyth passed away Thursday morning 'from respiratory failure after a long battle with pulmonary fibrosis,' his older brother Denzil confirmed on social media that same day. The singer was 28. Denzil shared [...]

Tags: B. Smyth cause of death Celebrity Deaths Death fibrosis Leggo Music popculture.com pulmonary fibrosis singer

DJ Oz Mafra Dies After Being Struck by Falling Lighting Equipment

DJ Oz Mafra Dies After Being Struck by Falling Lighting Equipment,DJ Oz Mafra has died following a tragic accident in Brazil. The popular DJ, real name Osnir Silvino dos Santos Mafra, passed away on Thursday, Nov. 10, days after he was rushed to a local hospital in his native Brazil after he suffered serious injuries when a piece of lighting equipment fell and [...]

Tags: Celebrity Deaths Death DJ Oz MAfra Music popculture.com

Quavo Remembers Takeoff in Emotional Tribute

Quavo Remembers Takeoff in Emotional Tribute,Quavo is mourning the loss of his nephew and fellow Migos rapper Takeoff, who was fatally shot outside a Houston bowling alley on Nov. 1. Just a day after celebrities and fans gathered for a Celebration of Life service in Atlanta, Georgia, the musician took to Instagram to pen an emotional tribute [...]

Tags: Celebrity Deaths Death funeral Migos Music popculture.com Quavo rap music rapper Takeoff

Christine McVie Dead at 79: Stevie Nicks Mourns Fleetwood Mac Bandmate

Christine McVie Dead at 79: Stevie Nicks Mourns Fleetwood Mac Bandmate,Christine McVie, who wrote dozens of classic songs as a member of Fleetwood Mac, died on Wednesday. The music world, including her bandmates, is in mourning. Stevie Nicks remembered McVie as her 'best friend in the whole world' since they first met in 1975. McVie was 79.In a handwritten note [...]

Tags: cause of death Christine McVie Death Fleetwood Mac john mcvie lead vocals Music popculture.com Stevie Nicks

Mimi Parker of Indie Rock Band Low Has Died

Mimi Parker of Indie Rock Band Low Has Died,Mimi Parker, the drummer and founding member of the indie rock band Low, has died. Parker was diagnosed with ovarian cancer in December 2020, and the band canceled shows this year while she received treatment. Parker and her husband, guitarist Alan Sparhawk, made up the core of the band.'Friends, [...]

Tags: cancer cause of death Celebrity Deaths Death Low Mimi Parker Music Music News musical ensemble popculture.com

Christine McVie, Fleetwood Mac Singer-Songwriter, Dead at 79

Christine McVie, Fleetwood Mac Singer-Songwriter, Dead at 79,Fleetwood Mac singer-songwriter Christine McVie has died. McVie, known for penning the group's songs 'Little Lies,' 'Everywhere,' 'Don't Stop,' 'Say You Love Me,' and 'Songbird,' passed away peacefully at a hospital Wednesday morning, her family confirmed in a statement shared to McVie's Facebook. [...]

Tags: cause of death Celebrity Deaths Christine McVie Death Fleetwood Mac Music popculture.com Songbird

Takeoff Funeral: Details for Public Memorial for Migos Rapper Revealed

Takeoff Funeral: Details for Public Memorial for Migos Rapper Revealed,The public funeral arrangements for Migos rapper Takeoff were announced on Tuesday. His family will host a Celebration of Life memorial on Friday, Nov. 11 at State Farm Arena in Atlanta. Takeoff, whose real name is Kirsnick Khari Ball, was killed in a shooting outside a Houston bowling alley on [...]

Tags: Age Death funeral Georgia Justin Bieber Migos Music popculture.com Quavo shooting state farm arena Takeoff

Nick Carter Breaks Down on Stage Mid-Performance After Brother Aaron Carter's Death

Nick Carter Breaks Down on Stage Mid-Performance After Brother Aaron Carter's Death,The Backstreet Boys performed at London's O2 arena Sunday, less than 24 hours after Nick Carter's brother Aaron Carter died. During the concert, Carter broke down in tears while trying to finish his verse on 'Show Me The Meaning of Being Lonely.' His bandmates AJ McLean, Howie Dorough, Kevin [...]

Tags: Aaron Carter Backstreet Boys brother Death Music Nick Carter popculture.com tribute

Jerry Lee Lewis, 'Great Balls of Fire' Singer, Still Alive Despite TMZ Death Report

Jerry Lee Lewis, 'Great Balls of Fire' Singer, Still Alive Despite TMZ Death Report,UPDATE: Jerry Lee Lewis, also known as The Killer, is confirmed to be dead now, Friday, Oct. 28, 2022. Read the full story here. PREVIOUSLY: Jerry Lee Lewis, one of the last living architects of rock and roll, is still alive. TMZ previously reported that the 'Great Balls of Fire' singer passed [...]

Tags: Celebrity Deaths Country Music Death Music Music News obituary popculture.com songs

Quavo Remembers Takeoff in Emotional Tribute

Quavo Remembers Takeoff in Emotional Tribute,Quavo is mourning the loss of his nephew and fellow Migos rapper Takeoff, who was fatally shot outside a Houston bowling alley on Nov. 1. Just a day after celebrities and fans gathered for a Celebration of Life service in Atlanta, Georgia, the musician took to Instagram to pen an emotional tribute [...]

Tags: Celebrity Deaths Death funeral Migos Music popculture.com Quavo rap music rapper Takeoff

Aaron Carter Was Dealing With Custody Battle Ahead of His Death

Aaron Carter Was Dealing With Custody Battle Ahead of His Death,Prior to Aaron Carter's untimely death, he was dealing with custody issues with his on-again, off-again partner Melanie Martin. The Sun reported that in September, Carter opened up about the custody of his son, Prince, whom he shared with Martin. At the time, he shared in an interview that he was [...]

Tags: Aaron Carter Celebrity Parents Death Melanie Martin popculture.com son

'George and Tammy' Trailer Starring Michael Shannon and Jessica Chastain Arrives

'George and Tammy' Trailer Starring Michael Shannon and Jessica Chastain Arrives,The first trailer for Showtime's George and Tammy has arrived. The show stars Michael Shannon and Jessica Chastain as famed country music couple George Jones and Tammy Wynette, who were married from 1969 until 1975. The profoundly passionate relationship was notoriously tumultuous, as the new [...]

Tags: Country Music Death George & Tammy Jessica Chastain marriage Michael Shannon paramount network popculture.com Showtime singer singing Song TV

TV Meteorologist and Helicopter Pilot Die in Crash: What We Know About Jason Myers' and Chip Tayag's Deaths

TV Meteorologist and Helicopter Pilot Die in Crash: What We Know About Jason Myers' and Chip Tayag's Deaths,Pilot Chip Tayag and meteorologist Jason Myers died in a helicopter crash last week while reporting for WBTV's CBS affiliate in Charlotte, NC, confirmed the station via Deadline. 'The WBTV family is grieving a terrible loss. Our news helicopter Sky3 crashed mid-day Tuesday with two of our [...]

Tags: Death Helicopter Jason Myers Chip Tayag Jason Myers Chip Tayag crash Local News Meteorologist Helicopter Pilot Crash popculture.com Trending WBTV WBTV Meteorologist

'Little People, Big World': Amy Roloff Avoids Pumpkin Season With Ex Matt Roloff

'Little People, Big World': Amy Roloff Avoids Pumpkin Season With Ex Matt Roloff,Little People, Big World star Amy Roloff makes a major decision in this week's episode. The longtime TLC star told her husband, Chris Marek, she does not plan on being involved in Roloff Farms tours with her ex-husband, Matt Roloff, during this year's pumpkin season. This season has been one of [...]

Tags: Amy Roloff Big World Death Little People Matt Roloff matthew roloff News popculture.com pumpkin season Reality TV Roloff Farms TLC Tori Roloff Zach Roloff

'Little People, Big World': Amy Roloff Avoids Pumpkin Season With Ex Matt Roloff

'Little People, Big World': Amy Roloff Avoids Pumpkin Season With Ex Matt Roloff,Little People, Big World star Amy Roloff makes a major decision in this week's episode. The longtime TLC star told her husband, Chris Marek, she does not plan on being involved in Roloff Farms tours with her ex-husband, Matt Roloff, during this year's pumpkin season. This season has been one of [...]

Tags: Amy Roloff Big World Death Little People Matt Roloff matthew roloff News popculture.com pumpkin season Reality TV Roloff Farms TLC Tori Roloff Zach Roloff

'The Masked Singer' Pays Emotional Tribute to Leslie Jordan During His Final Appearance

'The Masked Singer' Pays Emotional Tribute to Leslie Jordan During His Final Appearance,The Masked Singer paid tribute to frequent guest the late Leslie Jordan during Wednesday night's episode, bringing tears to viewers' eyes at home. The episode filmed over the summer was Jordan's final one as a guest panelist, as he filled in for judge Ken Jeong, who was out with COVID-19. Jordan, [...]

Tags: Call Me Kat Death Fox guests Leslie Jordan masked singer panel popculture.com Reality TV season The Masked Singer tribute

'The Masked Singer' Pays Emotional Tribute to Leslie Jordan During His Final Appearance

'The Masked Singer' Pays Emotional Tribute to Leslie Jordan During His Final Appearance,The Masked Singer paid tribute to frequent guest the late Leslie Jordan during Wednesday night's episode, bringing tears to viewers' eyes at home. The episode filmed over the summer was Jordan's final one as a guest panelist, as he filled in for judge Ken Jeong, who was out with COVID-19. Jordan, [...]

Tags: Call Me Kat Death Fox guests Leslie Jordan masked singer panel popculture.com Reality TV season The Masked Singer tribute

'Little People, Big World': Amy Roloff Is Not Dead, TLC Star Was Targeted by Death Hoax

'Little People, Big World': Amy Roloff Is Not Dead, TLC Star Was Targeted by Death Hoax,Amy Roloff is not dead. The Little People, Big World star was the subject of a death hoax, traced to a scammy Facebook page. Roloff, 60, has posted several photos and videos on Instagram since the Facebook post claiming she was deceased was published.On Nov. 19, a Facebook page called 'Video [...]

Tags: Amy Roloff Big World Death Divorce Facebook Husband Little People Matt Roloff News popculture.com Reality TV TLC

'Little People, Big World': Amy Roloff Is Not Dead, TLC Star Was Targeted by Death Hoax

'Little People, Big World': Amy Roloff Is Not Dead, TLC Star Was Targeted by Death Hoax,Amy Roloff is not dead. The Little People, Big World star was the subject of a death hoax, traced to a scammy Facebook page. Roloff, 60, has posted several photos and videos on Instagram since the Facebook post claiming she was deceased was published.On Nov. 19, a Facebook page called 'Video [...]

Tags: Amy Roloff Big World Death Divorce Facebook Husband Little People Matt Roloff News popculture.com Reality TV TLC

Country Singer Jake Flint Dies at 37 Hours After His Wedding

Country Singer Jake Flint Dies at 37 Hours After His Wedding,Jake Flint, an up-and-coming Oklahoma country singer-songwriter, died on Sunday, just hours after marrying his wife Brenda Flint. He was 37. The Red Dirt performer's cause of death has not been determined, but his publicist said Flint died in his sleep.Flint's longtime publicist, Clif Royal, told [...]

Tags: cause of death Celebrity Deaths Country Music Death jake flint popculture.com singer Singer Songwriter songwriter wife

Jeff Cook, Legendary Alabama Co-Founder, Dead at 73 Following Health Battle

Jeff Cook, Legendary Alabama Co-Founder, Dead at 73 Following Health Battle,Country music legend Jeff Cook passed away earlier this month, according to The Tennessean. Cook is best known as a founding member of the band Alabama, performing hits that owned the '90s country chart. A representative for the group confirmed the news of his death in a statement. Cook died at [...]

Tags: Alabama Alabama US Celebrity Deaths Country Music musical ensemble popculture.com Randy Owen Teddy Gentry

Jeff Cook Dead at 73: Alabama Co-Founder Dies After Health Battle

Jeff Cook Dead at 73: Alabama Co-Founder Dies After Health Battle,Country music star Jeff Cook passed away on Monday, according to a report by The Tennessean. Cook was a founding member of the band Alabama, and a representative for the group confirmed the news of his death on Tuesday afternoon. Cook died at home after a prolonged battle with Parkinson's [...]

Tags: Alabama Alabama US Celebrity Deaths Country Music musical ensemble popculture.com Randy Owen Teddy Gentry

Jeff Cook's Family Has Special Request in Lieu of Flowers After Alabama Co-Founder's Death

Jeff Cook's Family Has Special Request in Lieu of Flowers After Alabama Co-Founder's Death,The family of late Alabama co-founder Jeff Cook is looking to honor the beloved musician in a special way. Following Cook's death Monday at 73 after a long battle with Parkinson's disease, the musician's family has asked that in lieu of flowers, those looking to pay their respects make a donation [...]

Tags: Alabama cause of death Celebrity Deaths Country Music Death Jeff Cook popculture.com

Jake Flint, Country Singer, Dies Hours After His Wedding

Jake Flint, Country Singer, Dies Hours After His Wedding,Jake Flint, an Oklahoma country singer-songwriter, died on Sunday, just hours after he and his wife Brenda married. He was 37. The Red Dirt performer's cause of death has not been determined.Flint's longtime publicist, Clif Royal, told The Oklahoman the musician died in his sleep after his [...]

Tags: cause of death Celebrity Deaths Country Music Death jake flint Oklahoma popculture.com red dirt singer songwriter

Jeff Cook's Death Sparks Tributes From Alabama Fans

Jeff Cook's Death Sparks Tributes From Alabama Fans,Country music fans are in mourning Tuesday following the death of Jeff Cook, one-third of the band Alabama. Cook was a founding member of the band, alongside his cousins, Randy Owen and Teddy Gentry. Cook died on Monday at 73, following a long battle with Parkinson's disease.The guitarist lived [...]

Tags: Alabama Country Music music ensemble Parkinson's disease popculture.com

Jeff Cook's Family Has Special Request in Lieu of Flowers After Alabama Co-Founder's Death

Jeff Cook's Family Has Special Request in Lieu of Flowers After Alabama Co-Founder's Death,The family of late Alabama co-founder Jeff Cook is looking to honor the beloved musician in a special way. Following Cook's death Monday at 73 after a long battle with Parkinson's disease, the musician's family has asked that in lieu of flowers, those looking to pay their respects make a donation [...]

Tags: Alabama cause of death Celebrity Deaths Country Music Death Jeff Cook popculture.com

Jerry Lee Lewis Dies at 87, Rep Confirms, After Previous Erroneous Death Report

Jerry Lee Lewis Dies at 87, Rep Confirms, After Previous Erroneous Death Report,Legendary rock and roll musician Jerry Lee Lewis has died, following a previous erroneous death report from TMZ. In a statement from one of Lewis's reps — sent to PopCulture.com by email — the singer's death was announced, writing, 'Somewhere in the world, in a mean little honky-tonk or big [...]

Tags: Celebrity Deaths Country Music Cousin Death Jerry Lee Lewis marriage popculture.com wife

2022 CMA Awards to Open With Special Tribute to Loretta Lynn

2022 CMA Awards to Open With Special Tribute to Loretta Lynn,It has been announced that the 2022 CMA Awards show will open with a special tribute to Loretta Lynn. No specific details were shared, but ET reports that it will be 'a star-studded tribute' to the 'Country Music Hall of Fame icon.' The 2022 CMA Awards will take place in Nashville, and is set to [...]

Tags: Celebrity Deaths CMA Awards Country Music Death funeral Husband Loretta Lynn marriage popculture.com

Jeff Cook, Legendary Alabama Co-Founder, Dead at 73 Following Health Battle

Jeff Cook, Legendary Alabama Co-Founder, Dead at 73 Following Health Battle,Country music legend Jeff Cook passed away earlier this month, according to The Tennessean. Cook is best known as a founding member of the band Alabama, performing hits that owned the '90s country chart. A representative for the group confirmed the news of his death in a statement. Cook died at [...]

Tags: Alabama Alabama US Celebrity Deaths Country Music musical ensemble popculture.com Randy Owen Teddy Gentry

Country Singer Jake Flint Dies at 37 Hours After His Wedding

Country Singer Jake Flint Dies at 37 Hours After His Wedding,Jake Flint, an up-and-coming Oklahoma country singer-songwriter, died on Sunday, just hours after marrying his wife Brenda Flint. He was 37. The Red Dirt performer's cause of death has not been determined, but his publicist said Flint died in his sleep.Flint's longtime publicist, Clif Royal, told [...]

Tags: cause of death Celebrity Deaths Country Music Death jake flint popculture.com singer Singer Songwriter songwriter wife

Jerry Lee Lewis' Final Photo Shows Legend in Ill Health While Visiting With Kris Kristofferson

Jerry Lee Lewis' Final Photo Shows Legend in Ill Health While Visiting With Kris Kristofferson,Following the death of Jerry Lee Lewis, many of the music legend's fans are reflecting in his final Instagram photo. The picture shows Lewis, who was in ill health at the time, during a visit with fellow music icon Kris Kristofferson. In the photo, which we've shared below, Lewis is seen in bed [...]

Tags: Celebrity Deaths Country Music Cousin Death Hank Williams Jr. Jerry Lee Lewis Kris Kristofferson marriage popculture.com wife

Jerry Lee Lewis Public Funeral Details Revealed

Jerry Lee Lewis Public Funeral Details Revealed,Jerry Lee Lewis' family shared details of the musician's public memorial and funeral services, set for this upcoming weekend. Lewis, one of the last surviving architects of rock and roll, died on Oct. 28 at 87. 'The Killer' was best known for his hits 'Whole Lotta Shakin' Goin' On' and 'Great [...]

Tags: Celebrity Deaths Country Music Death ferriday funeral hernando funeral home Jerry Lee Lewis Music News popculture.com

Husband of Late WWE Superstar Sara Lee Pens Emotional Message Two Weeks After Her Death

Husband of Late WWE Superstar Sara Lee Pens Emotional Message Two Weeks After Her Death,Former WWE Superstar Sara Lee died at the age of 30 on Oct. 5, and her husband has an emotional message for her. Cory Weston, who goes by the name Westin Blake in professional wrestling, went to Instagram to express his love for Lee. This is the first public message from Weston since his wife's [...]

Tags: cause of death Cory Weston Death popculture.com Sara Lee Sports wife WWE

Eddie Guerrero Remembered as an Icon on Anniversary of His Death

Eddie Guerrero Remembered as an Icon on Anniversary of His Death,On Nov. 13, 2005, professional wrestling star Eddie Guerrero died at the age of 38 of acute heart failure. It was a big loss for the pro wrestling world as Guerrero was one of the top stars in WWE. It was one year before his death that Guerrero defeated Brock Lesnar to win the WWE [...]

Tags: Anniversary Brock Lesnar Death Eddie Guerrero popculture.com professional wrestling Sasha Banks Sports Vickie Guerrero WWE

Mamamia recaps The Handmaid's Tale, season 5, episode 1: How to get away with murder.

Mamamia recaps The Handmaid's Tale, season 5, episode 1: How to get away with murder.,The Handmaid's Tale season 5 episode 1 recap: Fred is dead, Serena is emboldened and June has successfully got away with murder.

Samsung Galaxy Z Fold 4 vs. Galaxy S22 Ultra: Which ultra-premium phone deserves your love?

Samsung Galaxy Z Fold 4 vs. Galaxy S22 Ultra: Which ultra-premium phone deserves your love?,Choosing between two of today's most advanced smartphones

OPINION: The 'oversized' trend, and the lie we're told about plus-size clothes.

OPINION: The 'oversized' trend, and the lie we're told about plus-size clothes.,Oversized clothing is everywhere, but it doesn't consider the needs of the plus-size community. Here's what nobody's saying about the season

I am a new mum – I won lottery jackpot on the day I gave birth & here is the trick I used to pick my

I am a new mum – I won lottery jackpot on the day I gave birth & here is the trick I used to pick my lucky numbers,A NEW mum found fortune in more ways than one on the day she gave birth – as she scooped the jackpot on the lottery too. Brenda Gom

Disneyland Becomes 'Darkest Place On Earth' Following Man's Death

Disneyland Becomes 'Darkest Place On Earth' Following Man's Death,Disneyland Park located in Anaheim, California experienced the darkest of times over the weekend as a man reportedly killed himself.

What is Advent—and why do we mark it with treat-filled calendars?

The holiday, which gets its name from the Latin word for arrival, serves as a countdown to Christmas when Christians honor the birth of Jesus Christ. The post What is Advent—and why do we mark it with treat-filled calendars? first appeared on Science