Aaron Carter Played a Version of Himself in TV Pilot Before He Died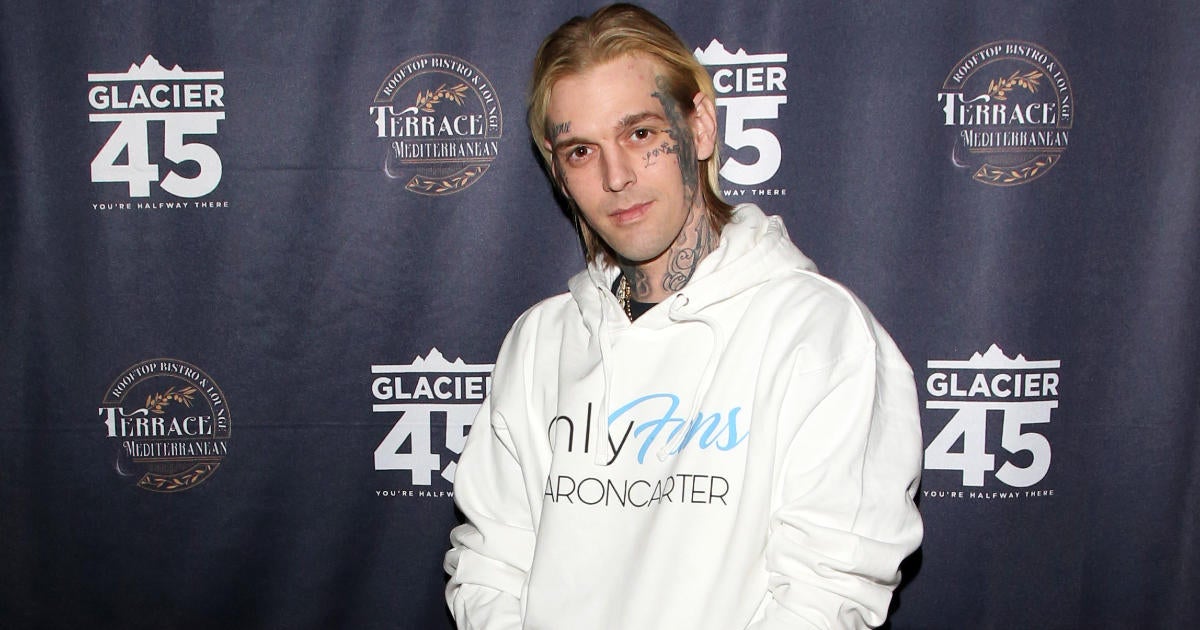 Aaron Carter Played a Version of Himself in TV Pilot Before He Died,Aaron Carter was reportedly working on a TV show ahead of his death, according to a report. TMZ reports that the singer had been part of filming the pilot for Group, a new sitcom that follows group therapy patients who are seeking help for mental health. Brian Farmer, the show's writer and [...]
Aaron Carter Played a Version of Himself in TV Pilot Before He Died
Aaron Carter was reportedly working on a TV show ahead of his death, according to a report. TMZ reports that the singer had been part of filming the pilot for Group, a new sitcom that follows group therapy patients who are seeking help for mental health. Brian Farmer, the show's writer and director, revealed that he received the blessing of Carter's family to finish his work on the show in memory of the late star. Carter reportedly played a fictionalized version of himself on the pilot.
TMZ adds that Farmer spoke highly of his work with Carter, saying that the late musician was a pleasure to be around, and that working on the show was healthy for him as it gave Carter a goal to focus on. At this time, the Group pilot is in post-production, but Farmer will soon be shopping it to streaming services and TV networks. Additional stars of the show include Samm Levine (Freaks and Geeks), Anne Judson-Yager (Bring It On Again), Mike Starr (Dumb and Dumber), and Olive Chiacchia, who plays Carter's love interest. Notably, Chiacchia took to Instagram to mourn the singer, following his death, sharing photos and writing a lengthy memorial.
View this post on Instagram A post shared by Olive Chiacchia (@olivechiacchia)
"Aaron, this isn't how or why I wanted to post these photos," Chiacchia wrote. "I was waiting until the release of the pilot. I had the pleasure of playing your love interest in Group, and you were truly the most loving, professional, kind and talented performer I've worked with. I wish the world saw you the way I do, and saw your side of the story."
The actress continued, "Everyone knew your struggles, so I share this story in hopes that you will be remembered for your heart and your light. My heart goes out to your family, loved ones, Melanie, and your son." Chiacchia ended her memorial by writing "Until I see you on the other side" and then referring to her late friend as "bananerman," an apparent nickname she had for Carter. She concluded the post with "Rest In Peace."
TMZ was the first to report Carter's death over the weekend, though, at the time, the local sheriff's office only confirmed that an individual had been found and pronounced dead. The authorities had not yet shared the identity of the deceased. According to Deadline, the Los Angeles County Medical-Examiner Coroner's office confirmed Carter was pronounced dead at 11:14 AM Saturday, Nov. 5.
0comments
The former child pop star was reportedly found unresponsive in a bathtub at his Lancaster, California home. An autopsy was conducted on Sunday but Carter's cause of death currently remains undetermined. Deadline reports that "additional tests and studies have been requested and the official cause of death will be made once the results are in."
Related News & Content
Harrison Wagner's Girlfriend Sophia Bui Speaks out Following His Death

Sophia Bui, longtime girlfriend to General Hospital star Jack Wagner's son Harrison Wagner, has penned a heartfelt 'love letter' to her late beau following his death Monday at the age of 27. Sharing a photo with her 'babe' on Instagram Wednesday, the Top Gun: Maverick actress, also 27, paid [...]

Tags: cause of death Death General Hospital Jack Wagner Keycat Keytags popculture.com

Mickey Rooney Jr., Musician and Eldest Son of Mickey Rooney, Dead at 77

Mickey Rooney Jr., the oldest son of Hollywood legend Mickey Rooney and one of the original Mouseketeers died Saturday at his home in Glendale, Arizona at the age of 77, Deadline confirmed Monday. Rooney Jr.'s death was announced by former actor Paul Petersen on Facebook. Petersen didn't share his [...]

Tags: cause of death Celebrity Deaths Death Keycat Keytags Mickey Rooney popculture.com

NeNe Leakes Shares Emotional Tribute to Late Husband Gregg on His 'Heavenly Birthday'

NeNe Leakes is paying tribute to her late husband, Gregg Leakes, on what would have been the Real Housewives of Atlanta star's 67th birthday. NeNe took to Instagram Tuesday to share a throwback photo with Gregg, who passed away in September after a lengthy colon cancer diagnosis. He was [...]

Tags: Death Keycat Keytags Nene Leakes popculture.com The Real Housewives of Atlanta

Wynonna Judd Delivers Personal Message on One Month Anniversary of Mother Naomi's Death

Wynonna Judd is 'checking in' with her fans a month after losing mom Naomi Judd. Sunday, the 57-year-old songstress took to Instagram to look back on the difficult past few weeks in a personal update. 'Checking in. There is so much happening in the world right now. So before I sat down to write [...]

Tags: Ashley Judd cause of death Death Keycat Keytags Naomi Judd popculture.com Wynonna Judd

Robin Williams' Kids Remember Late Actor in Loving Tributes 8 Years After His Death

Robin Williams' children are honoring the late comedian eight years after his death. Thursday, the Mrs. Doubtfire actor's 39-year-old son, Zak Williams, took to social media to share a photo of his father as he reflected back on his legacy of kindness and humor. 'Dad, on the eighth anniversary of [...]

Tags: Death Keycat Keytags popculture.com Robin Williams Suicide Zak Williams Zelda Williams

John Stamos Upset After Bob Saget Absent from 2022 Tony Awards In Memoriam

John Stamos didn't hesitate to call out the Tony Awards after his late Full House co-star, Bob Saget, was noticeably excluded from the 'In Memoriam' segment at the 75th annual celebration. Stamos took to Twitter Sunday ahead of the broadcast with a scathing tweet, calling on the Tonys to 'do the [...]

Tags: Bob Saget cause of death Death Full House John Stamos Keycat Keytags popculture.com

Actress Ada Ameh Dies After Collapsing

Popular Nollywood actress Ada Ameh has died after collapsing suddenly on July 17, according to various reports. Ameh was 48 when President of the Actors Guild of Nigeria, AGN, Emeka Rollas confirmed that she died Sunday at a Nigerian National Petroleum Corporation hospital in Delta State, [...]

Tags: Celebrity Deaths Death Keycat Keytags popculture.com

Foo Fighters Release Details About Star-Studded Taylor Hawkins Tribute

The Foo Fighters have announced the star-studded lineup of their upcoming Taylor Hawkins tribute concerts to honor their late drummer, who died in March at the age of 50. Foo Fighters members Dave Grohl, Nate Mendel, Chris Shiflett, Pat Smear and Rami Jaffee will take the stage in September [...]

Tags: dave grohl Death Foo Fighters Keycat Keytags Lyrics popculture.com Taylor Hawkins

'American Graffiti' Actor Bo Hopkins' Cause of Death Revealed

Actor Bo Hopkins died at the age of 84 Saturday after suffering a heart attack on May 9, his wife of 33 years, Sian Eleanor Green, told Entertainment Weekly Sunday. The actor, who appeared in movies and television shows such as The Wild Bunch and American Graffiti throughout his storied career, [...]

Tags: cause of death Celebrity Deaths Death Keycat Keytags popculture.com

Josh Gad Mourns Unexpected Death of His Nephew

Josh Gad and his family are grieving the 'unimaginable loss' of his beloved nephew Marco, who died at age 20 over the weekend. The Frozen actor, 41, shared on Twitter Sunday that his nephew had passed away in his sleep over the weekend, and 'his life cut far too short.''Thank you all for your [...]

Tags: Death frozen Josh Gad Keycat Keytags nephew popculture.com

William 'Poogie' Hart, Lead Singer of The Delfonics, Dead at 77

William 'Poogie' Hart, the Grammy-winning lead singer of the iconic R&B band The Delfonics, died Thursday at the age of 77, TMZ was first to report. Hart's son confirmed to the outlet that his father had been having trouble breathing and was taken to Temple University Hospital in Philadelphia for [...]

Tags: cause of death Celebrity Deaths Death Keycat Keytags popculture.com

NeNe Leakes Shares Emotional Tribute to Late Husband Gregg on His 'Heavenly Birthday'

NeNe Leakes is paying tribute to her late husband, Gregg Leakes, on what would have been the Real Housewives of Atlanta star's 67th birthday. NeNe took to Instagram Tuesday to share a throwback photo with Gregg, who passed away in September after a lengthy colon cancer diagnosis. He was [...]

Tags: Death Keycat Keytags Nene Leakes popculture.com The Real Housewives of Atlanta

'One Tree Hill' Star Bevin Prince's Husband Dies After Being Struck by Lightning

One Tree Hill star Bevin Prince's husband, William Friend, has died after being struck by lightning. He was 33 years old. Friend was struck by lightning on Sunday while on a boat near Masonboro Island in North Carolina, according to the National Lightning Safety Council, and pronounced dead in an [...]

Tags: cause of death Death Jenna Dewan Kaley Cuoco Keycat Keytags Odette Annable One Tree Hill popculture.com

'Little People, Big World': Jacob Roloff's Wife Isabel Shares Sweet Tribute to His Late Grandpa

Isabel Rock is mourning the loss of husband Jacob Roloff's grandfather, Ronald James Roloff. After the death of Little People, Big World star Matt Roloff's father Sunday, Rock took to Instagram to share a beautiful tribute to the Roloff family patriarch, whom she saw as a grandfather figure in [...]

Tags: Big World cause of death Death Keycat Keytags Little People Matt Roloff popculture.com TLC

Ashley Judd Pays Emotional Tribute to Mom Naomi Judd After Country Music Hall of Fame Induction

Ashley Judd is paying tribute to her late mother, Naomi Judd, after The Judds' induction into the Country Music Hall of Fame Sunday night. Sharing a series of photos and videos on Instagram from the ceremony, as well as moments from throughout her family's time together, Ashley Judd shared a [...]

Tags: Ashley Judd cause of death Death Naomi Judd Wynonna Judd

William 'Poogie' Hart, Lead Singer of The Delfonics, Dead at 77

William 'Poogie' Hart, the Grammy-winning lead singer of the iconic R&B band The Delfonics, died Thursday at the age of 77, TMZ was first to report. Hart's son confirmed to the outlet that his father had been having trouble breathing and was taken to Temple University Hospital in Philadelphia for [...]

Tags: cause of death Celebrity Deaths Death Keycat Keytags popculture.com

Bob Saget's Widow Kelly Rizzo Remembers Him in Emotional Post on His 66th Birthday

Bob Saget's widow Kelly Rizzo is remembering the late comedian with a touching tribute as she celebrated what would have been the comedian's 66th birthday four months after the Full House star's sudden death on Jan. 9. Sharing photos and videos from a trip the couple took to Mexico for Saget's [...]

Tags: Bob Saget Candace Cameron Bure Death Full House Kelly Rizzo Keycat Keytags

Gregory Itzin, '24' Actor Who Played President Charles Logan, Dead at 74

Gregory Itzin, who played President Charles Logan on Fox's hit series 24, died on Friday. The actor, who also had a successful career on stage, was 74. Itzin's death was announced by 24 executive producer and director Jon Cassar, who did not specify his cause of death.'My friend Greg Itzin passed [...]

Tags: 24 cause of death Death Keycat Keytags Kiefer Sutherland popculture.com

Hilary Duff Calls Aaron Carter's Posthumous Memoir 'Unverified Clickbait'

Hilary Duff Calls Aaron Carter's Posthumous Memoir 'Unverified Clickbait',Hilary Duff has responded to the reports that Aaron Carter's posthumous memoir, "Aaron Carter: An Incomplete Story of an Incomplete Life," contains "unverified" information. His management called the book unauthorized.

Tags: Aaron Carter Books Celebrity celebrity memoir Death Hilary Duff Keycat Keytags Memoir Music News vulture.com

Carly Simon Pays Tribute to Her Sisters After Their Deaths One Day Apart from Cancer

The legendary singer lost oldest sister Joanna on Wednesday to thyroid cancer, and sister Lucy on Thursday to breast cancer.

Tags: CarlySimon Death Keycat Keytags toofab.com

Nick Cave and the Bad Seeds Frontman Mourns Death of 31-Year-Old Son Jethro Lazenby

Lazenby had just been released on bail after admitting to assaulting his mother -- no cause of death has been released.

Tags: Death RIP

Megan Hilty Breaks Silence After Tragic Loss of Sister's Family, Corrects Some Media Reports

Hilty's pregnant sister Lauren, brother-in-law Ross and nephew Remy were in a small float plane that crashed into Puget Sound on Sunday afternoon.

Tags: Death Keycat Keytags MeganHilty toofab.com

Chris Meredith, Guitarist for Grammy-Winning Albums, Has Died

Christopher Meredith, one of the most prominent bass players in reggae music who played on multiple Grammy-winning albums, has died. Meredith died at a hospital in Miami, Florida on Wednesday, July 27 following a weeks-long illness, his son, Chrissano, confirmed to The Gleaner. Meredith was [...]

Tags: bassist cause of death Celebrity Deaths Christopher Meredith Death Keycat Keytags musician popculture.com

Hall of Fame Musician Archie Roach Dead at 66

Archie Roach, the Indigenous Australian songwriter renowned for his debut single, the 1990 ballad 'Took the Children Away,' has died. Roach passed away at Warrnambool Base Hospital in Victoria, Australia in July following a long illness, his sons Amos and Eban Roach confirmed, per 7News.com.au. He [...]

Tags: Archie Roach casue of death Celebrity Deaths Death Keycat Keytags popculture.com

KK: Singer's Fans Mourn Music Legend's Death

Fans are mourning the loss of beloved Indian singer Krishnakumar Kunnath, known by the stage name of KK. Kunnath passed away Tuesday night in Kolkata, India just hours after the acclaimed 53-year-old singer performed at a concert in Nazrul Mancha, a venue at the Sir Gurudas Mahavidyalaya college, [...]

Tags: cause of death Celebrity Deaths Death India Keycat Keytags KK popculture.com singer

Hank Williams Jr.'s Wife Mary Jane Thomas' Cause of Death Released

Hank Williams Jr.'s wife Mary Jane Thomas died from a collapsed lung following an elective surgery the day before. More than four months after Thomas was found unresponsive on March 22, the Palm Beach County Medical Examiner on Monday, July 25 released Thomas' cause of death, officially ruling the [...]

Tags: cause of death Death Hank Williams Jr. Keycat Keytags Mary Jane Thomas popculture.com

Wynonna Judd and Carly Pearce Honor Naomi Judd During CMA Fest Performance

Wynonna Judd made her grand return to CMA Fest earlier this summer. The four-day star-studded festival took place from June 9 through June 12, with the event being broadcast on ABC and streamed on Hulu on Wednesday. During her return performance, Judd paid special tribute to her late mother, Naomi [...]

Tags: Carly Pearce cause of death Celebrity Deaths CMA Fest daughter Death Keycat Keytags Naomi Judd popculture.com Wynonna Judd

Jamie-Lynn Sigler Shares Father's Day Tribute to Late 'Sopranos' TV Dad James Gandolfini

Jamie-Lynn Sigler is continuing to remember her late Sopranos TV dad James Gandolfini nearly a decade after his death at the age of 51. In observance of the ninth anniversary of his tragic passing on Sunday, Sigler, who played the actor's on-screen daughter on the hit HBO show for eight years, [...]

Tags: actor cause of death Celebrity Deaths Death James Gandolfini Jamie Lynn Sigler Keycat Keytags Meadow Soprano popculture.com The Sopranos

Rockstar Cathal Coughlan Dies Following 'Long Illness'

Cathal Coughlan, the Irish singer-songwriter who fronted Microdisney and the Fatima Mansions, has died. Coughlan passed away at the age of 61 on Wednesday, May 18. His family announced his passing 'with deep sadness' in a statement shared across the musician's social media accounts, writing that [...]

Tags: Cathal Coughlan Celebrity Deaths Death Keycat Keytags Microdisney popculture.com The Fatima Mansions

Kailia Posey's Cause of Death Revealed, 'Toddlers and Tiaras' Star Family Speaks Out

Former Toddlers & Tiaras star Kailia Posey died by suicide. Just hours after news broke that the pageant star died at the age of 16, Posey's family confirmed in a statement to TMZ that 'although she was an accomplished teenager with a bright future ahead of her, unfortunately in one impetuous [...]

Tags: cause of death Celebrity Deaths Death Kailia Posey TLC TMZ Toddlers & Tiaras

Ashley Judd Eulogizes Mom Naomi at Nashville Memorial Celebration

Ashley Judd joined her sister Wynonna Judd and their stepfather Larry Strickland on Sunday to pay tribute to her mother, Naomi Judd, following her death in late April at the age of 76.Taking the stage at Ryman Auditorium in Nashville, Tennessee on Sunday, the actress began the memorial service, [...]

Tags: Ashley Judd cause of death Celebrity Deaths Death Keycat Keytags Naomi Judd Suicide tribute Wynonna Judd

Hank Williams Jr.'s Wife Mary Jane Thomas' Cause of Death Released

Hank Williams Jr.'s wife Mary Jane Thomas died from a collapsed lung following an elective surgery the day before. More than four months after Thomas was found unresponsive on March 22, the Palm Beach County Medical Examiner on Monday, July 25 released Thomas' cause of death, officially ruling the [...]

Tags: cause of death Death Hank Williams Jr. Keycat Keytags Mary Jane Thomas popculture.com

Steve Grimmett, '80s Metal Vocalist, Dead at 62

Steve Grimmett, the frontman of British heavy metal band Grim Reaper, has died. Grimmett passed away on Monday, Aug. 15 at the age of 62, his family confirmed in separate social media posts, with his wife, Millie, paying tribute on social media by writing, 'this is the hardest thing I've ever had [...]

Tags: cause of death Celebrity Deaths Death Grim Reaper Keycat Keytags popculture.com Steve Grimmett

New Details About 'General Hospital' Star Jack Wagner's Son Harrison's Death Revealed

Harrison Wagner, the son of General Hospital stars Jack Wagner and Kristina Wagner, died following a battle with addiction. Days after Wagner's death last week, his parents honored their son with the creation of The Harrison Wagner Scholarship Fund, revealing the 27-year-old's cause of death in a [...]

Tags: cause of death Celebrity Deaths Death General Hospital Jack Wagner Keycat Keytags Kristina Wagner popculture.com

'X Factor' Star Tom Mann's Fiancée Dies on Their Wedding Day

Tom Mann is mourning the death of his fiancée, Danielle Hampson. Mann, who competed on Season 11 of Britain's The X Factor in 2014, shared tragic news of Hampson's death on Monday, revealing that she passed away on Saturday, June 18, on what was supposed to be their wedding day. Hampson was 34. [...]

Tags: cause of death Death deaths engagement Keycat Keytags popculture.com the x factor Tom Mann

Comedian Jak Knight's Cause of Death Revealed

Comedian Jak Knight's death has been ruled a suicide by the Los Angeles County Medical Examiner-Coroner. Days after Knight's family announced his passing, a coroner's report obtained by PEOPLE confirmed the writer, actor and comedian's cause of death, revealing that Knight's body was found [...]

Tags: cause of death Celebrity Celebrity Deaths Comedian Death Jak Knight Keycat Keytags popculture.com

Naomi Judd's Husband Larry Strickland Speaks out on Her Death at Nashville Memorial Celebration

Country music icon Naomi Judd got an emotional and star-studded tribute during Sunday night's 'Naomi Judd: A River of Time Celebration' at Nashville's Ryman Auditorium. Among the string of tributes was an emotional speech from Judd's husband of 32 years, Larry Strickland, who took the stage [...]

Tags: Ashley Judd cause of death Celebrity Deaths Death Husband Keycat Keytags Naomi Judd Suicide the judds Wynonna Judd

Hank Williams Jr.'s Wife Mary Jane Thomas' Cause of Death Released

Hank Williams Jr.'s wife Mary Jane Thomas died from a collapsed lung following an elective surgery the day before. More than four months after Thomas was found unresponsive on March 22, the Palm Beach County Medical Examiner on Monday, July 25 released Thomas' cause of death, officially ruling the [...]

Tags: cause of death Death Hank Williams Jr. Keycat Keytags Mary Jane Thomas popculture.com

Rockstar Cathal Coughlan Dies Following 'Long Illness'

Cathal Coughlan, the Irish singer-songwriter who fronted Microdisney and the Fatima Mansions, has died. Coughlan passed away at the age of 61 on Wednesday, May 18. His family announced his passing 'with deep sadness' in a statement shared across the musician's social media accounts, writing that [...]

Tags: Cathal Coughlan Celebrity Deaths Death Keycat Keytags Microdisney popculture.com The Fatima Mansions

Hank Williams Jr.'s Wife Mary Jane Thomas' Cause of Death Released

Hank Williams Jr.'s wife Mary Jane Thomas died from a collapsed lung following an elective surgery the day before. More than four months after Thomas was found unresponsive on March 22, the Palm Beach County Medical Examiner on Monday, July 25 released Thomas' cause of death, officially ruling the [...]

Tags: cause of death Death Hank Williams Jr. Keycat Keytags Mary Jane Thomas popculture.com

'X Factor' Star Tom Mann's Fiancée Dies on Their Wedding Day

Tom Mann is mourning the death of his fiancée, Danielle Hampson. Mann, who competed on Season 11 of Britain's The X Factor in 2014, shared tragic news of Hampson's death on Monday, revealing that she passed away on Saturday, June 18, on what was supposed to be their wedding day. Hampson was 34. [...]

Tags: cause of death Death deaths engagement Keycat Keytags popculture.com the x factor Tom Mann

'Ain't No Mo' & 'A Beautiful Noise: The Neil Diamond Musical' – Broadway Reviews

'Ain't No Mo' & 'A Beautiful Noise: The Neil Diamond Musical' – Broadway Reviews,Two new productions opened on Broadway within the last few days, demonstrating that Broadway, at the very least, can accommodate works of remarkable diversity

NASA To Conduct Two Spacewalks Outside ISS in December; When Is The Schedule, How To Watch?

NASA To Conduct Two Spacewalks Outside ISS in December; When Is The Schedule, How To Watch?,Before 2022 is over, NASA plans to undertake two spacewalks. Read on to know the details. Two NASA astronauts will do a spacewalk on Saturday, December 3, to

Shania Twain Reveals She Had to Flatten Her Chest as a Child to Avoid Stepfather's Sexual Abuse

Shania Twain Reveals She Had to Flatten Her Chest as a Child to Avoid Stepfather's Sexual Abuse,Shania Twain Reveals She Had to Flatten Her Chest as a Child to Avoid Stepfather's Sexual Abuse Shania Twain is detailing her experience with her st

I am a new mum – I won lottery jackpot on the day I gave birth & here is the trick I used to pick my

I am a new mum – I won lottery jackpot on the day I gave birth & here is the trick I used to pick my lucky numbers,A NEW mum found fortune in more ways than one on the day she gave birth – as she scooped the jackpot on the lottery too. Brenda Gom

Keke Palmer Revealed She's Pregnant In Her "SNL" Monologue, And It's Amazing

Keke Palmer Revealed She's Pregnant In Her "SNL" Monologue, And It's Amazing,KEKE!!!!!

What is Advent—and why do we mark it with treat-filled calendars?

The holiday, which gets its name from the Latin word for arrival, serves as a countdown to Christmas when Christians honor the birth of Jesus Christ. The post What is Advent—and why do we mark it with treat-filled calendars? first appeared on Science