'The Calling' Star Jeff Wilbusch Recalls 'Out-of-Body Experience' Working With Barry Levinson (Exclusive)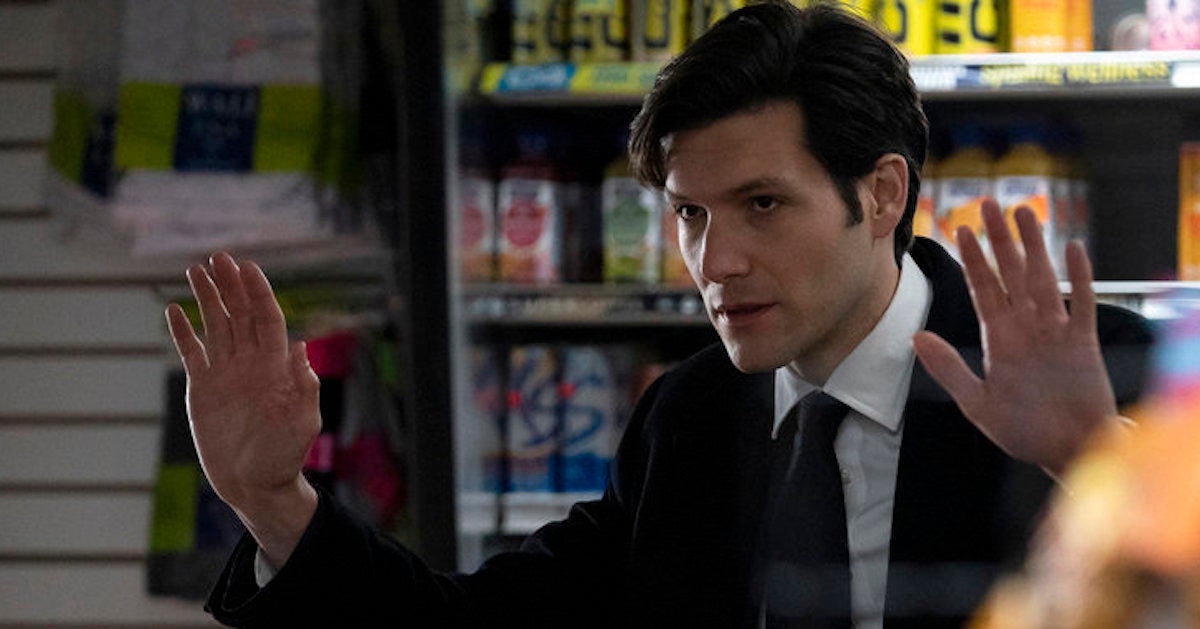 'The Calling' Star Jeff Wilbusch Recalls 'Out-of-Body Experience' Working With Barry Levinson (Exclusive),Even the cast of The Calling was starstruck working with the all-star executive producer/directing team of David E. Kelley and Barry Levinson. Jeff Wilbusch, who plays protagonist NYPD Detective Avraham Avraham in the upcoming Peacock crime drama, recalled an 'out-of-body experience' working [...]
'The Calling' Star Jeff Wilbusch Recalls 'Out-of-Body Experience' Working With Barry Levinson (Exclusive)
Even the cast of The Calling was starstruck working with the all-star executive producer/directing team of David E. Kelley and Barry Levinson. Jeff Wilbusch, who plays protagonist NYPD Detective Avraham Avraham in the upcoming Peacock crime drama, recalled an "out-of-body experience" working alongside the Oscar-winning director in an interview with PopCulture.com ahead of The Calling's Nov. 10 premiere.
"I still can't process that I just finished filming – I was a lead of a show that David E. Kelley produced. This is so amazing and thrilling," Wilbusch told PopCulture, before turning to co-star Juliana Canfield (Detective Janine Harris) with a memory of filming their first scene with Levinson. "He started talking to us and I had this out-of-body experience that I couldn't believe I'm standing in New York, I'm filming a show with Juliana and Barry Levinson is just talking to us for 10 minutes," Wilbusch recalled. "And I was [like], 'Juliana, Barry Levinson is talking to us,' and he was laughing and he was so kind. … It's such an honor."
Canfield said it was "really wonderful" working with the "legendary" Kelley and Levinson on the show, praising the duo as being "so generous with their gifts" in how they write and direct. "I just feel so lucky to have [gotten] to be a link in the chain of television and film history with [Levinson], because he brings this whole wealth of experience and history that now I feel like I had a little window into," she continued. "And that's just kind of irreplaceable."
Karen Robinson, who plays Captain Kathleen Davies, had a similarly enthusiastic response to working with the duo. "I remember when I received the first script and that's when it hit me … when I saw their names on the front page and then my name across it, because it was a script that was meant for me," she gushed to PopCulture. "Oh my god. Yeah, that was when it really hit me."
"And then to walk into a room with Barry Levinson and to have him take everything you bring to this character and shape it into something that is your best, there's nothing like that," the Schitt's Creek alum continued. "There's nothing like being directed by an actor's director who's been doing it forever and who understands it and who respects what you bring and is able to make you better."
0comments
Michael Mosley, who plays Detective Earl Malzone, agreed that there's nothing better when Levinson would give him the seal of approval with a choice he made on set. "Your heart just feels like, 'Oh man, I did something right. I made Barry giggle. I made him chuckle.' That's great," he said. The Calling is available to stream on Peacock on Thursday, Nov. 10.
Related News & Content
Stranger Things' David Harbour wants a role in the next God of War game

Stranger Things' David Harbour wants a role in the next God of War game,Star of Netflix's Stranger Things David Harbour is finally getting into the gaming sphere, and he wants a piece of the God of War pie.

Tags: casting Destructoid destructoid.com god of war God of War Ragnarok News Playstation Sony Santa Monica Studios stranger things

Wildly Popular Political Drama Gets Thanksgiving Marathon Treatment

Wildly Popular Political Drama Gets Thanksgiving Marathon Treatment,This weekend, HLN will broadcast a marathon of The West Wing while most families gather to celebrate Thanksgiving in the U.S. This will be the first time the CNN Worldwide channel has aired a scripted series, so it may be a major experiment. According to a report by Deadline, it was an idea [...]

Tags: casting CNN episode Pardon popculture.com The West Wing The West Wing Season 3 Toby Ziegler TV

'New Amsterdam' Series Finale Date Revealed

'New Amsterdam' Series Finale Date Revealed,New Amsterdam is coming to an end after five seasons, and the show's series finale date has finally been revealed. Deadline reports that the medical drama will return from its winter hiatus on Jan. 3. It will then take its final bow on Jan. 19 with a two-hour finale episode.New Amsterdam was [...]

Tags: casting episode Freema Agyeman NBC New Amsterdam popculture.com Ryan Eggold season television show TV

John Aniston's Final 'Days of Our Lives' Episode Revealed

John Aniston's Final 'Days of Our Lives' Episode Revealed,Days of Our Lives began a new era this fall when it moved from NBC to Peacock, and this new era faces another challenge. The show will have to continue without John Aniston, who was a fixture on the show for over three decades. His final episode will be released on Monday, Dec. 26. His most recent [...]

Tags: Days of Our Lives dead Jennifer Aniston John Aniston Peacock popculture.com TV Victor Kiriakis

Mandy Moore Lands Her Next Starring TV Role Following 'This Is Us'

Mandy Moore Lands Her Next Starring TV Role Following 'This Is Us',Mandy Moore has a new role lined up following the end of This Is Us. Deadline reported that Moore has been cast in the second season of Dr. Death. She will serve as the female lead in the Peacock series opposite Edgar Ramirez. Dr. Death is an anthology series based on the Wondery podcast of the [...]

Tags: Dr. Death Edgar Ramirez Mandy Moore Peacock popculture.com season 2 This is Us TV

'A Waltons Thanksgiving' Stars Logan Shroyer and Teddy Sears Talk 'Pretty Big' Holiday Movie, Dish on Holiday Traditions (Exclusive)

'A Waltons Thanksgiving' Stars Logan Shroyer and Teddy Sears Talk 'Pretty Big' Holiday Movie, Dish on Holiday Traditions (Exclusive),In 2021, America's iconic TV family The Waltons returned with a brand new made-for-TV film, The Waltons: Homecoming. This year they're doing it again in a brand new holiday special, A Walton's Thanksgiving, which airs Sunday night on The CW. Ahead of the movie's premiere, PopCulture.com had a [...]

Tags: actor casting episode john boy walton popculture.com Teddy Sears television show Thanksgiving The CW The Waltons TV

Barry Corbin Reveals Cancer Surgery – Latest on 'Yellowstone' and 'The Ranch' Actor's Condition

Barry Corbin Reveals Cancer Surgery - Latest on 'Yellowstone' and 'The Ranch' Actor's Condition,Yellowstone actor Barry Corbin recently underwent surgery to treat oral cancer, the veteran actor revealed in a new interview. Corbin, 82, was working on Tulsa King when he needed to take time off for the procedure. The real-life cowboy is known for his distinctive voice and played Four Sixes [...]

Tags: actor barry corbin cancer casting Northern Exposure popculture.com The Ranch Tulsa King TV wilford brimley Yellowstone

'Night Court' Reboot Gets NBC Premiere Date

'Night Court' Reboot Gets NBC Premiere Date,The upcoming Night Court reboot has had fans of the original series very excited, and now the show finally has a premiere date at NBC. THR reports that Night Court will kick off with two episodes on Jan. 17, as part of the network's new midseason Tuesday night comedy block that also features last [...]

Tags: actor casting episode John Larroquette Melissa Rauch NBC night court Night Court sequel popculture.com reboot television show TV

'The White Lotus' Season 2 Is Becoming a Huge Ratings Hit

'The White Lotus' Season 2 Is Becoming a Huge Ratings Hit,The White Lotus Season 2 continues to be a huge hit for HBO and HBO Max. The latest episode reached the most viewers so far for the show, created by Mike White. It is doing far better than the first season, and the show has already been renewed for a third season.The Sunday, Nov. 27 episode drew [...]

Tags: casting HBO HBO Entertainment HBO Max Mike White popculture.com Ratings season season 2 The White Lotus TV

'Yellowstone' Season 5: Fans Can't Wait Any Longer for New Episodes

'Yellowstone' Season 5: Fans Can't Wait Any Longer for New Episodes,Yellowstone Season 5 premieres on Sunday, but fans already can't wait any longer for the new episodes. The Paramount Network series is set to debut an explosive storyline this year, which series co-creator Taylor Sheridan teased may be 'taking chess pieces off the board.' Many fans have wondered [...]

Tags: casting paramount network popculture.com season Taylor Sheridan TV watch Yellowstone

Mandy Moore Lands Her Next Starring TV Role Following 'This Is Us'

Mandy Moore Lands Her Next Starring TV Role Following 'This Is Us',Mandy Moore has a new role lined up following the end of This Is Us. Deadline reported that Moore has been cast in the second season of Dr. Death. She will serve as the female lead in the Peacock series opposite Edgar Ramirez. Dr. Death is an anthology series based on the Wondery podcast of the [...]

Tags: Dr. Death Edgar Ramirez Mandy Moore Peacock popculture.com season 2 This is Us TV

Barry Corbin Reveals Cancer Surgery – Latest on 'Yellowstone' and 'The Ranch' Actor's Condition

Barry Corbin Reveals Cancer Surgery - Latest on 'Yellowstone' and 'The Ranch' Actor's Condition,Yellowstone actor Barry Corbin recently underwent surgery to treat oral cancer, the veteran actor revealed in a new interview. Corbin, 82, was working on Tulsa King when he needed to take time off for the procedure. The real-life cowboy is known for his distinctive voice and played Four Sixes [...]

Tags: actor barry corbin cancer casting Northern Exposure popculture.com The Ranch Tulsa King TV wilford brimley Yellowstone

John Aniston's Final 'Days of Our Lives' Episode Revealed

John Aniston's Final 'Days of Our Lives' Episode Revealed,Days of Our Lives began a new era this fall when it moved from NBC to Peacock, and this new era faces another challenge. The show will have to continue without John Aniston, who was a fixture on the show for over three decades. His final episode will be released on Monday, Dec. 26. His most recent [...]

Tags: Days of Our Lives dead Jennifer Aniston John Aniston Peacock popculture.com TV Victor Kiriakis

Dr. Phil Discusses New 3-Part Jeffery Dahmer Special: 'This Is a Sadistic, Cold Killer' (Exclusive)

Dr. Phil Discusses New 3-Part Jeffery Dahmer Special: 'This Is a Sadistic, Cold Killer' (Exclusive),This week on the Dr. Phil show, famed clinical psychologist Dr. Phil McGraw will spend three special episodes breaking down the truth behind the crimes of notorious serial killer Jefferey Dahmer. Viewers will get to hear from victims of Dahmer who escaped alive, as well as the sister of one of [...]

Tags: casting Dahmer Dahmer Monster The Jeffrey Dahmer Story Divorce Dr. Phil Dr. Phil McGraw episode jeffrey Dahmer popculture.com sister television show TV victim

'Westworld' Star Luke Hemsworth Reacts to Unexpected Series Cancelation

'Westworld' Star Luke Hemsworth Reacts to Unexpected Series Cancelation,Luke Hemsworth is speaking out following that devastating Westworld cancellation news. Just a week after it was confirmed that HBO would not be moving forward with Westworld Season 5, effectively canceling the popular series after just four seasons, the actor joined fans in expressing his shock, [...]

Tags: casting HBO Luke Hemsworth popculture.com season TV Westworld

'Yellowstone' Sees Major Character in Cuffs in Latest Episode

'Yellowstone' Sees Major Character in Cuffs in Latest Episode,The second episode of Yellowstone Season 5 was a real doozy, and found one major character winding up in handcuffs. During the episode, Beth Dutton (Kelly Reilly) lands a pretty big business win and comes home to her husband, Rip Wheeler (Cole Hauser), with the intention to celebrate. Please Note: [...]

Tags: casting episode popculture.com season television show TV watch Yellowstone

Dr. Phil Discusses New 3-Part Jeffery Dahmer Special: 'This Is a Sadistic, Cold Killer' (Exclusive)

Dr. Phil Discusses New 3-Part Jeffery Dahmer Special: 'This Is a Sadistic, Cold Killer' (Exclusive),This week on the Dr. Phil show, famed clinical psychologist Dr. Phil McGraw will spend three special episodes breaking down the truth behind the crimes of notorious serial killer Jefferey Dahmer. Viewers will get to hear from victims of Dahmer who escaped alive, as well as the sister of one of [...]

Tags: casting Dahmer Dahmer Monster The Jeffrey Dahmer Story Divorce Dr. Phil Dr. Phil McGraw episode jeffrey Dahmer popculture.com sister television show TV victim

Casey Anthony's Life Since Daughter Caylee's Murder

Casey Anthony's Life Since Daughter Caylee's Murder,Casey Anthony will always spark controversy and media attention due to her infamous past. Anthony hasn't wavered on her story much over the years since the murder of her daughter. The outcome of the trial that followed would set her free, but others involved in the not guilty verdict have shown [...]

Tags: Casey Anthony caylee anthony Docuseries Peacock popculture.com Trending True Crime

Casey Anthony Speaks out in Upcoming Peacock Documentary 'Where The Truth Lies'

Casey Anthony Speaks out in Upcoming Peacock Documentary 'Where The Truth Lies',Peacock is releasing a new documentary called Casey Anthony: Where The Truth Lies, which includes an interview with Anthony herself. Anthony has declined many interviews and avoided the public eye since she was found not guilty of murdering her daughter in 2011. The teaser for the new documentary [...]

Tags: Casey Anthony Documentary legal case Peacock popculture.com Television documentary Trending trial

'Alaskan Bush People': Raiven Brown Reveals Baby Bump Photo

'Alaskan Bush People': Raiven Brown Reveals Baby Bump Photo,Cameras may not be rolling on a new season of Alaskan Bush People just yet, but that isn't stopping Raiven Brown from giving fans a peek into her life. The Discovery Channel star is taking fans along with her on her pregnancy journey as she counts down the days to the arrival of her second child [...]

Tags: Alaskan Bush People Bear Brown casting Discovery Channel Family popculture.com Reality TV

'Love Without Borders': Danna's Dad Isn't Happy With Her International Dating Ventures Exclusive Premiere Sneak Peek

'Love Without Borders': Danna's Dad Isn't Happy With Her International Dating Ventures Exclusive Premiere Sneak Peek,Love Without Borders star Danna Richards is ready to risk it all for a shot at true love, even if that means going against her family's wishes. In a PopCulture.com exclusive sneak peek of Bravo's new dating show following five American singles who uproot their lives to move to a foreign country [...]

Tags: casting popculture.com Reality TV television show

'Family Karma': Amrit and Nicholas Prepare to Tell Monica About Rish's Cheating Rumors in Exclusive Sneak Peek

'Family Karma': Amrit and Nicholas Prepare to Tell Monica About Rish's Cheating Rumors in Exclusive Sneak Peek,Family Karma couple Amrit Kapai and Nicholas Kouchoukos are nervously gearing up to tell Monica Vaswani the rumors about boyfriend Rish Karam that have been swirling behind her back. In a PopCulture.com exclusive sneak peek of Sunday's new episode of the Bravo show, Amrit can't help but show his [...]

Tags: boyfriend Bravo Network casting episode Family Karma popculture.com Reality TV season

Sunday Night Football 2022: Time, Channel and How to Watch Packers vs Eagles

Sunday Night Football 2022: Time, Channel and How to Watch Packers vs Eagles,The Thanksgiving weekend edition of Sunday Night Football will feature a future Hall of Fame quarterback and a young quarterback on the rise. Aaron Rodgers and the Green Bay Packers will face Jalen Hurts and the Philadelphia Eagles. The game will start tonight (Nov. 27) at 8:20 p.m. ET on NBC. It [...]

Tags: Green Bay Packers November 27 Peacock Philadelphia Eagles popculture.com Sports Sunday Night Football

'Love it or List It' Star Hilary Farr and Jessica Szohr Talk HGTV's 'Charming' First Holiday Movie 'Designing Christmas' (Exclusive)

'Love it or List It' Star Hilary Farr and Jessica Szohr Talk HGTV's 'Charming' First Holiday Movie 'Designing Christmas' (Exclusive),Designing Christmas is the 'charming and fun' intersection of romance and home renovation that's sure to get you in the seasonal spirit, stars Jessica Szohr and Hilary Farr gush of HGTV's first holiday film. The Gossip Girl alum and Love It or List It star opened up about creating some holiday [...]

Tags: casting Designing Christmas HGTV Love It or List It Movies popculture.com television show

Amanda Seyfried Asks Lindsay Lohan If 'Mean Girls 2' Is Ever Going to Happen

Amanda Seyfried Asks Lindsay Lohan If 'Mean Girls 2' Is Ever Going to Happen,Even Amanda Seyfried and Lindsay Lohan would like to see a sequel to Mean Girls. In a new interview, Seyfriend asked her co-star if one would ever come to fruition, but they both agree that Tina Fey is too busy to write one. Lohan starred in Mean Girls as Cady Heron, while Seyfried played the [...]

Tags: Amanda Seyfried casting character Lindsay Lohan Mean Girls mean girls 2 Movies popculture.com sequel Tina Fey

'Twilight' Author Stephanie Meyer Reveals Who She Really Wanted to Play Edward

'Twilight' Author Stephanie Meyer Reveals Who She Really Wanted to Play Edward,Twilight author Stephanie Meyer had the perfect actor for Edward Cullen in mind before a then-unknown Robert Pattinson was cast in the part. She thought future Man of Steel actor Henry Cavill would be the best actor for the role, but he was too old to play the part in 2007. Cavill, who was 24 [...]

Tags: casting edward cullen film Harry Potter and the Goblet of Fire Henry Cavill Movies popculture.com Robert Pattinson stephanie meyer Twilight twilight saga vampire

'Love it or List It' Star Hilary Farr and Jessica Szohr Talk HGTV's 'Charming' First Holiday Movie 'Designing Christmas' (Exclusive)

'Love it or List It' Star Hilary Farr and Jessica Szohr Talk HGTV's 'Charming' First Holiday Movie 'Designing Christmas' (Exclusive),Designing Christmas is the 'charming and fun' intersection of romance and home renovation that's sure to get you in the seasonal spirit, stars Jessica Szohr and Hilary Farr gush of HGTV's first holiday film. The Gossip Girl alum and Love It or List It star opened up about creating some holiday [...]

Tags: casting Designing Christmas HGTV Love It or List It Movies popculture.com television show

'A Quiet Place: Day One' Casts 'Black Panther' Star to Lead

'A Quiet Place: Day One' Casts 'Black Panther' Star to Lead,The first A Quiet Place spin-off will have the necessary star power to draw in audiences. Black Panther: Wakanda Forever star Lupita Nyong'o will reportedly star in A Quiet Place: Day One. The film will be written and directed by Michael Sarnoski, who directed Nicolas Cage in Pig.Nyong'o is in [...]

Tags: a quiet place Black Panther black panther wakanda forever casting Horror John Krasinski Lupita Nyongo Michael Bay monster Movies Paramount+ popculture.com spin off

'Scream' Sequel Gets New Release Date

'Scream' Sequel Gets New Release Date,Scream fans won't have to wait as long for the franchise's next sequel, as a new release date has been announced. On Friday, Paramount Pictures revealed that the currently-untitled movie will open in theaters on March 10, 2023. The film was originally set to premiere in theaters on March 31, 2023, [...]

Tags: 2022 casting Movies Paramount Pictures popculture.com Scream 5 Scream 6 Scream Reboot streaming media trailer

Anne Hathaway Has Bad News for Those Asking for 'Devil Wears Prada' Sequel

Anne Hathaway Has Bad News for Those Asking for 'Devil Wears Prada' Sequel,Fans have been asking for a sequel to The Devil Wears Prada practically since the movie was first released. Now, the film's star Anne Hathaway has addressed the long-standing hopes, but it's bad news. The notion was brought up during Hathaway's recent appearance on The View, and she offered her [...]

Tags: Anne Hathaway casting Chicago devil Fashion meryl streep Movies popculture.com Prada sequels The Devil Wears Prada

Marissa Jaret Winokur on Working Alongside Rita Moreno in Lifetime's 'Santa Bootcamp,' Her Versatile Acting Career and More (Exclusive)

Marissa Jaret Winokur on Working Alongside Rita Moreno in Lifetime's 'Santa Bootcamp,' Her Versatile Acting Career and More (Exclusive),You've more than likely seen Marissa Jaret Winokur in your favorite film or television series before. The Tony-nominated actress is a jack of all trades, appearing in everything from sitcoms to films, to musicals, and even game shows and reality shows. Now, she's transitioning into the world of [...]

Tags: actor casting hairspray Lifetime Movies popculture.com Rita Moreno scary movie Weight Loss what we do in the shadows

'The Equalizer 3': On-Set Workers Arrested in Reported Cocaine Bust

'The Equalizer 3': On-Set Workers Arrested in Reported Cocaine Bust,Denzel Washington's The Equalizer 3 was reportedly the scene of a real-life crime bust. According to TMZ, some on-set workers from the movie's catering department were arrested in a cocaine bust. The outlet reports that police in Italy, where the movie is filming, took the men into custody after [...]

Tags: casting Denzel Washington equalization Movies popculture.com television show The Equalizer Trending Whats Trending

'Dodgeball: A True Underdog Story' Sequel is Looking Promising

'Dodgeball: A True Underdog Story' Sequel is Looking Promising,Vince Vaughn shared a positive update for those dreaming of a sequel to Dodgeball: A True Underdog Story. Vaughn confirmed that he had an idea for a sequel that the studio likes. However, the project still needs Ben Stiller's stamp of approval.'They've always talked about these things forever and [...]

Tags: Ben Stiller casting Christine Taylor dodgeball dodgeball 2 Dodgeball A True Underdog Story Justin Long Movies popculture.com sequel Vince Vaughn

'Wind River' Sequel on the Way, But There's Cause for Concern

'Wind River' Sequel on the Way, But There's Cause for Concern,A sequel to Wind River, the acclaimed 2017 crime drama written and directed by Yellowstone's Taylor Sheridan, is in development. Sheridan and the first film's two stars, Jeremy Renner and Elizabeth Olsen, are not involved in the new project yet. Martin Sensmeier is the only actor from Wind River [...]

Tags: casting Elizabeth Olsen Jeremy Renner Kari Skogland Kelsey Asbille Martin Sensmeier Movies popculture.com sequel Taylor Sheridan Thriller wind river reservation Wyoming

Anne Hathaway Shares Update on 'Devil Wears Prada' Sequel

Anne Hathaway Shares Update on 'Devil Wears Prada' Sequel,The Devil Wears Prada fans hoping for further adventures of Andy Sachs got some bad news from Anne Hathaway Tuesday morning. During a stop on The View to promote her new film, Armageddon Time, the Oscar-winner said she wasn't sure there could be a sequel to the 2006 box office smash. Instead, she [...]

Tags: Anne Hathaway casting devil Emily Blunt meryl streep Movies popculture.com Prada sequel Stanley Tucci The Devil Wears Prada The View

'Vikings: Valhalla': Season 2 Premiere Date, First Look Revealed

'Vikings: Valhalla': Season 2 Premiere Date, First Look Revealed,Vikings: Valhalla Season 2 finally has a premiere date, and fans are also getting a special first look at the new episodes. As revealed by Deadline, the Vikings spinoff series will return to Netflix on Jan. 12. Down below, fans can check out some of the first images to emerge from the show. A [...]

Tags: casting Frida Gustavsson Leo Suter Netflix popculture.com Sam Corlett season Streaming television show vikings Vikings Valhalla

Casey Anthony Blames Her Father for Caylee's Death in First On-Camera Interview

Casey Anthony Blames Her Father for Caylee's Death in First On-Camera Interview,Casey Anthony is reiterating a familiar story in her new on-camera interview about her daughter Caylee's death. Anthony is speaking out publicly for the first time in years on Casey Anthony: Where The Truth Lies, which premieres later this month on Peacock. According to a report by PEOPLE, Anthony [...]

Tags: Casey Anthony Death of Caylee Anthony Documentary legal case National News Peacock popculture.com Streaming teleivison documentary

'The Calling' Star Jeff Wilbusch Recalls 'Out-of-Body Experience' Working With Barry Levinson (Exclusive)

'The Calling' Star Jeff Wilbusch Recalls 'Out-of-Body Experience' Working With Barry Levinson (Exclusive),Even the cast of The Calling was starstruck working with the all-star executive producer/directing team of David E. Kelley and Barry Levinson. Jeff Wilbusch, who plays protagonist NYPD Detective Avraham Avraham in the upcoming Peacock crime drama, recalled an 'out-of-body experience' working [...]

Tags: casting Peacock popculture.com Streaming television show The Calling

Hulu Renews New Series for Season 2

Hulu Renews New Series for Season 2,Hulu subscribers got a dose of good news on Tuesday. The Disney-owned streamer renewed Tell Me Lies, a new drama series based on Carola Lovering's novel that debuted in September. Tell Me Lies follows a tumultuous relationship between a couple played by Grace Van Patten and Jackson White.Tell Me [...]

Tags: 20th Television casting Emma Roberts Grace Van Patten hulu Jackson White Jonathan Levine lie popculture.com renewed Rotten Tomatoes season Streaming tell me lies

Everything Coming to Netflix, HBO Max, Disney+, Apple TV+, Amazon, Hulu and Peacock in December 2022

Everything Coming to Netflix, HBO Max, Disney+, Apple TV+, Amazon, Hulu and Peacock in December 2022,The holiday season isn't the only thing that's here – streaming season is in full swing! This December, all of the major streaming services – Netflix, HBO Max, Disney+, Apple TV+, Amazon, Hulu, and Peacock – are proving that it's the most wonderful time of the year to be a subscriber, with [...]

Tags: Amazon Prime Apple TV Disney Documentary film HBO Max hulu Netflix Peacock popculture.com Streaming streaming media television show

Lindsay Lohan's New Christmas Movie's Rotten Tomatoes Score Might Surprise You

Lindsay Lohan's New Christmas Movie's Rotten Tomatoes Score Might Surprise You,Lindsay Lohan's latest comeback attempt has begun and it started off on the right foot. Falling For Christmas, her first movie for Netflix, debuted with a surprisingly strong response from critics. At one point, it had an 80% fresh rating from critics on Rotten Tomatoes, although that has since [...]

Tags: casting Christmas (genre) Falling for Christmas Lindsay Lohan Netflix popculture.com Rotten Tomatoes Streaming

Mamamia recaps The Handmaid's Tale, season 5, episode 1: How to get away with murder.

Mamamia recaps The Handmaid's Tale, season 5, episode 1: How to get away with murder.,The Handmaid's Tale season 5 episode 1 recap: Fred is dead, Serena is emboldened and June has successfully got away with murder.

Samsung Galaxy Z Fold 4 vs. Galaxy S22 Ultra: Which ultra-premium phone deserves your love?

Samsung Galaxy Z Fold 4 vs. Galaxy S22 Ultra: Which ultra-premium phone deserves your love?,Choosing between two of today's most advanced smartphones

OPINION: The 'oversized' trend, and the lie we're told about plus-size clothes.

OPINION: The 'oversized' trend, and the lie we're told about plus-size clothes.,Oversized clothing is everywhere, but it doesn't consider the needs of the plus-size community. Here's what nobody's saying about the season

I am a new mum – I won lottery jackpot on the day I gave birth & here is the trick I used to pick my

I am a new mum – I won lottery jackpot on the day I gave birth & here is the trick I used to pick my lucky numbers,A NEW mum found fortune in more ways than one on the day she gave birth – as she scooped the jackpot on the lottery too. Brenda Gom

Disneyland Becomes 'Darkest Place On Earth' Following Man's Death

Disneyland Becomes 'Darkest Place On Earth' Following Man's Death,Disneyland Park located in Anaheim, California experienced the darkest of times over the weekend as a man reportedly killed himself.

What is Advent—and why do we mark it with treat-filled calendars?

The holiday, which gets its name from the Latin word for arrival, serves as a countdown to Christmas when Christians honor the birth of Jesus Christ. The post What is Advent—and why do we mark it with treat-filled calendars? first appeared on Science