Legendary former Colts executive defends Jeff Saturday hire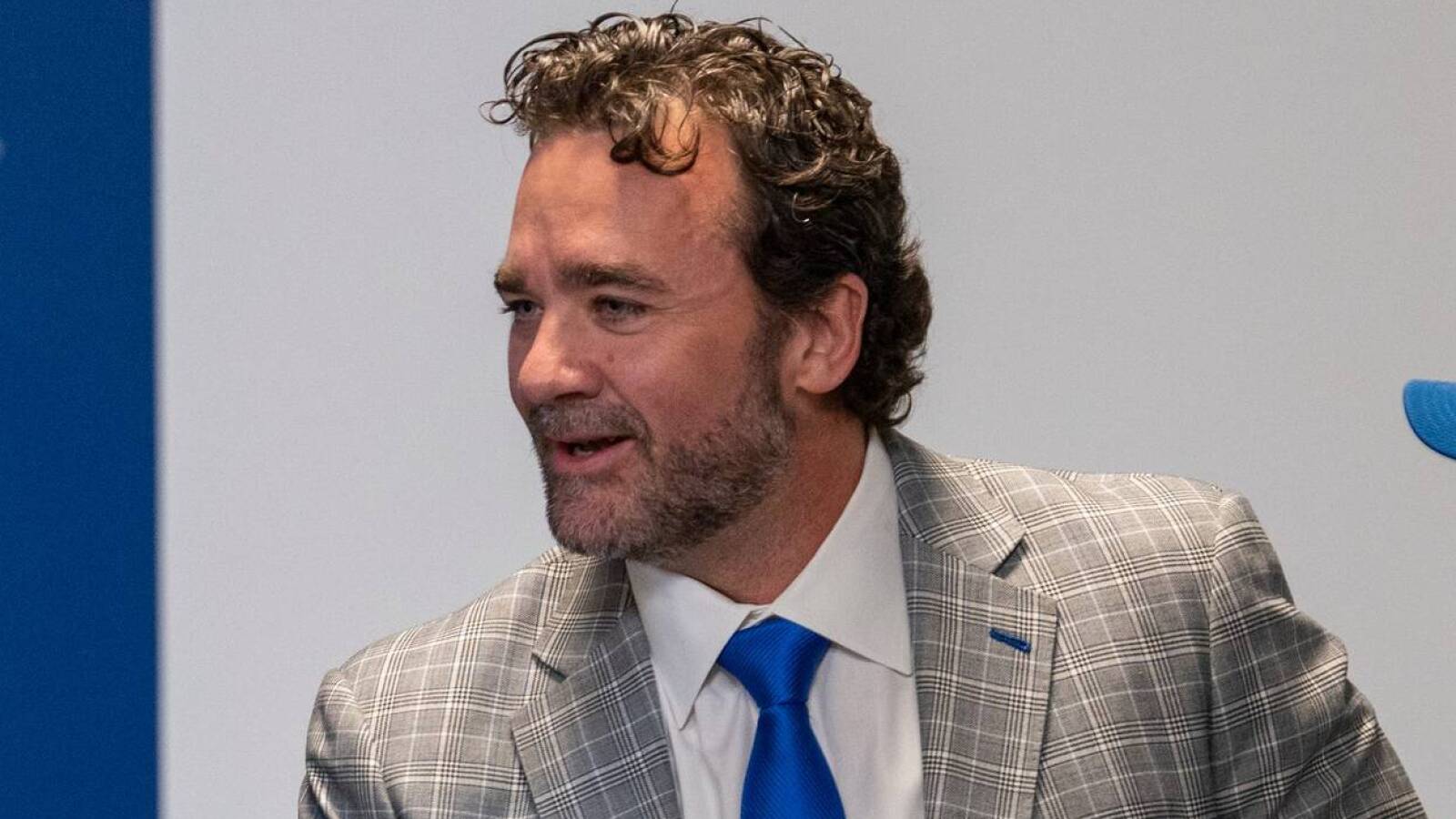 Legendary former Colts executive defends Jeff Saturday hire,Saturday received some strong support from a former Colts front office member.
Legendary former Colts executive defends Jeff Saturday hire
The Indianapolis Colts stunned a lot of people by naming untested former offensive lineman Jeff Saturday as the team's interim head coach. However, one of the franchise's iconic figures strongly feels that the move could actually work.
Hall of Fame general manager Bill Polian, who ran the Colts from 1998 to 2011, wrote for 33rd Team that Saturday has long been seen as a potential head coach, turned down a staff role before and had been working as a paid consultant for the team. While Polian acknowledges the lack of NFL experience, he clearly believes Saturday has done enough to at least hold his own.
"During this season, starting with minicamp, Jeff served as a paid consultant to the coaching staff," Polian wrote. "He broke down film, evaluated players and schemes and made game plan suggestions. He spoke to the team as a group and offered guidance to individual players. In short, he is not a stranger but a respected member of the organization.
"To those inside the building, Frank Reich and myself included, Jeff's character, intelligence, leadership skills, football acumen and work ethic tabbed him as head-coaching material as far back as his playing days. His appointment as interim head coach may have come as a shock to outsiders but not to those inside the Colts' football operations. Will Jeff succeed? It's a tall order, and only time will tell. Knowing him as I do, I wouldn't bet against him."
Few would question Saturday's leadership capabilities from his playing days and he certainly knows the sport. There is a big gap between knowing the league, however, and being able to coach in it.
One thing is clear: those who know Saturday well are much higher on the decision than the general public is. Perhaps they will end up right, but it would certainly defy convention for it to work.
Related News & Content
Country star Blake Shelton named Indy 500 grand marshal

INDIANAPOLIS (AP) — Blake Shelton will lend his voice to the Indianapolis 500 as the grand marshal for Sunday's race. The country music star and coach on NBC's "The Voice," Shelton will give the traditional command for drivers to report to their cars during the official pre-race ceremonies.

Tags: apnews.com Auto Racing Blake Shelton Country Music Entertainment Indiana Indianapolis Indianapolis 500 Jimmie Johnson Keycat Keytags Music NASCAR Sports

Country star Blake Shelton named Indy 500 grand marshal

Blake Shelton will lend his voice to the Indianapolis 500 as the grand marshal for Sunday's race

Tags: abcnews.go.com Arts and entertainment Automobile racing Blake Shelton Country Music Entertainment Indiana Indianapolis Indianapolis 500 IndyCar Jimmie Johnson Keycat Keytags Miles Teller Music NASCAR North America Scott Dixon Sports United States

Disturbance halts Wiz Khalifa concert in Indiana, 3 injured

NOBLESVILLE, Ind. (AP) — Rapper Wiz Khalifa cut short a concert in suburban Indianapolis as people began fleeing the outdoor venue, leaving three with minor injuries, following a disturbance, police said.

Tags: apnews.com Arts and entertainment Entertainment Hip hop and rap Indiana Indianapolis Keycat Keytags Logic Music Trending News Wiz Khalifa

Disturbance halts Wiz Khalifa concert in Indiana, 3 injured

Police say rapper Wiz Khalifa cut short a concert in suburban Indianapolis as people began fleeing the outdoor venue Friday night, leaving three with minor injuries, following a disturbance

Tags: abcnews.go.com Arts and entertainment Celebrity Celebrity Health Entertainment General news Hip hop and rap Indiana Indianapolis Keycat Keytags Logic Music North America United States Wiz Khalifa

Ex-couple linked to Jared Fogle child porn case get prison

INDIANAPOLIS (AP) — A divorced Indiana couple who prosecutors say shared sexually explicit photos and videos of children with former Subway pitchman Jared Fogle were sentenced Monday to decades in prison.

Tags: Business Child pornography Connersville crime Entertainment Indiana Indianapolis Jared Fogle Sexual abuse Trending News

Former players make immediate impact as Colts coaches

WESTFIELD, Ind. (AP) — Indianapolis Colts receiver Michael Pittman Jr. cherishes his class time with Reggie Wayne. Pittman knows few players are fortunate enough to learn the art of route-running from someone whose career numbers — 1,070 receptions, 14,345 yards and 82 touchdowns — rank among the league's best.

Tags: apnews.com Business Entertainment Frank Reich Indiana Indianapolis Indianapolis Colts Keycat Keytags Lifestyle NFL Sports Travel

'Good Bones' Stars Mina Starsiak Hawk and Karen E. Laine Get Special Little Visitor in Exclusive Clip

A new episode of Good Bones hits HGTV Tuesday at 9 p.m. ET, featuring mother-daughter duo Mina Starsiak Hawk and Karen E. Laine taking on a major remodeling project with a star client. 'Major Mansion Makeover' also features a special guest in Hawk's son Jack Richard, 4. In an exclusive clip for [...]

Tags: Good Bones good bones clip good bones new episode Good Bones Season 7 HGTV Indianapolis karen e laine Keycat Keytags Mina Starsiak popculture.com

'Good Bones' Stars Mina Starsiak Hawk and Karen E. Laine Tease 'Different' Direction for 'Rollercoaster' Season 7 (Exclusive)

HGTV's Good Bones is back for Season 7 Tuesday night and the show's beloved mother-daughter duo of Karen E. Laine and Mina Starsiak Hawk are ready for another 14 episodes of some stellar home renovations! With the new season focusing on more ways to expand the Two Chicks & a Hammer home renovation [...]

Tags: casting Good Bones good bones 2022 good bones new season 2022 good bones risky business HGTV Husband Indianapolis karen e laine Karen Laine Keycat Keytags Mina Starsiak mina starsiak hawk plastic surgery popculture.com sibling steve hawk tad starsiak television show

'Good Bones' Stars Mina Starsiak Hawk and Karen E. Laine Tease 'Different' Direction for 'Rollercoaster' Season 7 (Exclusive)

HGTV's Good Bones is back for Season 7 Tuesday night and the show's beloved mother-daughter duo of Karen E. Laine and Mina Starsiak Hawk are ready for another 14 episodes of some stellar home renovations! With the new season focusing on more ways to expand the Two Chicks & a Hammer home renovation [...]

Tags: casting Good Bones good bones 2022 good bones new season 2022 good bones risky business HGTV Husband Indianapolis karen e laine Karen Laine Keycat Keytags Mina Starsiak mina starsiak hawk plastic surgery popculture.com sibling steve hawk tad starsiak television show

'Good Bones' Stars Mina Starsiak Hawk and Karen E. Laine Tease 'Different' Direction for 'Rollercoaster' Season 7 (Exclusive)

HGTV's Good Bones is back for Season 7 Tuesday night and the show's beloved mother-daughter duo of Karen E. Laine and Mina Starsiak Hawk are ready for another 14 episodes of some stellar home renovations! With the new season focusing on more ways to expand the Two Chicks & a Hammer home renovation [...]

Tags: casting Good Bones good bones 2022 good bones new season 2022 good bones risky business HGTV Husband Indianapolis karen e laine Karen Laine Keycat Keytags Mina Starsiak mina starsiak hawk plastic surgery popculture.com sibling steve hawk tad starsiak television show

High-speed art: Indy 500 driver helmets styled to stand out

INDIANAPOLIS (AP) — Stefan Wilson's first racing helmet was a hand-me-down from his older brother, Justin. So was his second one. And his third. The Wilson brothers had designed the pattern together as youngsters growing up racing go-karts in England.

Tags: apnews.com Entertainment Indiana Indianapolis Indianapolis 500 Keycat Keytags Sports Stefan Wilson

High-speed art: Indy 500 driver helmets styled to stand out

INDIANAPOLIS (AP) — Stefan Wilson's first racing helmet was a hand-me-down from his older brother, Justin. So was his second one. And his third. The Wilson brothers had designed the pattern together as youngsters growing up racing go-karts in England.

Tags: apnews.com Entertainment Indiana Indianapolis Indianapolis 500 Keycat Keytags Sports Stefan Wilson

Jimmie Johnson wrecks late in Indianapolis 500 debut

INDIANAPOLIS (AP) — Jimmie Johnson said a few prayers when he wrecked late in his Indianapolis 500 debut with his teammate in the lead. The worst-case scenario after his No. 48 car slammed into the wall, spewed debris over the track and ground the race to a 12-minute, red-flag halt would have been a blown chance at the checkered flag for Marcus Ericsson.

Tags: apnews.com Entertainment Indiana Indianapolis Indianapolis 500 IndyCar Jimmie Johnson Keycat Keytags Marcus Ericsson NASCAR Sports

Johnson flashes speed, charm in 1st shot at winning Indy 500

INDIANAPOLIS (AP) — Jimmie Johnson shared late-night laughs with Jimmy Fallon , crushed the fastest speeds of his life, signed autographs for fellow drivers and saved a sideways slide in his first Indianapolis 500 qualifying run.

Tags: apnews.com Auto Racing Daytona 500 Entertainment Indiana Indianapolis Indianapolis 500 Jimmie Johnson Jimmy Fallon Keycat Keytags Mario Andretti NASCAR Sports

Johnson uses huge save to prevent 230 mph crash at Indy

INDIANAPOLIS (AP) — Jimmie Johnson used fast hands to wrestle his car out of a sideways slide that seemed headed toward a massive crash at 230 mph. He saved his car, but his Indianapolis 500 qualifying run was ruined.

Tags: apnews.com Entertainment Indiana Indianapolis Indianapolis 500 Jimmie Johnson Keycat Keytags NASCAR Romain Grosjean Sports

Need for speed: Indy 500 tabs 'Rooster' to wave green flag

Miles Teller feels the need, the need for speed

Tags: abcnews.go.com Arts and entertainment Automobile racing Indiana Indianapolis Indianapolis 500 IndyCar Keycat Keytags Miles Teller North America Scott Dixon Sports United States

Newgarden cleared to practice at Indy after Iowa collapse

INDIANAPOLIS (AP) — Two-time IndyCar champion Josef Newgarden was cleared Thursday to practice at Indianapolis Motor Speedway following his collapse after crashing at Iowa. Newgarden will be re-evaluated Friday after practice to determine if he can compete Saturday on the road course at Indianapolis.

Tags: apnews.com Auto Racing Entertainment Indiana Indianapolis IndyCar Iowa Josef Newgarden Keycat Keytags Sports

Sarah Fisher selected as Indy 500 celebrity pace car driver

INDIANAPOLIS (AP) — Sarah Fisher is getting a promotion for this month's Indianapolis 500. Race organizers announced Tuesday they selected the IndyCar veteran and local fan favorite to be the celebrity pace car driver for the May 29 race.

Tags: Celebrity Entertainment Indiana Indianapolis Indianapolis 500 IndyCar Sarah Fisher Sports

Sweden's Ericsson gives Ganassi another Indy 500 victory

INDIANAPOLIS (AP) — Marcus Ericsson, once a Formula One backmarker, is now an IndyCar frontrunner. And an Indianapolis 500 champion. Ericsson became the second Swede to win the Indy 500 on Sunday when he held off some of the biggest names in North American auto racing in front of the largest crowd of his life.

Tags: apnews.com Auto Racing Formula One Indiana Indianapolis Indianapolis 500 IndyCar Keycat Keytags Marcus Ericsson North America Sports

The Chicks' Mid-Concert Cancellation Turns Into Something Bigger

"We are so sorry we could not give you the show you deserved," the country band wrote on Instagram.

Tags: cancellation dixie chicks huffpost.com Indianapolis Keycat Keytags Natalie Maines The Chicks

Tour HGTV 'Good Bones' Star Mina Starsiak Hawk's Southern Charm Indianapolis Home

Mina Starsiak Hawk is a pro at turning dated or rundown houses into a cozy place to call home, and the Good Bones star's own charming home is no exception. The three-story, 2,900-square foot dream house in Indianapolis' Fountain Square neighborhood is where Starsiak Hawk calls home with husband [...]

Tags: Children Good Bones hawk fit Husband Indiana Indianapolis karen e laine Karen Laine Keycat Keytags Mina Starsiak popculture.com season steve hawk tad starsiak

Tour HGTV 'Good Bones' Star Mina Starsiak Hawk's Southern Charm Indianapolis Home

Mina Starsiak Hawk is a pro at turning dated or rundown houses into a cozy place to call home, and the Good Bones star's own charming home is no exception. The three-story, 2,900-square foot dream house in Indianapolis' Fountain Square neighborhood is where Starsiak Hawk calls home with husband [...]

Tags: Children Good Bones hawk fit Husband Indiana Indianapolis karen e laine Karen Laine Keycat Keytags Mina Starsiak popculture.com season steve hawk tad starsiak

'Ain't No Mo' & 'A Beautiful Noise: The Neil Diamond Musical' – Broadway Reviews

'Ain't No Mo' & 'A Beautiful Noise: The Neil Diamond Musical' – Broadway Reviews,Two new productions opened on Broadway within the last few days, demonstrating that Broadway, at the very least, can accommodate works of remarkable diversity

NASA To Conduct Two Spacewalks Outside ISS in December; When Is The Schedule, How To Watch?

NASA To Conduct Two Spacewalks Outside ISS in December; When Is The Schedule, How To Watch?,Before 2022 is over, NASA plans to undertake two spacewalks. Read on to know the details. Two NASA astronauts will do a spacewalk on Saturday, December 3, to

Shania Twain Reveals She Had to Flatten Her Chest as a Child to Avoid Stepfather's Sexual Abuse

Shania Twain Reveals She Had to Flatten Her Chest as a Child to Avoid Stepfather's Sexual Abuse,Shania Twain Reveals She Had to Flatten Her Chest as a Child to Avoid Stepfather's Sexual Abuse Shania Twain is detailing her experience with her st

I am a new mum – I won lottery jackpot on the day I gave birth & here is the trick I used to pick my

I am a new mum – I won lottery jackpot on the day I gave birth & here is the trick I used to pick my lucky numbers,A NEW mum found fortune in more ways than one on the day she gave birth – as she scooped the jackpot on the lottery too. Brenda Gom

Keke Palmer Revealed She's Pregnant In Her "SNL" Monologue, And It's Amazing

Keke Palmer Revealed She's Pregnant In Her "SNL" Monologue, And It's Amazing,KEKE!!!!!

What is Advent—and why do we mark it with treat-filled calendars?

The holiday, which gets its name from the Latin word for arrival, serves as a countdown to Christmas when Christians honor the birth of Jesus Christ. The post What is Advent—and why do we mark it with treat-filled calendars? first appeared on Science