Apple TV+'s 'Circuit Breakers': Maz Jobrani Channels Inner Teenager in Exclusive Body-Swapping Clip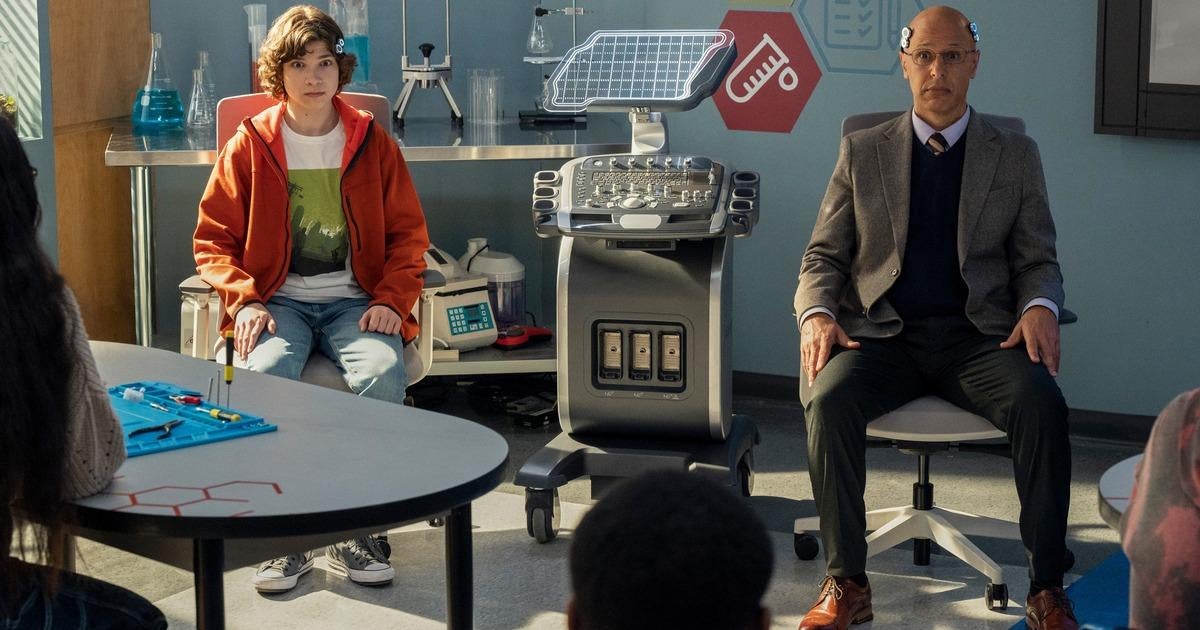 Apple TV+'s 'Circuit Breakers': Maz Jobrani Channels Inner Teenager in Exclusive Body-Swapping Clip,Apple TV+ is debuting a brand new series this week, titled Circuit Breakers. The premiere episode, 'Test Subject Thrieteen,' stars comedian Maz Jobrani as a school principal who winds up body-swapping with a student during a scientific mishap. In an exclusive clip from the show, Jobrani's [...]
Apple TV+'s 'Circuit Breakers': Maz Jobrani Channels Inner Teenager in Exclusive Body-Swapping Clip
Apple TV+ is debuting a brand new series this week, titled Circuit Breakers. The premiere episode, "Test Subject Thrieteen," stars comedian Maz Jobrani as a school principal who winds up body-swapping with a student during a scientific mishap. In an exclusive clip from the show, Jobrani's Principal Young discovers that his consciousness has been switched with that of one of the kids (Cole Keriazakos) in his school, and now they have to keep the freaky situation quiet until Dr. Cruz (Amanda Martínez) can figure out how to switch them back.
In an official synopsis of the show, Apple TV+ explains, "Circuit Breakers is a half-hour anthology series that tackles kid-relatable issues through a sci-fi lens. But not everything is as it seems, and their curiosity leads to chaos. The series was created by Melody Fox with executive producer Matt Hastings directing three episodes from the season. Circuit Breakers is executive produced by Hastings, Andrew Orenstein, Cottonwood Media's Sarah Haasz, David Michel and Cécile Lauritano, Aircraft Pictures' Anthony Leo and Andrew Rosen, and Todd Berger."
Recently, Jobrani and Keriazakos sat down with SK Pop to discuss the new series, and share what they would do if they actually body-swapped for a day. "If I could be an adult for a day, I would make some weird rules," Keriazakos joked. "And if it was a principal specifically, I would just add a weird rule to school. Like for lunch on Wednesdays, we would have mac and chocolate. Something really weird."
As for Jobrani, he quipped, "As a grown person now who has injuries that don't seem to want to heal, if I were a child, I would just go out on the soccer field and I would play for five hours straight and I would have zero injuries. And I would heal the next day if I did get injured. But I would have no injuries because I am a child."
Keriazakos also offered his thoughts on why sci-fi is so popular lately. "I think it's because a lot of people, as technology advances, they are scared that technology is getting to be to the point that it is and there are a lot of other shows that highlight that. Other anthology shows like Black Mirror and things like that, they do highlight that."
0comments
Finally, the young actor shared his perspective on what makes Circuit Breakers stand out from other science fictions shows. "What our show shows is that, just because technology is advancing, doesn't mean that it has to impede us so much," he said. "This middle school [that] these kids are going to incorporates a lot of this technology and is very high functioning and works very well. So, I feel like it shows that we can embrace this technology because we're trying to help the world." Circuit Breakers premiere's Friday, only in Apple TV+.
Related News & Content
Pioneer Woman Ree Drummond Says Husband Ladd Got Run Over by a Cow

Ree Drummond's husband Ladd can chalk another injury up to ranch life. The Pioneer Woman star, 53, shared a video Friday of her husband, 53, brushing off a large cut on his back as he played, unfazed, with the family's dogs at the end of the day before revealing the painful incident he endured [...]

Tags: Food Network Husband Keycat Keytags popculture.com recipe Ree Drummond The Pioneer Woman

Lindsie Chrisley Gives Update on Relationship Status Following Divorce

Lindsie Chrisley is shutting down speculation about her love life following her split from husband Will Campbell. The Chrisley Knows Best alum, 27, took to her Instagram Story Monday to open up about her relationship status after being asked in a Q&A if she was dating Bachelor Nation's Josh Murray [...]

Tags: boyfriend Chrisley Knows Best Keycat Keytags Lindsie Chrisley popculture.com Todd Chrisley

More Details Surface About Reason for Travis Barker's Hospitalization

Travis Barker was rushed to the hospital after developing pancreatitis following a recent colonoscopy procedure, TMZ reported Wednesday. The Blink-182 drummer, 46, was initially rushed to West Hills Hospital and Medical Center Tuesday morning with an unknown health issue but was soon transported [...]

Tags: hospital Keycat Keytags Kourtney Kardashian Landon Asher Barker popculture.com Travis Barker

'RHOBH' Star Diana Jenkins Blasts Garcelle Beauvais' 'Uneducated' Comment

Diana Jenkins has responded to Real Housewives of Beverly Hills co-star Garcelle Beauvais' assertion that she is 'uneducated' on Watch What Happens Live after the Bravo newcomer made headlines for feuding with an Instagram content creator. Following Beauvais' condemnation of Jenkins' comments, the [...]

Tags: Bravo Network casting Keycat Keytags popculture.com season The Real Housewives of Beverly Hills watch what happens live with andy cohen

9-1-1: Lone Star finally announces new season with premiere date

9-1-1: Lone Star delighted fans by finally revealing on social media when the fourth season would premiere on TV

Tags: 9 1 1 9 1 1 Lone Star film Fox Hello hellomagazine.com TV US Story

'Naked and Afraid XL: Frozen' Brings Back Fan Favorite Survivalists, Watch the Trailer (Exclusive)

Naked and Afraid is taking survival to a whole new level with Naked and Afraid XL: Frozen. PopCulture.com can exclusively announce the cast of Discovery's new spinoff, which premieres Sunday, July 31, launching out of the upcoming 34th annual Shark Week. This chilling adventure takes 12 of the top [...]

Tags: casting Discovery Channel Keycat Keytags Naked and Afraid Naked and Afraid XL popculture.com season

Hayden Panettiere Reveals Addiction to Opioids and Alcohol

Hayden Panettiere is opening up for the first time about how her secret addiction to opioids and alcohol nearly meant the end of her career and her life. The former Nashville star, 32, opened up about her addiction journey in a new interview with PEOPLE, revealing how she's recently found peace [...]

Tags: daughter Hayden Panettiere heroes Husband Keycat Keytags Nashville popculture.com scream

'All American' Shows' Popularity Not Enough to Get Them Emmy Nominations

All American and its spinoff All American: Homecoming are two of the most popular shows on The CW. But as popular as the shows are, it wasn't enough to earn them nominations for the 2022 Emmy Awards. According to Media Traffic, both shows and cast members were submitted for the Emmys, but both [...]

Tags: All American coming Emmy Awards Keycat Keytags popculture.com season The CW

Wakanda Forever's Tenoch Huerta Mejía Nicknamed Namor's Costume The 'Shame Shorts' – Looper

Wakanda Forever's Tenoch Huerta Mejía Nicknamed Namor's Costume The 'Shame Shorts' - Looper,Tenoch Huerta Mejía gave Namor's trunks the nickname "shame shorts." Here's why.

Tags: comics Looper looper.com Movies TV

Joe Jonas and Sophie Turner Welcome Baby No. 2

Joe Jonas and Sophie Turner are now a family of four after welcoming their second child together, a little girl. Representatives for the Jonas Brothers star, 32, and Game of Thrones actress, 26, confirmed the birth of their daughter Thursday to PEOPLE. The couple previously welcomed their first [...]

Tags: Game of Thrones Joe Jonas Keycat Keytags Nick Jonas popculture.com Sophie Turner wife

Demi Lovato Suffers Gnarly Facial Injury, Needs Stitches Ahead of Late-Night Appearance

Demi Lovato got a gnarly injury right before their scheduled appearance on Jimmy Kimmel Live! Thursday, but even stitches won't keep them down. The 'Dancing With the Devil' artist took to TikTok Wednesday to reveal the unfortunate result of a painful accident with a crystal but managed to keep [...]

Tags: camp rock Concert Concert Tour Demi Lovato Jimmy Kimmel Live Keycat Keytags popculture.com

John Cena Breaks His Silence Over Wedding Reports

John Cena is breaking his silence about him reportedly getting married to his wife Shay Shariatzadeh again. The couple got legally married in Oct. 2020 but never had a big ceremony due to the COVD-19 pandemic. TMZ Sports obtained a photo of Cena and Shariatzadeh heading to Rosewood Hotel Georgia [...]

Tags: John Cena Keycat Keytags popculture.com professional wrestling Shay Shariatzadeh wife WWE

JoJo Siwa Gets a Taste of Boot Camp in 'JoJo Goes' Exclusive Clip

JoJo Siwa is taking on an interesting challenge that will test her limits. In an exclusive clip of the newest episode of the Facebook Watch series JoJo Goes, Siwa attends an ROTC Training Site in Fullerton, California with best friend and podcaster Rachel Ballinger. The clip shows the two [...]

Tags: Candace Cameron Bure Facebook Watch Fuller House JoJo Goes JoJo Siwa Keycat Keytags popculture.com TikTok

Tom Brady to join Fox Sports when playing career ends

NEW YORK (AP) — Seven-time Super Bowl champion Tom Brady will join Fox Sports as its lead football analyst once his playing career ends, the network said Tuesday. When that actually happens is unclear, because Brady recently changed his mind about retiring and said he plans to continue playing for the Tampa Bay Buccaneers for his 23rd NFL season.

Tags: Entertainment Football Fox Corp Lachlan Murdoch NFL Sports Super Bowl Tampa Bay Buccaneers Tom Brady Trending News TV

Camille Kostek Talks Launching Swimsuit Line, Future in Movies (Exclusive)

Camille Kostek is making a name for herself in the TV and film world. But after appearing in Sports Illustrated Swimsuit multiple times, the 30-year-old model, actress and TV host is now a successful businesswoman as she has her own swimsuit line. In an exclusive interview with PopCulture.com, [...]

Tags: Camille Kostek Keycat Keytags Model popculture.com Sports Illustrated Swimsuit swimsuit

Kate Gosselin Slammed With Theft Accusations from Ex Jon Gosselin

Jon Gosselin is accusing ex-wife Kate Gosselin of stealing more than $100,000 from a trust fund belonging to their children, according to court documents and an interview with the Jon & Kate Plus 8 alum published Thursday by The Sun. Kate does admit in court documents obtained by the publication [...]

Tags: Jon Gosselin Kate Gosselin Keycat Keytags popculture.com

Austin and Whitney Dillion Tease Details of New Show 'Austin Dillon's Life in the Fastlane' (Exclusive)

Austin Dillon has made a name for himself in the NASCAR world as he won the Daytona 500 in 2018 and the Coca-Cola 600 in 2017. Now the 32-year-old NASCAR star is entering the reality television world with his wife, Whitney Dillion, as they two will star in the new USA Network series Austin [...]

Tags: Austin Dillon Austin Dillon's Life in the Fastlane Keycat Keytags NASCAR Paul Swan popculture.com reality television Television Whitney Dillon wife

'Welcome to Plathville' Stars Divorcing After 24-Year Marriage

Kim and Barry Plath are officially calling it quits after 24 years of marriage. The Welcome to Plathville stars confirmed they were ending their marriage Tuesday in a statement to PEOPLE, calling it the 'best choice' for both of them after their decision to separate and live apart was first [...]

Tags: Barry Plath Divorce Keycat Keytags Kim Plath popculture.com Welcome to Plathville

Kelly Clarkson Explains How 'Huge' Divorce Affected Her New Music

Kelly Clarkson is opening up about the new music that's on its way following her 'huge divorce' from ex-husband Brandon Blackstock. The Kelly Clarkson Show host opened up about how the end of her nearly seven-year marriage in June 2020 has influenced her career on Apple Music's The Global Chart [...]

Tags: Age American Idol Brandon Blackstock Divorce Kelly Clarkson Keycat Keytags popculture.com The Kelly Clarkson Show The Voice

Tour HGTV 'Good Bones' Star Mina Starsiak Hawk's Southern Charm Indianapolis Home

Mina Starsiak Hawk is a pro at turning dated or rundown houses into a cozy place to call home, and the Good Bones star's own charming home is no exception. The three-story, 2,900-square foot dream house in Indianapolis' Fountain Square neighborhood is where Starsiak Hawk calls home with husband [...]

Tags: Children Good Bones hawk fit Husband Indiana Indianapolis karen e laine Karen Laine Keycat Keytags Mina Starsiak popculture.com season steve hawk tad starsiak

Tarek El Moussa Gives Health Update After Suffering Tears in Both Knees and Bicep

Tarek El Moussa is recovering from injuries to both of his knees and his bicep. The HGTV star, 40, revealed the extent of his injuries on Instagram while posing alongside 11-year-old daughter Taylor while sporting KT athletic tape on both of his knees and a big smile on his face.'Enjoying every [...]

Tags: Christina Hall Divorce Flip or Flop Heather Rae Young HGTV Keycat Keytags popculture.com Selling Sunset Tarek El Moussa wife

George Lucas Gave His Blessing For Disney+'s Willow Series During A Conversation On Solo: A Star Wars Story's Set – Looper

George Lucas Gave His Blessing For Disney+'s Willow Series During A Conversation On Solo: A Star Wars Story's Set - Looper,George Lucas himself gave the crew behind 2022's "Willow" to make the show a reality for the Disney+ streaming service.

Tags: comics Looper looper.com Movies TV

'Big Brother 24': Houseguest Unexpectedly Exits the Game Early After Tumultuous Week

Big Brother Season 24 was dealt a major twist ahead of Thursday's live eviction episode, as houseguest Paloma Aguilar left the game due to 'personal issues,' host Julie Chen Moonves announced. Big Brother fans watching the live feeds had been concerned for Aguilar for days as she struggled to [...]

Tags: Big Brother CBS Julie Chen Moonves Keycat Keytags paloma popculture.com

Zendaya Shows off 'Baby's First Stitches' After Accident

Zendaya's recent foray into the kitchen didn't exactly end as she expected. The Euphoria star ended up having to get stitches after attempting to cook Wednesday, documenting the whole experience on her Instagram Story. Posting a photo of her bandaged-up pointer finger, Zendaya wrote wryly, 'See [...]

Tags: Dating Emmys engagement Euphoria Keycat Keytags popculture.com Zendaya

'Welcome to Plathville': Ethan Reveals He'll Speak With Mom Kim in Exclusive Sneak Peek

Ethan Plath is considering opening lines of communication back up with mom Kim Plath. While visiting Ethan's siblings and dad Barry Plath with wife Olivia amid their return to Cairo, Georgia, the Welcome to Plathville star revealed he intends to speak once again with his mother after her decision [...]

Tags: Divorce Keycat Keytags popculture.com TLC Welcome to Plathville

Chelsea Handler Announces Jo Koy Breakup in Candid Post

Chelsea Handler and Jo Koy have split. The former Chelsea Lately host, 47, revealed that she and her longtime friend-turned-beau had split shortly before their one-year anniversary in an Instagram post. Alongside a video that the former couple had planned to share on their anniversary, Handler [...]

Tags: breakup Chelsea Handler Keycat Keytags popculture.com

Dolly Parton Reacts to 'America's Got Talent' Contestants' Golden Buzzer-Worthy 'Jolene' Performance

Dolly Parton has given her stamp of approval to Chapel Hart's new take on her 1974 hit song 'Jolene.' After the trio of musicians from Mississippi went viral on a recent episode of America's Got Talent with their song, 'You Can Have Him, Jolene,' Parton made sure they knew she had seen their [...]

Tags: America's Got Talent carl dean Dolly Parton Husband Keycat Keytags popculture.com

'Better Call Saul' Season 6 Midseason Finale: Major Character Dies in Shocking Episode

Better Call Saul just delivered one of the most shocking cliffhangers of its run in the Season 6 midseason finale, and it spelled the end of Howard Hamlin. Patrick Fabian's character fell victim to the cartel dealings of Jimmy McGill (Bob Odenkirk) and Kim Wexler (Rhea Seehorn) when he was at the [...]

Tags: Better Call Saul Bob Odenkirk episode Keycat Keytags Patrick Fabian popculture.com season

Jim Edmonds Reportedly Calls 'RHOBH' Star Teddi Mellencamp a 'Piece of S—' in Leaked DMs

Teddi Mellencamp is sharing the angry DMs former Real Housewives of Orange Country husband Jim Edmonds allegedly sent her after she and his ex-wife, Meghan King, briefly discussed his impending James Bond-themed nuptials with fiancée Kortnie O'Connor on Mellencamp's Two Ts In A Pod podcast.After [...]

Tags: Husband Jim Edmonds Keycat Keytags Meghan King Edmonds Net Worth popculture.com Teddi Mellencamp Arroyave The Real Housewives of Orange County

'Married at First Sight': Binh Worries About Morgan's Family and Student Loans in Exclusive Sneak Peek

Married at First Sight star Binh isn't sure he and Morgan are a good match after learning more about his new bride's family and finances. In a PopCulture.com exclusive sneak peek of Wednesday's all-new episode of the Lifetime show, Binh asks for 'clarity' with his new wife's situation, but Morgan [...]

Tags: casting Keycat Keytags Lifetime married at first sight popculture.com season television show

Kristin Chenoweth Stuns Steve Harvey With NSFW 'Family Feud' Answer

Kristin Chenoweth had Steve Harvey speechless after her Celebrity Family Feud answer went totally into the NSFW territory. The Broadway star, best known for her role as Glinda in Wicked, stunned Harvey when he asked her and her opponent, actress Kathy Najimy, 'After the lips, what is your favorite [...]

Tags: Celebrity Family Feud episode Family feud Keycat Keytags Kristin Chenoweth popculture.com Steve Harvey

'American Idol' Winner Noah Thompson Drops New Music, Opens up About Post-'Idol' Career (Exclusive)

American Idol winner Noah Thompson is revisiting the song that was a 'big turning point' for him on the ABC singing competition's 2022 season as he embraces finding his musical path post-Idol. Releasing a studio recording of his version of Rihanna's 'Stay' Friday, which he performed during the [...]

Tags: American Idol Keycat Keytags popculture.com Rihanna Stay

Jill Duggar Shares New Bump Photo Ahead as Baby's Arrival Nears

Jill (Duggar) Dillard 'can't wait' to welcome baby number three next month! As the 19 Kids and Counting alum nears the end of her pregnancy, she and husband Derick Dillard are settling into their new home and getting ready for the arrival of their third child. Jill gave fans a peek of what life [...]

Tags: 19 Kids and Counting Counting On Derick Dillard Jill Duggar Keycat Keytags popculture.com

'Dancing With the Stars' Creates Buzz for Disney+ Move in New Promos

Dancing With the Stars is inviting fans back into the ballroom as the dance competition show prepares to premiere its all-new season exclusively on Disney+ this fall. Ahead of the Season 31 premiere on Monday, Sept. 19, the streamer launched a number of exciting new promos inviting fans to make [...]

Tags: Alfonso Ribeiro Dancing With the Stars host Keycat Keytags popculture.com season tyra banks

'Seeking Sister Wife': Brenda Worries Steve Won't Love Her as His Bond With April Grows in Sneak Peek

Seeking Sister Wife's Brenda Foley is getting worried about her place in her relationship with husband Steven Foley as he grows closer to his potential second wife April. The couple is currently dating April while looking to pursue a polygamous lifestyle, but Brenda is open about the anxiety she's [...]

Tags: casting Keycat Keytags popculture.com season Seeking Sister Wife TLC

Austin Butler Addresses Why He Still Has Elvis Presley Accent

Austin Butler just can't seem to ditch the Elvis Presley voice he picked up while starring in the upcoming Baz Luhrmann-biopic Elvis. In an interview with Entertainment Tonight, the actor responded to the widespread speculation about the way he's speaking even off-camera after transforming himself [...]

Tags: Austin Butler Elvis (movie) Elvis Presley film Keycat Keytags popculture.com

Hugh Jackman Tests Positive for COVID-19 Again

Hugh Jackman has tested positive for COVID-19 once again, sharing the news Monday morning after attending the 75th Annual Tony Awards Sunday evening. The actor, 53, took to Instagram to share his health status with fans, revealing that he would have to miss several upcoming performances of his [...]

Tags: Hugh Jackman Keycat Keytags popculture.com The Music Man Tony Awards

'Perry Mason' Season 2 Adds 'CSI' Fan Favorite

Wallace Langham is joining the HBO family for the second season of Perry Mason. Deadline reports that the CSI fan favorite, who also appears on Apple TV+'s Physical and For All Mankind, as well as Amazon Prime Video's The Boys, will recur as Melville Phipps in the upcoming second season of the HBO [...]

Tags: casting episode HBO Keycat Keytags Perry Mason popculture.com season Tatiana Maslany

'Big Brother' Removes Houseguest at Last Minute

Big Brother Season 24 already has a casting shakeup! Just hours after the summer reality show announced its new cast of houseguests, and just a day before the premiere, Big Brother announced Marvin Achi will no longer be participating in this season of the CBS series. He will be replaced by [...]

Tags: Big Brother casting CBS Julie Chen Moonves Keycat Keytags popculture.com season

William 'Poogie' Hart, Lead Singer of The Delfonics, Dead at 77

William 'Poogie' Hart, the Grammy-winning lead singer of the iconic R&B band The Delfonics, died Thursday at the age of 77, TMZ was first to report. Hart's son confirmed to the outlet that his father had been having trouble breathing and was taken to Temple University Hospital in Philadelphia for [...]

Tags: cause of death Celebrity Deaths Death Keycat Keytags popculture.com

Christopher Meloni Works out Naked in Cheeky New Peloton Ad

Christopher Meloni is getting cheeky in a spicy new Peloton ad that proves it's not 'strange' to work out in your own way – even if that way is in the nude. The Law & Order: Organized Crime star, 61, gets buff in the buff as he makes his way through a variety of workouts available on the Peloton [...]

Tags: Advertising Christopher Meloni Keycat Keytags Law & Order Organized Crime Peloton peloton interactive popculture.com television advertisement

Collingwood super-fan 'Joffa' Corfe pleads guilty to child sex abuse

Collingwood super-fan 'Joffa' Corfe pleads guilty to child sex abuse,Jeffrey 'Joffa' Corfe has pleaded guilty to sexually abusing a teenage boy. Read more here. The post Collingwood super-fan 'Joffa' Corfe pleads guilty to child

Aaron Carter's twin sister 'begged' him to let her help two days before death

Aaron Carter's twin sister 'begged' him to let her help two days before death,Aaron Carter's twin sister Angel has shared heartbreaking details of her final conversation with the late singer, two days before his death. The post Aaro

Harry & Meghan – what the first episodes reveal about Meghan's reputation within the royalfamily

Harry & Meghan – what the first episodes reveal about Meghan's reputation within the royalfamily,An expert in contemporary British monarchy analyses the first three episodes of Harry + Meghan, the headline-grabbing Netflix show from the Duke and

Where is the cast of Absolutely Fabulous now?

Where is the cast of Absolutely Fabulous now?,ABSOLUTELY Fabulous originally ran from 1992 to 1996 and became an instant hit upon release. It is now regarded as one of Britain's most iconic sitcoms so where is the cast now? Here's … The post Where is

Toni Collette Announces Split From Dave Galafassi After He Was Seen Locking Lips With Mystery Lady

Toni Collette Announces Split From Dave Galafassi After He Was Seen Locking Lips With Mystery Lady,Oscar-nominated actress Toni Collette and her drummer husband, Dave Galafassi, have announced their divorce.

The world's oldest map of the night sky was amazingly accurate

Newly discovered fragments of 2,200-year-old star coordinates—once thought lost—reveal the incredible skill of the ancient astronomer Hipparchus. The post The world's oldest map of the night sky was amazingly accurate first appeared on Science Radars