'Love it or List It' Star Hilary Farr and Jessica Szohr Talk HGTV's 'Charming' First Holiday Movie 'Designing Christmas' (Exclusive)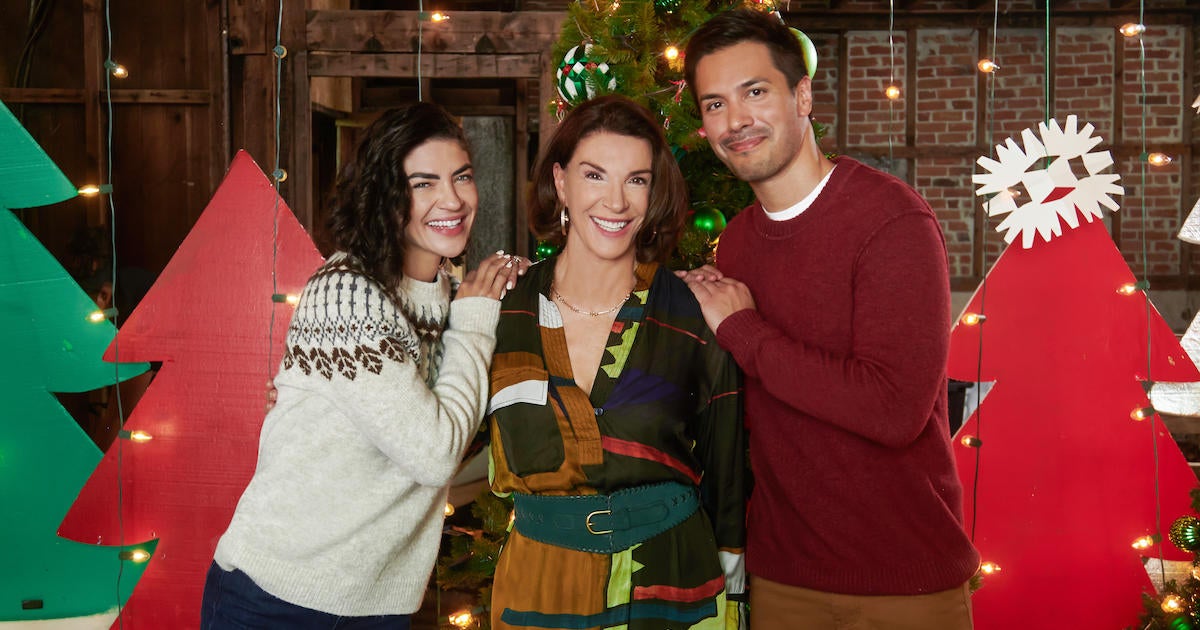 'Love it or List It' Star Hilary Farr and Jessica Szohr Talk HGTV's 'Charming' First Holiday Movie 'Designing Christmas' (Exclusive),Designing Christmas is the 'charming and fun' intersection of romance and home renovation that's sure to get you in the seasonal spirit, stars Jessica Szohr and Hilary Farr gush of HGTV's first holiday film. The Gossip Girl alum and Love It or List It star opened up about creating some holiday [...]
'Love it or List It' Star Hilary Farr and Jessica Szohr Talk HGTV's 'Charming' First Holiday Movie 'Designing Christmas' (Exclusive)
Designing Christmas is the "charming and fun" intersection of romance and home renovation that's sure to get you in the seasonal spirit, stars Jessica Szohr and Hilary Farr gush of HGTV's first holiday film. The Gossip Girl alum and Love It or List It star opened up about creating some holiday magic in an interview with PopCulture.com ahead of Designing Christmas' Nov. 11 premiere on discovery+.
"I'm honored and so pleased to be able to be a part of it," said Szohr, who plays House Sweet Home co-host Stella Murphy in the film. "Christmas is my favorite time of year [and] I think the story that we told is quite charming and fun." Farr, who appears in the movie as Stella's friend and renovation mentor, Frederica "Freddy" Greene, agreed that stepping outside of her realm as a designer and into a movie role was an "unexpected" but "wonderful" change of pace.
"I did hesitate when I was first asked," she admitted, joking that "First of all, I haven't had to learn lines in 1,000 years." After a meeting with the Designing Christmas production team and learning more about the project, however, the Tough Love host was all in. "HGTV is such a comfortable place for people to be. It's aspirational, but it's also comfortable," she explained. "Very cleverly, [Designing Christmas is] still within the ambiance and arena that is HGTV. …It isn't saccharine sweet in any way, it just feels true and real."
Designing Christmas follows protagonist Stella Murphy (Szohr) as she and her longtime co-host Pablo Belmonte (Marco Grazzini) attempt to keep their successful home makeover show from going under with an all-important Christmas episode. After the owners of the home slated for their upcoming holiday episode pull out, however, Stella is convinced to take on renovating her family's Victorian home for the cameras in hopes of saving the episode and the show itself. Adding to the draw is the suggestion of Stella's fiancé, Jack (Mykee Selkin), who proposes they combine the reveal with their own onsite wedding live on Christmas Eve.
0comments
With the help of her friend and mentor Frederica "Freddy" Greene (Farr), Stella tries to successfully pair her design aesthetic with that of Pablo's, all while navigating her increasingly-complicated feelings for her co-host. As the house and the foundation of their relationship begin to change, what began as another renovation project might change everything for Stella. "Put it all together [and] this movie has something that's different," Farr told PopCulture. Szohr agreed, "I'm excited for people to see it, and I think it's a really fun, charming movie." Designing Christmas premieres Nov. 11 on discovery+.
Related News & Content
'Euphoria' Star Reveals He Was High on Shrooms During Audition and Lost the Role

Dominic Fike didn't exactly nail his first round of Euphoria auditions. The 26-year-old, who plays Elliot on the hit HBO series, revealed in a new interview with GQ that his audition with series regular Barbie Ferreira went off the rails when he took a bunch of 'shrooms before the reading. Despite [...]

Tags: casting Euphoria HBO Max Keycat Keytags popculture.com television show Tom Holland Zendaya

'Love Island USA' Season 4 Gets Premiere Date at New Home

Love Island USA is coming back for a summer of romance to a new home. The reality series has set an official Season 4 premiere date of Tuesday, July 19 on Peacock after announcing its move from CBS to the NBC streamer. Episodes will air six days a week, similar to the U.K. franchise, with the cast [...]

Tags: casting CBS TV Keycat Keytags Love Island Peacock popculture.com television show

'Yellowstone' Actress Charged With Fraud

Yellowstone actor Q'orianka Kilcher has been charged with illegally collecting almost $96,838 in disability benefits while working on the Paramount Network show, authorities announced Monday. Kilcher, 32, is facing charges of two felony counts of workers' compensation insurance fraud, according to [...]

Tags: casting Keycat Keytags paramount network popculture.com season Yellowstone

'Teen Mom: Young & Pregnant': Rachel Beaver's Past Comes Back to Haunt Her in Driver's License Struggle in Exclusive Sneak Peek

Rachel Beaver's past is coming back to haunt her when it comes to getting her driver's license, and the Teen Mom: Young and Pregnant star, 19, can't help but blame her mom as she deals with the consequences in a PopCulture.com exclusive sneak peek of Tuesday's all-new episode.'I still haven't [...]

Tags: casting Keycat Keytags popculture.com Rachel Beaver season Teen Mom Young and Pregnant

'Married at First Sight': Binh Worries About Morgan's Family and Student Loans in Exclusive Sneak Peek

Married at First Sight star Binh isn't sure he and Morgan are a good match after learning more about his new bride's family and finances. In a PopCulture.com exclusive sneak peek of Wednesday's all-new episode of the Lifetime show, Binh asks for 'clarity' with his new wife's situation, but Morgan [...]

Tags: casting Keycat Keytags Lifetime married at first sight popculture.com season television show

'Big Brother' Removes Houseguest at Last Minute

Big Brother Season 24 already has a casting shakeup! Just hours after the summer reality show announced its new cast of houseguests, and just a day before the premiere, Big Brother announced Marvin Achi will no longer be participating in this season of the CBS series. He will be replaced by [...]

Tags: Big Brother casting CBS Julie Chen Moonves Keycat Keytags popculture.com season

Cristin Milioti and William Jackson Harper Gush Over Reuniting for 'The Resort' (Exclusive)

Cristin Milioti and William Jackson Harper leaned on their history together when bringing life to The Resort's Emma and Noah, an unhappily married couple who find themselves at the center of a 15-year-old mystery during their vacation to the Mayan Riviera. The Good Place star and Palm Springs [...]

Tags: casting Cristin Milioti episodes Keycat Keytags Peacock popculture.com the resort William Jackson Harper

'Teen Mom' Star's Sister Is Pregnant With Twins

The Teen Mom family is adding two new members! Victoria Messer, sister of Teen Mom 2's Leah Messer, confirmed Sunday that she and her husband, Royer Rodriguez, are expecting twins – a baby boy and a baby girl. The couple shared their big news on Instagram while sharing footage of their big [...]

Tags: casting Kailyn Lowry Keycat Keytags Leah Messer popculture.com Teen Mom 2 victoria messer

Ashton Kutcher Talks 'Bizarre' Experience Filming 'That '90s Show'

Ashton Kutcher is heading back to Point Place for That '90s Show in an experience the actor, 44, called 'super nostalgic' and 'bizarre.' Reprising his role as That '70s Show character Michael Kelso in the upcoming Netflix spinoff, also featuring the return Kutcher's wife, Mila Kunis, was a blast [...]

Tags: Ashton Kutcher casting Keycat Keytags popculture.com television show That 90s Show

'Law & Order: Organized Crime' Crew Member Shot and Killed on Set

A Law & Order: Organized Crime crew member was shot and killed on the set of the NBC drama series, Deadline reports Tuesday. The 31-year-old parking enforcement worker, who has yet to be identified before his family is notified, was killed while sitting in a car around 5:15 a.m. on the New York [...]

Tags: casting Christopher Meloni Keycat Keytags Law & Order Organized Crime popculture.com season

AMC Announces Fall Premiere Dates: 'The Walking Dead,' 'Interview With the Vampire' and More

AMC has a fall schedule filled with the premieres of exciting new series, including Anne Rice's Interview With the Vampire, and the return of beloved shows like The Walking Dead and Gangs of London. The network announced the new additions to its fall premiere schedule Wednesday at its TCA Summer [...]

Tags: AMC casting Keycat Keytags popculture.com season television show The Walking Dead

CBS Cancels Major Sitcom

CBS has marked the end for the United States of Al. The network has canceled the Chuck Lorre comedy after its second season, Deadline first reported Wednesday. Two more episodes remain of the show's second season, and the Season 2 finale will now serve as its series finale when it airs May 19.The [...]

Tags: casting CBS TV season United States of Al Young Sheldon

'Little People, Big World' Star Zach Roloff Teaches Son Jackson a Valuable Lesson in Exclusive Sneak Peek

Zach Roloff is determined to set a good example for his kids as he prepares for his upcoming powerlifting competition, but it won't be easy to reach his goal. In a PopCulture.com exclusive sneak peek of Tuesday's all-new episode of Little People, Big World,  Zach learns he's going to have to make [...]

Tags: Big World casting Keycat Keytags Little People popculture.com season television show Tori Roloff Zach Roloff

Divisive 'Big Brother' Couple Gets Married

Big Brother stars Christmas Abbott and Memphis Garrett have tied the knot! The former reality stars said 'I do' Saturday at the Georgia State Railroad Museum in Savannah, Georgia after first meeting on the CBS show's All-Stars season. While both Abbott and Garrett were controversial among the fans [...]

Tags: Big Brother casting Christmas Abbott Keycat Keytags popculture.com season

'Married at First Sight': Stacia Is Shocked at Nate's Apartment in Exclusive Sneak Peek

Married at First Sight star Stacia is in for a shock when she sees where her new husband Nate lives for the first time. In a PopCulture.com exclusive sneak peek of Wednesday's all-new episode of the Lifetime series, the 'uncomfortably clean' newlywed comes face-to-face with a bachelor pad like [...]

Tags: casting Keycat Keytags Lifetime married at first sight popculture.com season television show

'Yellowstone' Star Kelly Reilly Reveals Character Beth Is 'Going to Destroy'

Beth Dutton has her eyes set on Summer Higgins as Season 5 of Yellowstone looms. Actress Kelly Reilly teased more intense moments between her character and the activist in a new interview with TVLine, revealing that John Dutton's love interest isn't off the hook with Beth even as she faces time [...]

Tags: casting Kelly Reilly Keycat Keytags paramount network popculture.com season Yellowstone

'Naked and Afraid XL: Frozen' Brings Back Fan Favorite Survivalists, Watch the Trailer (Exclusive)

Naked and Afraid is taking survival to a whole new level with Naked and Afraid XL: Frozen. PopCulture.com can exclusively announce the cast of Discovery's new spinoff, which premieres Sunday, July 31, launching out of the upcoming 34th annual Shark Week. This chilling adventure takes 12 of the top [...]

Tags: casting Discovery Channel Keycat Keytags Naked and Afraid Naked and Afraid XL popculture.com season

'Love Island' Star's Mom Arrested on Suspicion of Child Abduction

The mother of Love Island star Kendall Rae Knight has been arrested on suspicion of child abduction, reports The Daily Mail. Jane Prior was arrested Thursday after eight-year-old Darcy Shea went missing from her school in Lancashire. The young girl was found safely that same afternoon and Prior [...]

Tags: casting episode Instagram Keycat Keytags Love Island popculture.com

'RHOBH' Star Diana Jenkins Blasts Garcelle Beauvais' 'Uneducated' Comment

Diana Jenkins has responded to Real Housewives of Beverly Hills co-star Garcelle Beauvais' assertion that she is 'uneducated' on Watch What Happens Live after the Bravo newcomer made headlines for feuding with an Instagram content creator. Following Beauvais' condemnation of Jenkins' comments, the [...]

Tags: Bravo Network casting Keycat Keytags popculture.com season The Real Housewives of Beverly Hills watch what happens live with andy cohen

Retta Gives Telling Insight Into Why 'Good Girls' Was Canceled

Retta is giving fans of Good Girls a bit more insight into why the NBC show was abruptly canceled last year, just one month after announcing the renewal for their final season. The actress, who played Ruby Hill in the drama series, revealed during an interview on Live With Kelly and Ryan Monday [...]

Tags: casting Christina Hendricks Good Girls Keycat Keytags LIVE with Kelly and Ryan Manny Montana popculture.com Retta season

'American Idol' Alum Sanjaya Malakar Comes out as Bisexual: 'I Did Not Know'

Former American Idol star Sanjaya Malakar is opening up about his sexuality and the public discourse surrounding his time in the spotlight on Season 6 of the singing competition. Malakar, now 32, revealed in a new interview on The Adam Sank Show podcast that he identifies as bisexual, but said [...]

Tags: American Idol casting Keycat Keytags popculture.com season

'Teen Mom: Young & Pregnant': Brianna Jaramillo Clashes With Mom Over Potty Training in Exclusive Sneak Peek

Teen Mom: Young and Pregnant star Brianna Jaramillo is in a much better place with her mom since moving out, but things 'aren't perfect' between the two. In a PopCulture.com exclusive sneak peek of Tuesday's all-new episode of the MTV show, tensions are high as Jessica insists Brianna take a more [...]

Tags: casting Keycat Keytags MTV popculture.com season Teen Mom Young and Pregnant

'Teen Mom: Young & Pregnant': Madisen Beith Confronts Christian in Exclusive Sneak Peek

Things have changed a lot for Madisen Beith since Teen Mom: Young and Pregnant fans last saw her. In a PopCulture.com exclusive sneak peek of the Tuesday, June 28 season premiere of the MTV show, the Teen Mom star reveals that not only did she and daughter Camille move from Arkansas to Ohio, but [...]

Tags: casting Keycat Keytags MTV popculture.com season Teen Mom Young and Pregnant

'Married at First Sight': Lindy and Binh Reveal Their Biggest Fears Ahead of Season 15 Premiere (Exclusive)

Married at First Sight Season 15 stars Lindy and Binh had a lot to think about before tying the knot with Miguel and Morgan just moments after coming face-to-face for the first time. Ahead of the Wednesday, July 6 premiere of the Lifetime series' San Diego-based season, the two opened up to [...]

Tags: casting Keycat Keytags Lifetime married at first sight popculture.com season television show

Julie Chen Moonves Says She's Pitched an All-Winners Season of 'Big Brother'

Julie Chen Moonves is on board when it comes to Big Brother fans' idea of having an all-winners season. After the success of a similar format on Survivor, the CBS reality show host revealed to Entertainment Weekly that she's been actively pitching the idea of the all-winners season to [...]

Tags: Big Brother casting CBS Julie Chen Moonves Keycat Keytags popculture.com season

Divisive 'Big Brother' Couple Gets Married

Big Brother stars Christmas Abbott and Memphis Garrett have tied the knot! The former reality stars said 'I do' Saturday at the Georgia State Railroad Museum in Savannah, Georgia after first meeting on the CBS show's All-Stars season. While both Abbott and Garrett were controversial among the fans [...]

Tags: Big Brother casting Christmas Abbott Keycat Keytags popculture.com season

Neve Campbell Reportedly Not Returning for 'Scream 6' Next Year

Neve Campbell may not return for next year's Scream 6 as rumors continue to circulate that the scream queen will be sitting this iteration of the popular horror franchise out. Campbell has reportedly been telling fans this news herself on the convention circuit, making waves online without making [...]

Tags: casting Courteney Cox Keycat Keytags Neve Campbell popculture.com scream Scream 5 Scream 6

'Teen Mom: Young and Pregnant': Kayla and Luke Get Into It Over Her Ex in Exclusive Season Preview

Teen Mom: Young and Pregnant couple Kayla Sessler and Luke Davis have a long way to go if they want to repair their relationship. In a PopCulture.com exclusive preview of the brand new season, premiering Tuesday, June 28 on MTV, the two reveal just how broken their relationship has become after [...]

Tags: casting Keycat Keytags popculture.com season Teen Mom Young and Pregnant

'Perry Mason' Season 2 Adds 'CSI' Fan Favorite

Wallace Langham is joining the HBO family for the second season of Perry Mason. Deadline reports that the CSI fan favorite, who also appears on Apple TV+'s Physical and For All Mankind, as well as Amazon Prime Video's The Boys, will recur as Melville Phipps in the upcoming second season of the HBO [...]

Tags: casting episode HBO Keycat Keytags Perry Mason popculture.com season Tatiana Maslany

'Teen Mom: Young & Pregnant': Kayla and Luke Split for 'Scary' Trial Separation in Exclusive Sneak Peek

Kayla Sessler and Luke Davis are moving forward with their trial separation. In a PopCulture.com exclusive sneak peek of Tuesday's all-new Teen Mom: Young and Pregnant episode, the two sit down to talk about what the future holds for them after Kayla decided to move in with her mom for 30 days [...]

Tags: casting Keycat Keytags MTV popculture.com season Teen Mom Young and Pregnant

'90 Day Fiance' Star Speaks out About Claims He and Son Are Missing Amid Custody Dispute

90 Day Fiancé's Paul Staehle has denied kidnapping his eldest son Pierre after the two were reported missing by Child Protective Services. The 90 Day Fiancé: Before the 90 Days alum, who shares 3-year-old Pierre and 16-month-old son Ethan with ex Karine Martins, told TMZ Saturday that he took [...]

Tags: 90 Day Fiance casting Keycat Keytags popculture.com season TLC

'Married at First Sight': Binh's Friends Urge Morgan to 'Forgive and Forget' in Exclusive Sneak Peek

Married at First Sight couple Morgan and Binh have a lot to move past if they want their marriage to last, and Binh's friends are urging his new bride to 'forgive and forget' in order to make things work. In a PopCulture.com exclusive sneak peek of Wednesday's all-new episode of the Lifetime show, [...]

Tags: casting Keycat Keytags Lifetime married at first sight popculture.com season television show

'Love Island' Star's Mom Arrested on Suspicion of Child Abduction

The mother of Love Island star Kendall Rae Knight has been arrested on suspicion of child abduction, reports The Daily Mail. Jane Prior was arrested Thursday after eight-year-old Darcy Shea went missing from her school in Lancashire. The young girl was found safely that same afternoon and Prior [...]

Tags: casting episode Instagram Keycat Keytags Love Island popculture.com

'Real Housewives of Dubai' Star Recalls Forced Circumcision at Age 5 in Tearful Moment

The Real Housewives of Dubai star Chanel Ayan is opening up about her traumatic childhood experience of being forcibly circumcised when she was just 5 years old while growing up in Kenya. During Wednesday's episode of the Bravo series, Ayan opened up to a therapist about the experience and how [...]

Tags: Bravo Network casting Keycat Keytags popculture.com season the real housewives of dubai

'This Is Us' Star Reveals Double Lung Transplant

This Is Us has gotten one of its stars through serious health issues. Ron Cephas Jones opened up to his co-stars on the hit NBC show about going through a double lung transplant in a new cover story for Entertainment Weekly. The 65-year-old actor, who went through a double lung transplant in 2020 [...]

Tags: casting episode Keycat Keytags NBC ron cephas jones season finale This is Us

ABC Casts R&B Star as Belle in 'Beauty And the Beast' Special

Grammy- and Academy Award-winning R&B artist H.E.R. has been cast as Princess Belle in ABC's upcoming special celebrating the beloved Disney film's 30th birthday. Beauty and the Beast: A 30th Celebration, executive produced by Jon M. Chu and directed by Hamish Hamilton, will air Dec. 15 on ABC [...]

Tags: ABC Beauty and the Beast belle casting H.E.R. Keycat Keytags live action popculture.com

ESPA's wellness advent calendar is the ultimate Christmas treat

ESPA has finally released the Wellness Advent Calendar for Christmas 2022 – and it's worth £319. Shop it for £160 and check out ESPA's luxurious gifting selection.

Tags: Advent Calendar Beauty Christmas ESPA Hello hellomagazine.com

'7 Little Johnstons': Liz Breaks Big News to Her Parents, and They're Not Thrilled in Exclusive Sneak Peek

7 Little Johnstons star Elizabeth Johnston is finally breaking the big news to her parents about plans to live with boyfriend Brice, but Trent and Amber Johnston aren't exactly celebrating their daughter's relationship milestone. In a PopCulture.com exclusive sneak peek of Tuesday's season finale [...]

Tags: 7 Little Johnstons casting season television show TLC

'Married to Medicine': Dr. Contessa Metcalfe Reveals How She Reconciled With Husband Dr. Scott (Exclusive)

Dr. Contessa Metcalfe and Dr. Scott Metcalfe have found their way back together. The Married to Medicine star opened up to PopCulture.com about how she and her husband were able to come back from the brink of divorce and repair their marriage ahead of the Bravo show's Season 9 premiere Sunday, [...]

Tags: Bravo Network casting Keycat Keytags Married to Medicine popculture.com season

21 Christmas things to do in London: Ice skating, carol concerts & more

21 Christmas things to do in London: Ice skating, carol concerts & more,Christmassy things to do in London 2022. Celebrate Christmas in London with one of these exciting seasonal events and experiences including ice skating at the Natural History Museum, festive foods at Hyde Park's Winter Wonderland and preparing treats for the animals at ZSL London Zoo. Here are some of the best things to do...

Tags: Christmas Hello hellomagazine.com London things to do Travel

'Married at First Sight': Stacia and Mitch Reveal the Toughest Part of Their 'Intense' Experience (Exclusive)

Married at First Sight stars Stacia and Mitch are sharing the most difficult part of their marriage journey with husband Nate and wife Krysten. Prior to Wednesday's all-new episode of the Lifetime show, the newlyweds opened up to PopCulture.com about how the 'intense' experience of marrying a [...]

Tags: casting Keycat Keytags Lifetime married at first sight popculture.com season television show

Collingwood super-fan 'Joffa' Corfe pleads guilty to child sex abuse

Collingwood super-fan 'Joffa' Corfe pleads guilty to child sex abuse,Jeffrey 'Joffa' Corfe has pleaded guilty to sexually abusing a teenage boy. Read more here. The post Collingwood super-fan 'Joffa' Corfe pleads guilty to child

Aaron Carter's twin sister 'begged' him to let her help two days before death

Aaron Carter's twin sister 'begged' him to let her help two days before death,Aaron Carter's twin sister Angel has shared heartbreaking details of her final conversation with the late singer, two days before his death. The post Aaro

Harry & Meghan – what the first episodes reveal about Meghan's reputation within the royalfamily

Harry & Meghan – what the first episodes reveal about Meghan's reputation within the royalfamily,An expert in contemporary British monarchy analyses the first three episodes of Harry + Meghan, the headline-grabbing Netflix show from the Duke and

Where is the cast of Absolutely Fabulous now?

Where is the cast of Absolutely Fabulous now?,ABSOLUTELY Fabulous originally ran from 1992 to 1996 and became an instant hit upon release. It is now regarded as one of Britain's most iconic sitcoms so where is the cast now? Here's … The post Where is

††† (Crosses) Release New Song "Sensation": Stream

††† (Crosses) Release New Song "Sensation": Stream,Chino Moreno and Shaun Lopez's new EP PERMANENT.RADIANT arrives December 9th.

The world's oldest map of the night sky was amazingly accurate

Newly discovered fragments of 2,200-year-old star coordinates—once thought lost—reveal the incredible skill of the ancient astronomer Hipparchus. The post The world's oldest map of the night sky was amazingly accurate first appeared on Science Radars