'Pawn Stars Do America': Rick Harrison Reveals Crew Picked up Rare Comic Book (Exclusive)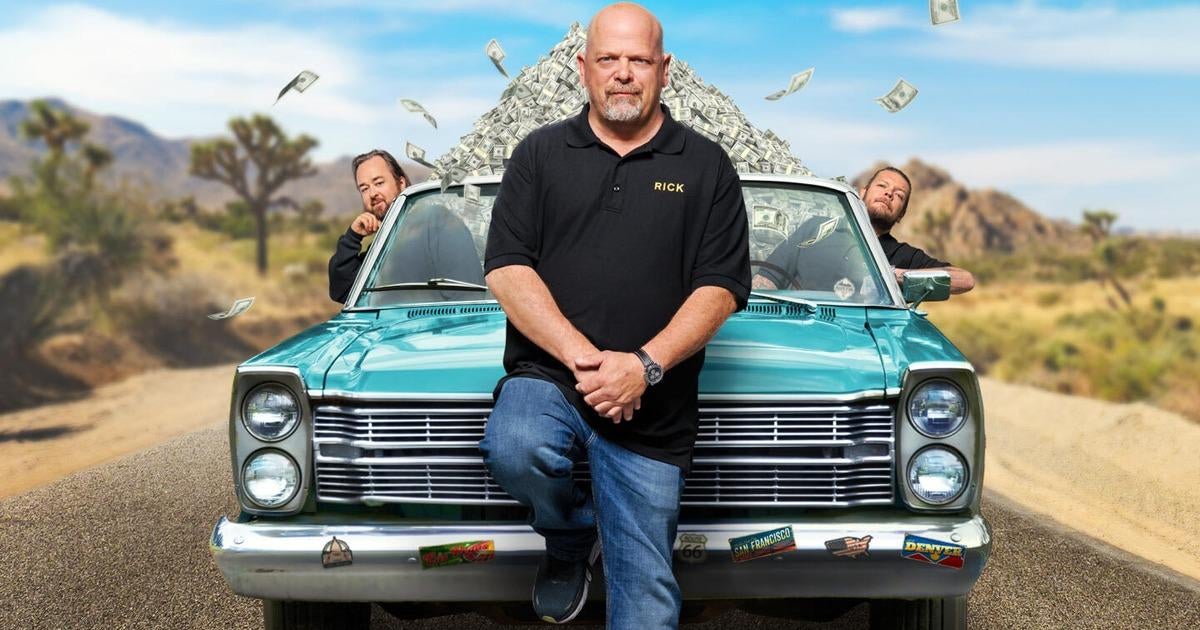 'Pawn Stars Do America': Rick Harrison Reveals Crew Picked up Rare Comic Book (Exclusive),The Pawn Stars crew is bringing a brand new show to the History Channel, Pawn Stars Do America. The series follows Rick Harrison, Chumlee, and Rick's son Corey as they travel the nation, making stops in some amazing cities to give Pawn Stars fans a chance to sell valuable items. PopCulture.com had [...]
'Pawn Stars Do America': Rick Harrison Reveals Crew Picked up Rare Comic Book (Exclusive)
The Pawn Stars crew is bringing a brand new show to the History Channel, Pawn Stars Do America. The series follows Rick Harrison, Chumlee, and Rick's son Corey as they travel the nation, making stops in some amazing cities to give Pawn Stars fans a chance to sell valuable items. PopCulture.com had a chance to chat with Harrison ahead of the new series premiere, and he shared what it was like road-tripping around America, his favorite cities to stop in, and revealed that the crew picked up a rare comic book during their journey.
When it came to choosing cities for the tour, Harrison says he picked some of his favorites around the country. "We did Winston-Salem, which is an homage to my dad because it's right down the street from where he grew up," he said. Harrison's father, Richard "Old Man" Harrison was a staple of Pawn Stars but sadly passed away in 2018. "Austin's always fun," Harrison continued. "The whole music scene down there is really cool. But [Washington D.C.], I mean, Valley Forge, like the history thing. We just said 'Let's pick these eight and then we'll pick eight more next year if we do it again.' And everyone seems to be in love with the show, so that's a really big possibility."
Revealing his favorite city they visited for the show, Harrison heaped high praise on Savannah, Georgia. "It's one of the most beautiful cities I've ever seen… just an absolutely beautiful city. And it's got a really, really cool history. It's like the first planned city in the United States, and so that's why it has all those open spaces and everything like that. Like I said, just all in all, it's a really, really beautiful city." Harrison also joked about traveling with Corey and Chumlee, telling us, "It's a little tough with those two, because their favorite hobby is to pick on Rick. But we all had a good time. It was, just had an absolute blast the whole time."
For the Pawn Stars Do America premiere, fans will see the crew stop off in Denver, Colorado, where, among many other items, they encounter some Muhammad Ali memorabilia. "It was really, really neat to look at," Harrison said, later adding, "It's really cool stuff. It's got some great history connected to it."
0comments
Another big thing they happen upon later in the season, Harrison teased, is a very rare comic book. "There was a couple number ones that came across," he said. "I'll just say someone who carries a lasso…" He then just came out with it, saying they found "a number one Wonder Woman," so fans should be on the lookout for that to show up in a later episode. Pawn Stars Do America premieres Wednesday, Nov. 9 at 8 pm ET, on History Channel.
Related News & Content
Who is presenter Jules Hudson?

Who is presenter Jules Hudson?,JULES Hudson is a much-loved archaeologist and TV star. But fans of Summer On The Farm have been missing the presenter as the show returned to Channel 5 for a week of live shows in July 2022. Who i…

Tags: archaeology Business business and finance explainers History Pop Culture Reality TV Sales Science social science Television The Sun the-sun.com

Who is presenter Jules Hudson?

Who is presenter Jules Hudson?,JULES Hudson is a much-loved archaeologist and TV star. But fans of Summer On The Farm have been missing the presenter as the show returned to Channel 5 for a week of live shows in July 2022. Who i…

Tags: archaeology Business business and finance explainers History Pop Culture Reality TV Sales Science social science Television The Sun the-sun.com

Who is presenter Jules Hudson?

JULES Hudson is a much-loved archaeologist and TV star. But fans of Summer On The Farm have been missing the presenter as the show returned to Channel 5 for a week of live shows in July 2022. Who i…

Tags: archaeology Business business and finance explainers History Pop Culture Reality TV Sales Science social science Television The Sun the-sun.com

Who is presenter Jules Hudson?

JULES Hudson is a much-loved archaeologist and TV star. But fans of Summer On The Farm have been missing the presenter as the show returned to Channel 5 for a week of live shows in July 2022. Who i…

Tags: archaeology Business business and finance explainers History Pop Culture Reality TV Sales Science social science Television The Sun the-sun.com

Who is presenter Jules Hudson?

JULES Hudson is a much-loved archaeologist and TV star. But fans of Summer On The Farm have been missing the presenter as the show returned to Channel 5 for a week of live shows in July 2022. Who i…

Tags: archaeology Business business and finance explainers History Pop Culture Reality TV Sales Science social science Television The Sun the-sun.com

Who is presenter Jules Hudson?

JULES Hudson is a much-loved archaeologist and TV star. But fans of Summer On The Farm have been missing the presenter as the show returned to Channel 5 for a week of live shows in July 2022. Who i…

Tags: archaeology Business business and finance explainers History Pop Culture Reality TV Sales Science social science Television The Sun the-sun.com

What Christmas Movie Does Kevin Bacon Watch In The Guardians Of The Galaxy Holiday Special? – Looper

What Christmas Movie Does Kevin Bacon Watch In The Guardians Of The Galaxy Holiday Special? - Looper,Kevin Bacon has a pretty bad time in much of "The Guardians of the Galaxy Holiday Special," but at least he gets to watch a cool Holiday movie.

Tags: History Looper looper.com Movies\TV News Weird World

Wakanda Forever's Namor Proves The MCU's Doctor Doom Could Be Great – Looper

Wakanda Forever's Namor Proves The MCU's Doctor Doom Could Be Great - Looper,Let's take a look at how "Black Panther: Wakanda Forever" approaches Namor, and why it's a very good sign for fans who are waiting for Doctor Doom's arrival.

Tags: History Looper looper.com Movies\TV News Weird World

Troy Deeney: Where's My History? review: one man's campaign to bring black history into the classroom

In a thoughtful if, at times, unfocused programme for Channel 4, the Birmingham City striker raised an important issue

Tags: Birmingham City FC Black Lives Matter Channel 4 Culture Documentary History Keycat Keytags Racism review telegraph.co.uk Television Television Editors Choice

Travel Channel Host Completes 'Bucket List' Item 30 Years in the Making

You always love seeing people achieve a dream. Travel Channel personality Jordan Hembrough recently shared that he was able to part off a 'bucket list' item and captured the joyous moment on social media. The Toy Hunter host took to Twitter and Instagram to reveal he tracked down a copy of Amazing [...]

Tags: Amazing Fantasy Amazing Fantasy 15 channel discovery+ Keycat Keytags New York City popculture.com Spider Man television channel television show Travel Travel Channel

Travel Channel Host Completes 'Bucket List' Item 30 Years in the Making

You always love seeing people achieve a dream. Travel Channel personality Jordan Hembrough recently shared that he was able to part off a 'bucket list' item and captured the joyous moment on social media. The Toy Hunter host took to Twitter and Instagram to reveal he tracked down a copy of Amazing [...]

Tags: Amazing Fantasy Amazing Fantasy 15 channel discovery+ Keycat Keytags New York City popculture.com Spider Man television channel television show Travel Travel Channel

The View fans rally to 'FIRE' Whoopi Goldberg with 40K-signature petition after host's 'tone deaf' and 'racist' comments

WHOOPI Goldberg has angered The View fans after a past on-air blunder leading thousands to vie for her to be fired from the show. The 66-year-old has made controversial comments in the past, but sh…

Tags: comedy tv contemporary history crime Entertainment History Homicide news and politics personal offence Racism Science social science Society Television The US Sun The View the-sun.com TV Whoopi Goldberg

The Spy Who Died Twice, review: sordid, salacious and oddly nostalgic

The story of John Stonehouse, the MP who faked his own death, was like gold dust for the British tabloid press

Tags: Channel 4 Culture Culture Editors Choice Documentary History review Television Television Editors Choice

'The Rookie' Not on Tonight, ABC Airing Michelle Obama Special Instead

'The Rookie' Not on Tonight, ABC Airing Michelle Obama Special Instead,ABC's The Rookie is not on this week. Instead, ABC News is taking over the 10 p.m. ET timeslot on Sunday, Nov. 13 with a 20/20 special, Michelle Obama: The Light We Carry, A Conversation with Robin Roberts. The special is timed with the release of the former First Lady's new book, The Light We [...]

Tags: ABC ABC News channel episode hulu Michelle Obama popculture.com Robin Roberts season television show The Rookie time TV

'The Rookie' Not on Tonight, ABC Airing Michelle Obama Special Instead

'The Rookie' Not on Tonight, ABC Airing Michelle Obama Special Instead,ABC's The Rookie is not on this week. Instead, ABC News is taking over the 10 p.m. ET timeslot on Sunday, Nov. 13 with a 20/20 special, Michelle Obama: The Light We Carry, A Conversation with Robin Roberts. The special is timed with the release of the former First Lady's new book, The Light We [...]

Tags: ABC ABC News channel episode hulu Michelle Obama popculture.com Robin Roberts season television show The Rookie time TV

The Ending Of Hostile Explained – Looper

The Ending Of Hostile Explained - Looper,Subtle hints are given to viewers about the twist ending of Mathieu Turi's horror drama Hostile, which we explain here.

Tags: History Looper looper.com Myths PunkMetal Music

The Devastating Death Of Supernatural Actor Nicki Aycox – Looper

The Devastating Death Of Supernatural Actor Nicki Aycox - Looper,Nicki Aycox, who portrayed Meg Masters in The CW's "Supernatural," has died at the age of 47.

Tags: History Looper looper.com Movies\TV News Weird World

The Devastating Death Of Supernatural Actor Nicki Aycox – Looper

The Devastating Death Of Supernatural Actor Nicki Aycox - Looper,Nicki Aycox, who portrayed Meg Masters in The CW's "Supernatural," has died at the age of 47.

Tags: History Looper looper.com Movies\TV News Weird World

Tchaikovsky's Wife, review: a stately period piece – with an unexpected orgy-dance

Kirill Serebrennikov's return to Cannes is a watchable if unsubtle melodrama about the composer's ill-fated marriage to Antonina Miliukova

Tags: Cannes Film Festival Classical concerts Culture Culture Editors Choice film History Keycat Keytags review Russia

Russia's Eurovision killer? The controversial Soviet 'Intervision Song Contest' experiment

The Eastern Bloc talent show brought east and west together at the height of the Cold War – until it was crushed by the jealousy of the USSR

Tags: Culture Culture Editors Choice Eurovision History Music On demand Poland Pop music Russia Standard Television Television Editors Choice

'Pawn Stars Do America': Rick Harrison Reveals Crew Picked up Rare Comic Book (Exclusive)

'Pawn Stars Do America': Rick Harrison Reveals Crew Picked up Rare Comic Book (Exclusive),The Pawn Stars crew is bringing a brand new show to the History Channel, Pawn Stars Do America. The series follows Rick Harrison, Chumlee, and Rick's son Corey as they travel the nation, making stops in some amazing cities to give Pawn Stars fans a chance to sell valuable items. PopCulture.com had [...]

Tags: expert History Channel Las Vegas Net Worth Pawn Stars pawnbroker popculture.com Rick Harrison TV

Netflix Documentary Under Fire From Archeologists

Netflix Documentary Under Fire From Archeologists,The Society for American Archeologists wants a Netflix program to be moved to fiction, arguing that it contains no historical factual basis.

Tags: archaeology GIANT FREAKIN ROBOT giantfreakinrobot.com History Movies & TV Netflix Streaming

Lucy Worsley has to hold back tears as she gets serious about the witch hunts

In her new series, Lucy Worsley Investigates, the historian has ditched the twinkle for sober research - and it suits her

Tags: BBC Culture Culture Editors Choice Documentary History Keycat Keytags review telegraph.co.uk Television Television Editors Choice Witchcraft

Jurassic World: Dominion review: There's no magic, there's no heart, there's no suspense and it drags the franchise down

Jurassic World Dominion 12A (147mins) ★★☆☆☆ I CAN still recall being 12-years-old and staring in wonder as the brachiosaurus stomped onto the big screen in 1993's Jurassic Park – the first time us …

Tags: archaeology film Film Reviews History Movies Science science fiction movies social science The Sun The Sun Newspaper the-sun.com TV

Jeopardy! fans accuse producers of accepting 'incorrect answer' DAYS after game show is slammed for 'inconsistent' rules

JEOPARDY! fans have accused producers of accepting an incorrect answer during tonight's episode. It comes just days after viewers slammed the show for its "inconsistent" rules. On…

Tags: ancient history events and attractions funeral History JEOPARDY! personal celebrations and life events Science social science Television The Sun the-sun.com

Is The Lululemon Studio Mirror Worth It? – Glam

Is The Lululemon Studio Mirror Worth It? - Glam,There are tons of at-home workout equipment options, so how do you know what's best? Or which ones are worth the investment — for example, the Lululemon mirror.

Tags: Astrology at Food and Travel Glam glam.com Good Housekeeping great Health History home YouTube workout Lululemon is known for its expensive products Motherhood Sports Washington Post

Inside Barron Trump's Relationship With His Older Siblings

When it comes to family, just how tight are the Trumps? Here's everything to know about Barron Trump's relationship with his older siblings.

Tags: History Music NickiSwift.com Politics Pop Culture

I dug up a medieval ring while planting tomatoes in my garden – I thought it was scrap but got an incredible shock

I dug up a medieval ring while planting tomatoes in my garden – I thought it was scrap but got an incredible shock,AN Antiques Roadshow guest was stunned to discover a medieval ring while planting tomatoes in his garden. Jewellery specialist Geoffrey Munn left the owner gobsmacked when he revealed the ring was …

Tags: agriculture Antiques Roadshow BBC business and finance Gardening History home and garden industries medieval history mens accessories mens fashion mens jewelry and watches News TV Science social science style and fashion The Sun the-sun.com TV

I dug up a medieval ring while planting tomatoes in my garden – I thought it was scrap but got an incredible shock

I dug up a medieval ring while planting tomatoes in my garden – I thought it was scrap but got an incredible shock,AN Antiques Roadshow guest was stunned to discover a medieval ring while planting tomatoes in his garden. Jewellery specialist Geoffrey Munn left the owner gobsmacked when he revealed the ring was …

Tags: agriculture Antiques Roadshow BBC business and finance Gardening History home and garden industries medieval history mens accessories mens fashion mens jewelry and watches News TV Science social science style and fashion The Sun the-sun.com TV

I dug up a medieval ring while planting tomatoes in my garden – I thought it was scrap but got an incredible shock

AN Antiques Roadshow guest was stunned to discover a medieval ring while planting tomatoes in his garden. Jewellery specialist Geoffrey Munn left the owner gobsmacked when he revealed the ring was …

Tags: agriculture Antiques Roadshow BBC business and finance Gardening History home and garden industries medieval history mens accessories mens fashion mens jewelry and watches News TV Science social science style and fashion The Sun the-sun.com TV

I dug up a medieval ring while planting tomatoes in my garden – I thought it was scrap but got an incredible shock

AN Antiques Roadshow guest was stunned to discover a medieval ring while planting tomatoes in his garden. Jewellery specialist Geoffrey Munn left the owner gobsmacked when he revealed the ring was …

Tags: agriculture Antiques Roadshow BBC business and finance Gardening History home and garden industries medieval history mens accessories mens fashion mens jewelry and watches News TV Science social science style and fashion The Sun the-sun.com TV

I dug up a medieval ring while planting tomatoes in my garden – I thought it was scrap but got an incredible shock

AN Antiques Roadshow guest was stunned to discover a medieval ring while planting tomatoes in his garden. Jewellery specialist Geoffrey Munn left the owner gobsmacked when he revealed the ring was …

Tags: agriculture Antiques Roadshow BBC business and finance Gardening History home and garden industries medieval history mens accessories mens fashion mens jewelry and watches News TV Science social science style and fashion The Sun the-sun.com TV

I dug up a medieval ring while planting tomatoes in my garden – I thought it was scrap but got an incredible shock

AN Antiques Roadshow guest was stunned to discover a medieval ring while planting tomatoes in his garden. Jewellery specialist Geoffrey Munn left the owner gobsmacked when he revealed the ring was …

Tags: agriculture Antiques Roadshow BBC business and finance Gardening History home and garden industries medieval history mens accessories mens fashion mens jewelry and watches News TV Science social science style and fashion The Sun the-sun.com TV

I attended Queen's coronation – she looked like a goddess but had to be rescued when she got stuck in Abbey doorway

IN 1952, my late father, Woodrow Wyatt, who was then a Labour MP, received an invitation to attend the coronation of Queen Elizabeth II on June 2nd, 1953.  Aside from being a Member of Parliam…

Tags: Digital Features events and attractions Features heads of state heraldry History news and politics political events Politics Royal Family Science social science The Queen The Sun the-sun.com

How Twitter Reacted To The Guardians Of The Galaxy Holiday Special – Looper

How Twitter Reacted To The Guardians Of The Galaxy Holiday Special - Looper,Twitter users have highlighted several things about "The Guardians of the Galaxy Holiday Special." Here's what they had to say.

Tags: History Looper looper.com Movies\TV News Weird World

How Twitter Reacted To The Guardians Of The Galaxy Holiday Special – Looper

How Twitter Reacted To The Guardians Of The Galaxy Holiday Special - Looper,Twitter users have highlighted several things about "The Guardians of the Galaxy Holiday Special." Here's what they had to say.

Tags: History Looper looper.com Movies\TV News Weird World

How many children did Genghis Khan have?

Genghis Khan was a fearsome 13th century Mongolian warrior who ruled the largest empire in the world. But military conquests aside, Genghis Khan is remembered for having many wives and producing ev…

Tags: bereavement Bizarre explainers family and relationships genetics History Science Showbiz social science The Sun the-sun.com

Forget Avatar: The Way Of Water. What Really Matters Is Avatar 3 – Looper

Forget Avatar: The Way Of Water. What Really Matters Is Avatar 3 - Looper,"Avatar: Way of the Water" is fine and all, but the fate of the series depends on the third movie. Here's how important "Avatar 3" is for the franchise.

Tags: History Looper looper.com Movies\TV News Weird World

Elizabeth: A Portrait In Parts: humanises the Queen and makes her seem all the more magnificent

The last film by Roger Michell, who died suddenly last September, reminds us of our monarch's profound decency – and, oddly, of ours

Tags: Culture Culture Editors Choice Documentary film History Keycat Keytags Queen Elizabeth II review Simon Heffer telegraph.co.uk The Royal Family

Did We Already Know The Star-Lord Family Secret Revealed In The Guardians Holiday Special? – Looper

Did We Already Know The Star-Lord Family Secret Revealed In The Guardians Holiday Special? - Looper,"The Guardians of the Galaxy Holiday Special" reveals a strange secret about Star-Lord's family. But is it really such a surprise to the viewers?

Tags: History Looper looper.com Movies\TV News Weird World

Did We Already Know The Star-Lord Family Secret Revealed In The Guardians Holiday Special? – Looper

Did We Already Know The Star-Lord Family Secret Revealed In The Guardians Holiday Special? - Looper,"The Guardians of the Galaxy Holiday Special" reveals a strange secret about Star-Lord's family. But is it really such a surprise to the viewers?

Tags: History Looper looper.com Movies\TV News Weird World

Collingwood super-fan 'Joffa' Corfe pleads guilty to child sex abuse

Collingwood super-fan 'Joffa' Corfe pleads guilty to child sex abuse,Jeffrey 'Joffa' Corfe has pleaded guilty to sexually abusing a teenage boy. Read more here. The post Collingwood super-fan 'Joffa' Corfe pleads guilty to child

Aaron Carter's twin sister 'begged' him to let her help two days before death

Aaron Carter's twin sister 'begged' him to let her help two days before death,Aaron Carter's twin sister Angel has shared heartbreaking details of her final conversation with the late singer, two days before his death. The post Aaro

Harry & Meghan – what the first episodes reveal about Meghan's reputation within the royalfamily

Harry & Meghan – what the first episodes reveal about Meghan's reputation within the royalfamily,An expert in contemporary British monarchy analyses the first three episodes of Harry + Meghan, the headline-grabbing Netflix show from the Duke and

Where is the cast of Absolutely Fabulous now?

Where is the cast of Absolutely Fabulous now?,ABSOLUTELY Fabulous originally ran from 1992 to 1996 and became an instant hit upon release. It is now regarded as one of Britain's most iconic sitcoms so where is the cast now? Here's … The post Where is

Toni Collette Announces Split From Dave Galafassi After He Was Seen Locking Lips With Mystery Lady

Toni Collette Announces Split From Dave Galafassi After He Was Seen Locking Lips With Mystery Lady,Oscar-nominated actress Toni Collette and her drummer husband, Dave Galafassi, have announced their divorce.

The world's oldest map of the night sky was amazingly accurate

Newly discovered fragments of 2,200-year-old star coordinates—once thought lost—reveal the incredible skill of the ancient astronomer Hipparchus. The post The world's oldest map of the night sky was amazingly accurate first appeared on Science Radars