The Voice Finale 5th Judge: Shocking Upset Leaves Winner Stunned — Plus, Blake Shelton's Farewell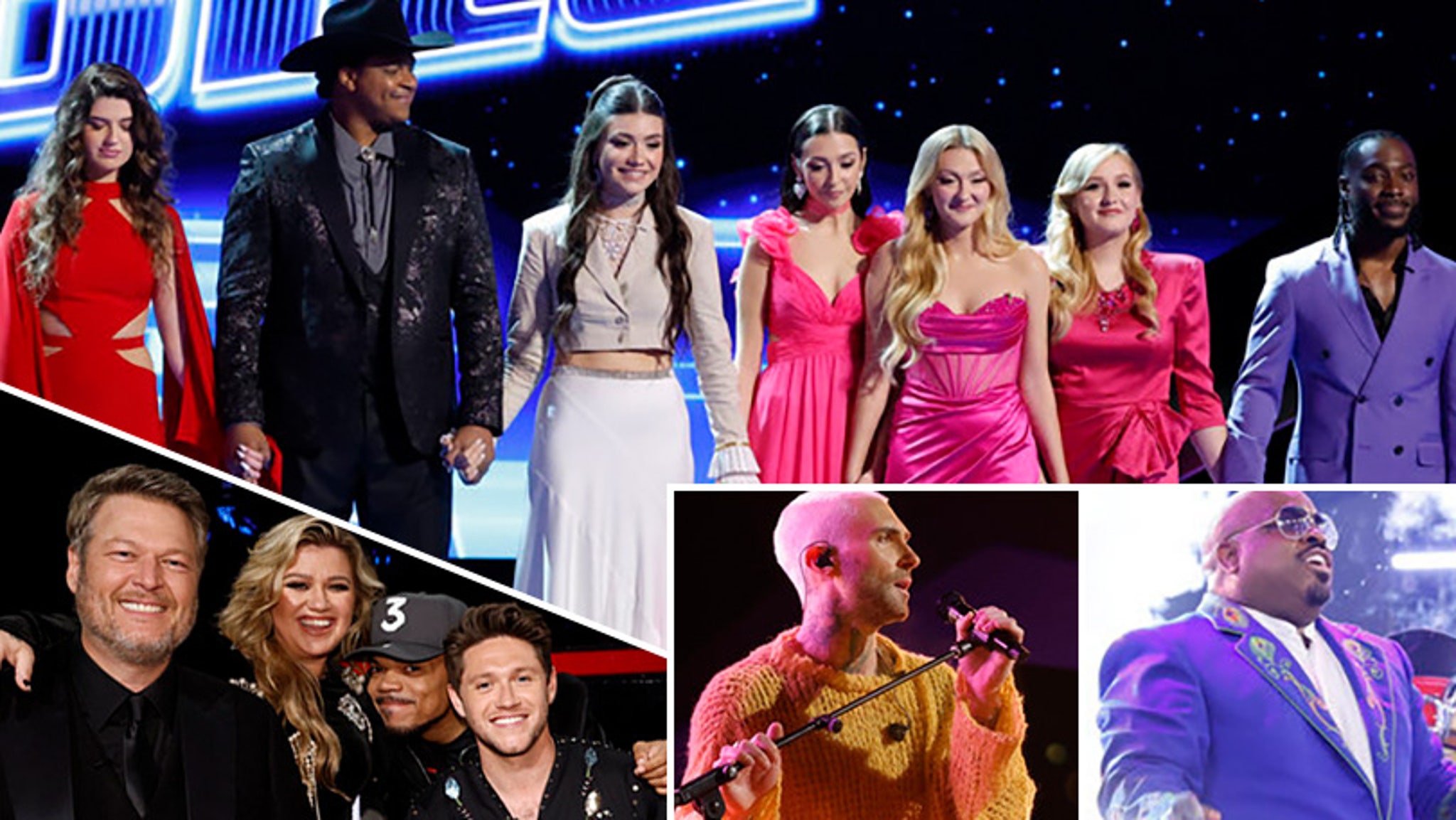 The Voice Finale 5th Judge: Shocking Upset Leaves Winner Stunned -- Plus, Blake Shelton's Farewell,There was perhaps no one more shocked than the winner of "The Voice" Season 23 after a shocking upset -- plus, members of Team Blake from Season 1 to the present are joined by all-stars including Adam Levine, CeeLo Green, and almost every former Coach in saying goodbye to Blake Shelton on his final episode.
The Voice Finale 5th Judge: Shocking Upset Leaves Winner Stunned — Plus, Blake Shelton's Farewell
Blake Shelton's final episode was a night filled with former Coaches like CeeLo Green and Adam Levine, as well as lots of memories and former members of Team Blake from across his entire tenure on the show — plus, Season 23 crowns its winner in a shocking upset even the winner couldn't believe!
We wondered if this would be a tight race with a pretty strong group of finalists, but we weren't expecting it to be as tight as Carson Daly announced before crowning "The Voice" Season 23 winner.
In a stunned moment, there was perhaps no one more surprised by the final results than the winner. We've seen plenty of shocking upsets on shows like this one, but this one left all of us reeling — though we won't say we're altogether mad about it.
It was also a huge night for Blake Shelton. After 23 seasons, "The Cowboy" was hanging up his jean jacket (literally) and saying goodbye to the show for good. That said, with his wife Gwen Stefani returning next season, we have a feeling he won't be gone gone for long.
so much love from past Coaches to @blakeshelton ? pic.twitter.com/6fMSrK8kOV
— The Voice (@NBCTheVoice) May 24, [email protected]
Still, it was a touching and heartfelt farewell, with Season 1 Coaches Adam Levine and CeeLo Green both returning with fresh performances and plenty of love for their former colleague, along with messages from many past Coaches. Blake was also surprised by more than a dozen of his former team members, including all nine of his former winners!
We'll admit, we got choked up a bit at times throughout the night, too. It really is a remarkable achievement to have powered through 23 seasons of a show like this, double-pumped through most years. Blake has become synonymous with the show — and we just know they're sweating things a little bit to see how it will fare without him.
Fair warning, since I'm safe at home, I'm probably going to be a little harsher than my colleagues Kelly Clarkson, Chance the Rapper, Niall Horan, and Blake Shelton. But I might be nicer, too. Maybe.
And just for fun, I'm going to rank the contestant's performances from worst to first to see who my favorites are, and then see how close you were to getting it right with your votes (i.e., agreeing with me).
FILLER
CeeLo Green
EPICCCCC @blakeshelton send-off performance by @CeeLoGreen, @bodielovesyou, @CamAnthony, @WendyMoten, and Chloe Kohanski ❤️‍? pic.twitter.com/Ck2JmhqJFW
— The Voice (@NBCTheVoice) May 24, [email protected]
(80's Medley, Various Artists) In honor of the Cowboy's last show, CeeLo started performing inside of a giant boot before coming onto the stage. He looked a little uncertain about the steps but put on a fun showcase of some great '80s staples, because Blake is such a huge fan. He was then joined by Season 13 winner Chloe Kohanski, Season 20 winner Cam Anthony, Season 21 finalist Wendy Moten, and Season 22 finalist bodie, all from various Team Blakes over the years.
Toosii
[video not yet available]
("Favorite Song," Toosii) A viral sensation with TikTok success pushing him onto the Billboard charts, Toosii was definitely stoked to be performing on a big stage, and he brought a great, mellow energy to this melancholy track. With simple staging and production, this one was all about the message, which is sweet and hopeful. It's definitely a catchy song with a great hook and he delivered it well.
Diplo f. Lily Rose
[video not yet available]
("Sad in the Summer," Diplo f. Lily Rose) Lily settled quickly into the pocket and just delivered. It was a confident performance with a great and consistent energy. There weren't a lot of vocal tricks or power notes to shock the system, just a solid delivery. There's not much more to say about it. They came out and did their thing.
U.S. Army Field Band
[video not yet available]
("I Live," OneRepublic) This was a little more disjointed than we expected, with one of the soldiers bringing a bit too much theatricality to the performance, creating some dissonant harmonies. It was a great song choice, and most of the voices were on point, but the whole thing didn't quite come together as tight as it could have.
Maroon 5
[video not yet available]
("Middle Ground," Maroon 5) It's Maroon 5 in a coffeehouse, with a very laid back acoustic energy on this new single. That said, Adam Levine and the group sound as fantastic as ever, still performing at the highest level. It was so much fun seeing Adam back on the show tonight, palling around with Blake again and bringing his soaring vocal ability to the stage. It's incredible to us that Blake found a BFF and a wife on this show!
The Oddest Couple
In a sequel season to the fake sitcom starring Blake and John Legend, Niall Horan moved into the house as Blake's son. This was definitely as corny as the original, and not quite as clever in its cheesy sitcom writing, but it showcased the adorable "father/son" thing Blake and Niall have had going on this season.
Teams Blake
("Good Riddance (Time of Your Life)," Green Day) With representatives from Season 1 to just this past fall, Blake was surprised with a beautiful and powerful reminder of the impact he's had on this show and on so many individual lives as so many of his past contestants joined together to honor his legacy. His jacket was retired tonight, CeeLo and Adam returned and now he got to reunite with more than a dozen past contestants (see below) — he will not soon be forgotten on this show!
Bryce Leatherwood (Season 22 Winner)
Jermaine Paul (Season 2 Winner)
The Swon Brothers (Season 4 Finalist)
Raelynn (Season 2 Finalist)
Danielle Bradbery (Season 4 Winner)
Craig Wayne Boyd (Season 7 Winner)
Sundance Head (Season 11 Winner)
Todd Tilghman (Season 18 Winner)
Cassadee Pope (Season 3 Winner)
Dia Frampton (Season 1 Finalist)
Ian Flanigan (Season 19 Finalist)
Xenia (Season 1 Semi-Finalist)
COACH DUETS
Sorelle (w/ Chance the Rapper)
("O-o-h Child," The Five Stairsteps) We weren't loving this arrangement as a showcase for Sorelle as Chance basically turned them into the lead backup singers when he also had a whole chorus behind them. We'd have liked to see some of those clever arrangements the sisters are known for. Their harmonies were "fire" as always, but they didn't really get a chance to show off everything they're capable of on this track.
Gina Miles (w/ Niall Horan)
("New York State of Mind," Billy Joel) Well, it happens but if it's going to happen, it's better it happens with a friend. Niall sang circles around Gina on this one. She said before they hit the stage that her voice gets smaller when she's nervous, so we found ourselves wondering if she was nervous to be singing with her Coach. Whatever the problem was, she never really settled down vocally, while Niall sounded impeccable, as if this song was always his. It wasn't a great showing for GIna, but they do have a very cute rapport.
Grace West (w/ Blake Shelton)
("Lonely Tonight," Blake Shelton) Like NOIVAS, it was Grace who opted to honor Blake by singing one of his own songs. These were sweet tributes for his last show, giving him the chance to perform his own music and celebrating Blake as an artist as much as he's being celebrated as a Coach. They had an easy vocal partnership, creating a fun performance that showcased them both equally as consummate country pros.
NOIVAS (w/ Blake Shelton)
("Home," Michael Bublé [as performed by Blake Shelton]) Blake made sure to emphasize that NOIVAS chose this song, and he made sure NOIVAS would promise not to hurt him with his onstage wildness. The tender side of NOIVAS' voice is just as sweet and impressive as his full-throated belting. He and Blake came together very well on this track, which was a great choice for both of them on the last episode for both of them on their respective "Voice" journeys. It was poignant when NOIVAS gave Blake the final lines solo, showing their real camaraderie.
D.Smooth (w/ Kelly Clarkson)
("SLOW DANCING IN THE DARK," Joji) Kelly and D.Smooth definitely brought out the best in one another, giving us one of the season's smoothest (we know what we did there) moments. It really is the best description, though, because this performance slipped into this mesmerizing pocket and stayed in that groove throughout. Both of them had moments to shine, they harmonized like they've been singing together for years, and they really had us ready to slow dance in the dark, too. This was one of the best Coach duets ever.
FINAL RESULTS
Interestingly, our rankings for tonight's duet performances is completely out of whack with our predictions for how the season would play out, as we were predicting a 5th place finish for D.Smooth — despite his consistent and stellar vocals. We know it's about so much more than just that, despite the show's name.
We still think Team Blake will take home this final win, as much because it's his final season and he's the "King of The Voice," but also because his contestants really did deliver incredible performances during Monday's show. And with so much being made about Gina West being his last-ever button push and last-ever country artist — that could be just the edge she needs to win.
As a reminder, we'll re-share our predictions after Monday night's show so we can all point and laugh at how wrong we were — unless somehow we weren't! What did you do?
5th – D.Smooth
4th – Sorelle
3rd – NOIVAS
2nd – Gina Miles
1st – Grace West
So that's what we thought would happen. Here's what actually did happen.
winner winner !!!! it's literally perfect pic.twitter.com/GC5YvHLljG
— The Voice (@NBCTheVoice) May 24, [email protected]
5th Place: We didn't expect him to win, but we were a little surprised that NOIVAS fell all the way to 5th place. Look, we get that he had a rough night on Monday, definitely not living up to his own heights established earlier in the season, but are voters really that quick to forget? This is one of the most impressive voices we've ever seen on any show like this. He's got the goods, he just needs to go out and fight for them. Also, there was clearly no Blake bump for him!
4th Place: This one landed exactly as we thought it did, with Sorelle having also not risen to their own potential on Monday's show. The sisters are an incredible vocal act, though, with such versatile potential, we hope there's a place for them to make this their career. There's no one doing what they do. If Pentatonix can carve out a niche doing what they do, here's hoping Sorelle can find their own journey, as well. When they're on, they're just incredible.
3rd Place: It looks as if voters swapped NOIVAS and D.Smooth, as Kelly's crooner settled for 3rd place. If we're being truthful (and you can choose to believe us or not), we originally had these two artists switched, but really believed a Blake bump would push NOIVAS higher. D.Smooth had a stellar night on Monday, with consistency across both performances. If it were based on the whole season, he and NOIVAS would be battling for first and second, but here we are.
That left us with our top two choices in Gina Miles and Grace West. Gina is incredible at what she does, but this has to be Blake's season. If anything, perhaps this supporters rallying behind his last country singer actually hurt NOIVAS in the voting. We'll never know that, but we will say that Gina had one incredible performance and one solid performance, while Grace was great twice. Carson revealed this was the closest margin of victory in "Voice" history, but we still thought Blake nabbed one last win.
2nd Place: In perhaps the most shocking upset of the entire season, Blake and Grace West had to settle for that close margin to soften the blow of landing in 2nd place. The good news is that when it comes to country music and this show, and Blake's support, winning doesn't matter. Grace is going to be just fine and given all the opportunities to make her mark in the industry — deservedly so, we might add.
Winner: We loved Gina Miles' stunned expression when she was announced as the winner, because we were just as shocked as she was. That said, when she goes haunting, we can't get it out of our heads, and she slayed that final song of the night on Monday. The type of sound Gina excels in is also a sound that's dominating popular music, so if she strikes fast, she can really have a shot at joining the party and launching a career. She's fantastic in that sub-genre of pop.
This is also a great start for first-time Coach Niall, who will return next season as the reigning champion. Has the son surpassed the father and become the new "King of The Voice"? Only time will tell!
Waiting for your permission to load the Instagram Media.
And for anyone wondering what happened to Blake's iconic chair — well, Gwen pulled some strings. Seems she knows someone or something.
"The Voice" returns for Season 24 in the fall with returning Coaches Niall Horan, John Legend, and Gwen Stefani, joined by new Coach Reba McEntire.
Getty