Kim Kardashian Breaks Down Over Leaked Texts, Sex Tape and Drake Drama with Kanye West on Kardashians Premiere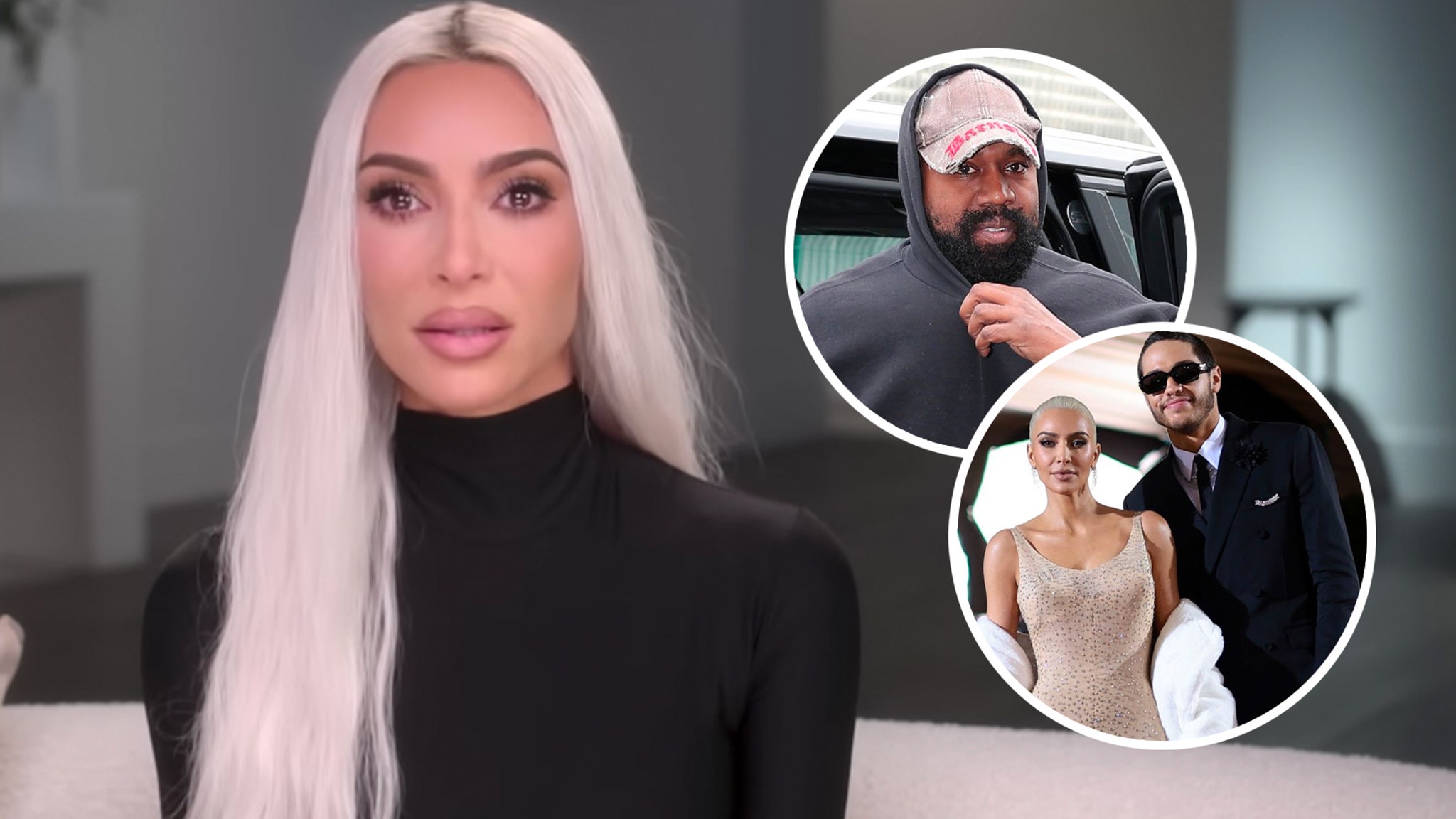 Kim Kardashian Breaks Down Over Leaked Texts, Sex Tape and Drake Drama with Kanye West on Kardashians Premiere,On the Season 3 premiere of The Kardashians, Kim reflects on her split from Pete Davidson and ongoing drama with ex-husband Kanye West.
Kim Kardashian Breaks Down Over Leaked Texts, Sex Tape and Drake Drama with Kanye West on Kardashians Premiere
Kardashian reflects on her split from Pete Davidson — saying he "went through a lot" during their time together — before saying West's "shenanigans are going to be far more damaging to the kids one day than my tape will ever be."
Kim Kardashian kicked off the new season of "The Kardashians" by reflecting on two of her past relationships, getting emotional as she opened up about how messy things have become with Kanye West especially.
The premiere started with Kim's producer noting that at the end of the previous season, she was "still in a relationship" with Pete Davidson. "I was? Damn," Kardashian exclaimed in a confessional, adding that she's now single but "not ready to mingle."
And she spoke a bit more about the split with Scott Disick and Khloe Kardashian, she said that while "breakups are not my thing," she was "proud" of herself for how she and Pete ended things.
"We had talks and talks, we had been talking about it, both of us communicating really well about it. It's obviously sad. 9 months. It's a long time, I don't have random hookups," she said. "And there was a lot of guilt, he went through a lot because of my relationship."
While the two were together, Pete was often targeted online by West, who also publicly called out Kim and her family over coparenting issues. Looking ahead, Kim wondered whether all the baggage attached to her would affect her future dating prospects.
"I go back and forth in my feelings sometimes," she said. "Who's ever gonna want to date me? I've got four kids, I'm in my 40s, oh my god, who's gonna want to deal with the dramz? But my person will be like, F— all that. I'm just waiting for that person."
She went on to suggest Kanye was even to blame for one of her psoriasis flareups — exclaiming, "Tell the father of my children to stop acting up and then I won't stress out and get psoriasis!" In the same conversation, she went on to tell her mother Kris Jenner that she wanted to "stay single" for a bit, loves "being alone" and wished she could "just live my life and not date or date dive people if I want to!"
Toward the end of the hour, she had another, more emotionally-charged conversation with her mother, following a 2022 incident where West leaked text messages between himself and Kim to Instagram in which he slammed her mother, Kardashian's sex tape and Pete.
"I spent my whole morning having an anxiety attack, I felt like I just couldn't breathe all day. You know when you're just on the verge of tears and if feels like your throat, like you're about to cry? That's how I felt all day," said Kim. "Even through all the craziness of everything Kanye says about us, I never comment, I never post, he has made up the most insane narrative about you and the tape and we stay silent through all the lies, all the stuff."
In a confessional, Kim said that, at this point, she automatically assumes "everything I text Kanye is gonna be put on the internet," adding that while she can handle the drama, she was also "really heartbroken for my mom" for having to deal with "so much" as well. Kris, however, tried to remain zen about it — saying that people can't control others before adding that Kanye was "doing this to himself."
"Even how he looks so down on me for my tape and brings it up all over town, all over the media, thanks for reminding people once again," Kim continued. "All his shenanigans are going to be far more damaging to the kids one day than my tape will ever be and I have to sit here and not say anything ever because I know one day my kids will appreciate that and I know that's the best thing for them."
She went on to claim that even while his antics sometimes leave her feeling like "inside I'm dying," she still has to put on a happy face for their children, who are still enamored with their father.
"I get in the car and everyday the kids want to blast dad's music and I'm like, 'He's the best,' I put it on and we're singing along … and inside I'm dying," she said. "I will be his biggest cheerleader to them forever. One day, I'll answer whatever they want me to."
After Kris said his behavior was "too much for one person too take," Kim admitted that "it's a lot" — especially since he was someone who was "supposed to protect me and still does interviews saying they will be my forever protector" while also "hurting me the most."
"He was the one that started a rumor that said I was hooking up with Drake, having an affair, his whole marriage he accused me of that, publicly," she continued. "So the person that's supposed to protect me the most, publicly would accuse me of having an affair. I really can't wrap my head around who he thinks he is a protector!"
Kardashian also said that West would even ask for "approval" on what she says about him on the family's reality show, while he — at the same time — would be talking about her in his songs and interviews without her permission. "I never say anything bad, I never say anything negative. I'm exhausted, I feel guilty about that. I am f—ing exhausted," she added.
She then began to break down as she wished everyone around her could "get their s— together" so she could feel the freedom to "lose it once" herself. "I can't even be overwhelmed and have a bad day because no one else has their s— together. I just feel bad and I don't know why I feel bad," she continued, before saying she no longer wanted to be part of West's "narrative," something she fears she'll be "stuck with" for "the rest of" her life.
"It's just always so intense. I don't want to engage with a public feud with him. I feel like I have to do something, especially when it involves other people and it hurts other people," she concluded in a confessional. "Hurt me, just keep it with me. I don't want to talk about this anymore, let's talk about something else."
The episode ended with her in tears, as her off-camera producer asked what was making her cry. Her response: "Everything."
New episodes of "The Kardashians" air Thursdays on Hulu.