Natalie Portman Called Out The Double Standards Women Face At Cannes A Day Before Jennifer Lawrence Was Critiqued For Wearing Flip Flops On The Red Carpet Instead Of Heels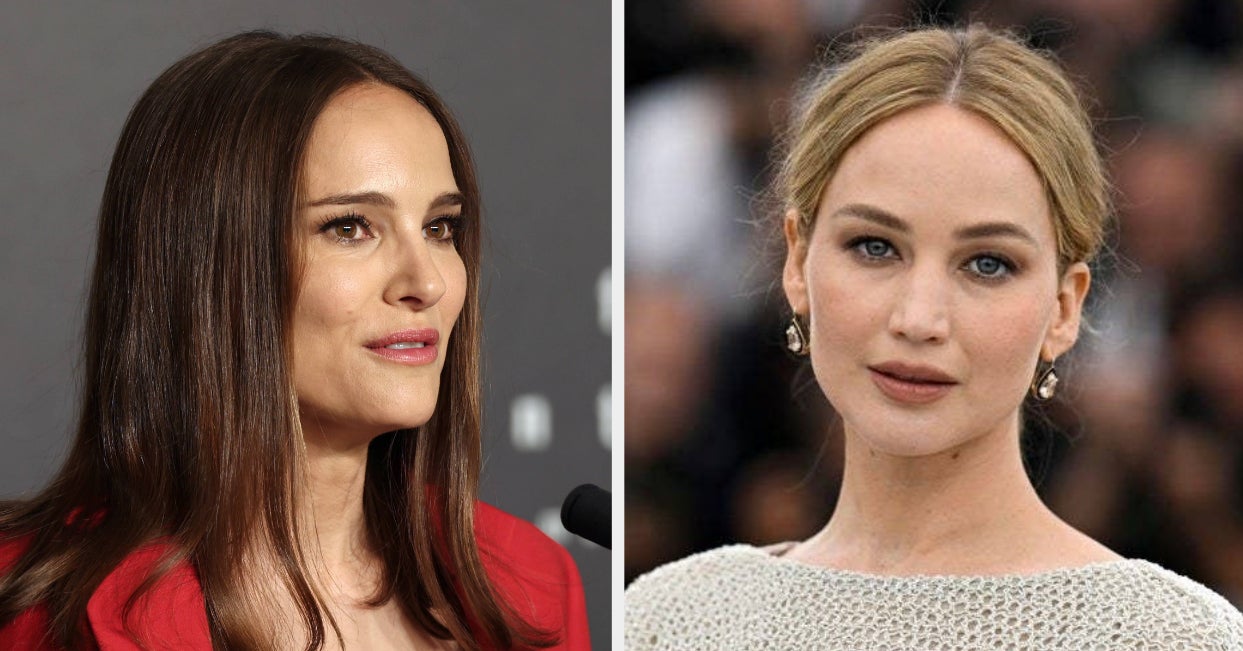 Natalie Portman Called Out The Double Standards Women Face At Cannes A Day Before Jennifer Lawrence Was Critiqued For Wearing Flip Flops On The Red Carpet Instead Of Heels,"The expectations are different on you all the time, and it affects how you behave — whether you're buying into it, whether you're rejecting it, or whether you're doing something in between."
Natalie Portman Called Out The Double Standards Women Face At Cannes A Day Before Jennifer Lawrence Was Critiqued For Wearing Flip Flops On The Red Carpet Instead Of Heels
Natalie Portman has called out the double standards women face at Cannes Film Festival.
Speaking out about the project during a press conference on May 20, Natalie discussed how the movie is about "the different roles we play in different environments."
"The whole film is so much about performance and the different roles we play in different environments, for different people, for ourselves," she told reporters.
"Of course, performing femininity is, I think, a recurring theme in Todd's films as well, and something I'm definitely very curious about and interested in," she added.
Natalie went on to discuss how this theme of "performing femininity" was also prevalent in real life at Cannes, calling out the "different ways" that women are "expected to behave" and "supposed to look" at the festival.
"Even here — the different ways we as women are expected to behave at this festival even compared to men," she said.
"How we're supposed to look, how we're supposed to carry ourselves," she explained.
"The expectations are different on you all the time, and it affects how you behave — whether you're buying into it, whether you're rejecting it, or whether you're doing something in between," she added. "You're definitely defined by the social structures upon you."
Several social media users agreed with Natalie's comments, taking to Twitter to express their thoughts on the subject.
"Unfortunately it's true," one person wrote, while someone else agreed that "she's right."
And Natalie's remarks were all the more interesting in light of the strict rules around women's clothing at Cannes — something that has been an ongoing topic of discussion for years.
It's widely reported that the organizers of Cannes insist that the women in attendance wear heels at all the events.
The unspoken rule has been defied by celebrities time and again over the years. In 2018, Kristen Stewart protested by taking off her Christian Louboutin heels while she was halfway down the red carpet. Just a couple of years prior, in 2016, Julia Roberts had done the same thing.
And this year, several celebrities have protested the rule once more. Cate Blanchett arrived barefoot, Isabelle Huppert wore what Vogue have described as "naked shoes," and, perhaps most notably, Jennifer Lawrence walked the red carpet in a pair of flip flops.
Jennifer's decision to walk the carpet in flip flops came just a day after Natalie's comments. Yet, she was still labeled "tacky" over her choice of footwear by internet users who called the move "highly illegal."
But, on the other hand, many fans praised Jen for opting for "comfort" over style and making a statement.
"What a Queen. Comfort is key!!" someone tweeted.
What a Queen. Comfort is key!! https://t.co/3Y8Optu5su
— ??????? ???? (@Jamaineleahx) May 22, 2023Photo: Stephane Cardinale – Corbis / Corbis via Getty Images
"she so real for that," said another user.
she so real for that https://t.co/iiOadVvmhE
— ???? ?️ (@iashrnidnai) May 22, 2023Photo: Stephane Cardinale – Corbis / Corbis via Getty Images
More on this
People Are Praising Natalie Portman For Her Replica Christian Dior Gown At CannesClaudia Santos · May 22, 2023
Jennifer Lawrence Looked Stunning In A Red Gown At Cannes And Paired It With The Most Sensible Shoe ChoiceNora Dominick · May 22, 2023
Outrage After Women Are Turned Away From The Red Carpet At Cannes For Wearing FlatsAlan White · May 19, 2015