The Idol: Sam Levinson's Troubled Production Is Too Much Glitter, Not Enough Gold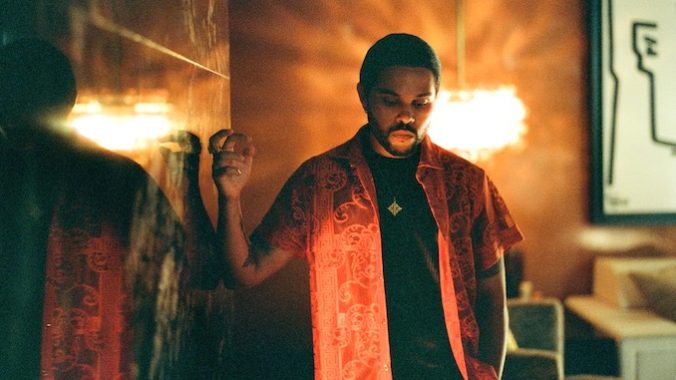 The Idol: Sam Levinson's Troubled Production Is Too Much Glitter, Not Enough Gold,Sam Levinson's The Idol on HBO is just as controversial as rumored, but all that style and sexuality does not a good show make.
The Idol: Sam Levinson's Troubled Production Is Too Much Glitter, Not Enough Gold
Most things that get touted as controversial end up being dull. The Idol, Sam Levinson's 6-episode collaboration with The Weeknd starring Abel Tesfaye and Lily-Rose Depp, could not have arrived with more noise—not just for its lurid and copious depictions of nudity, sex, and distresses both emotional and physical in LA's music industry, but for the fact that, reportedly, the production was an unhinged nightmare. Levinson stepped in to write and direct the whole show after original director Amy Seimetz (She Dies Tomorrow, The Girlfriend Experience) was ousted from the project after key creatives thought it was leaning too hard into "a female perspective." The fact that Levinson was deemed suitable to readdress such a leaning is, frankly, telling.
The show was also subject to multiple claims of onset toxicity, with massive egos, in-the-moment alterations, and the choice to centralize an uglier, more masculine narrative. This tracked for those familiar with Levinson's version of auteurism, which has allegedly resulted in verbal altercations, demeaning behaviour towards crew, and lapses in health and safety. So when it comes to The Idol tackling the parasitic, dangerous male ego and the ways industry will tolerate and reward it, it seems like the call is coming from inside the house.
From the two episodes made available to critics (given that they were willing to relocate to the south of France to get them), The Idol makes its intentions clear: It wants to shock, yes, to relish in the spectacle and traumas of a perilous, punishing, but always bewitching industry. But it also wants desperately to be liked, to be considered current, cutting, and empathetic. It's not that Episodes 1 and 2 are outright failures, but they are always transparent; the show wants to be regarded with a certain kind of prestige, to trigger specific, calculated provocations, with all the character work and visual language reverse-engineered to support this goal.
When we meet Jocelyn (Depp), already a major but flagging pop star who's still grieving the recent loss of her mother, she's half-dressed posing for a model shoot—which a pesky intimacy coordinator tries to thwart because Jocelyn is contractually forbidden from showing nudity, despite everyone else on set, including the model, consenting to it (I don't think this situation has ever happened). Later, Jocelyn reacts to a breaking scandal of revenge porn of her being leaked online in a more muted tone than her extensive management team. Do these blasé feelings hint at a desensitisation to sex, especially when it's dripping in the male gaze?
Associating Jocelyn's history of mental illness with a difficult relationship to sex is a troubling and queasy link to make, one The Idol tiptoes around without explicitly saying. Still, her characterisation feels overly constructed; Jocelyn is invulnerable to the first major sexual violation we see her go through, and already wields relative autonomy over her body (which is supported by her team) because she was written that way, which flattens most of the drama when a nightclub owner, Tedros (Tesfaye), is welcomed into her fold to transform her career and elevate her image, sound, and identity on her terms.
Jocelyn's journey is one of creative control; her cabal of managers, publicists, and producers have sunk too much money into her career for her to be allowed any real say on what type of music she makes, or even given her breathing room to figure out what her sound is. Jocelyn's voice is  suppressed with industry buzzwords and performative sympathy. Her team is populated by terrific performers—Jane Adams, Hank Azaria, Dan Levy, and a standout Rachel Sennott—for the capable and committed Depp to bounce off of. These scenes give the best sense of a celebrity in mourning, whose committed employees can't offer her the space or vocabulary to channel complicated, self-destructive feelings. This comes to a head in the highlight of the first two episodes, where Jocelyn, after having her creative drive awoken by just meeting Tedros, becomes a perfectionist on the set of her music video, making everyone repeat sequences over and over until she's a crying, injured wreck.
The problem is, because we're given limited insight into Jocelyn's life before the loss of her mother, we don't actually know how talented a singer she is. Her new song sounds, intentionally, like catchy disposable guff, but despite her protestations that she wants to be a once-in-a-generation talent and doesn't know how to commit towards anything else, it all sounds like the wafflings of another starlet who's been told "yes" to many times, and whose complex emotional state makes her a mark for a cult leader. Again, maybe this is intentional, it's hard to say with such a limited glance at the story.
Which brings us to "The Weeknd" of it all; Tesfaye is pretty bad in The Idol. Based on Jocelyn's reaction to him, he's clearly meant to be glowing with charisma in his first scenes, but just comes across fake. More egregious are his later moments where he helps improve Jocelyn's sound via kink, and despite Tesfaye's best efforts to be hypnotising, it's all just very flat. His lack of chemistry with Depp (not for lack of trying on her part) isn't helped by erotic scenes bereft of eroticism, making their connection feel far more laboured than it should. 
Levinson's filmmaking is often touted as "style over substance," which is of course a misnomer since film and TV use a visual language where style shapes and conditions what we see, hear, and feel—style is the substance. But in The Idol, the substance-through-style is just as phoney, uninspired and manipulative as the corporate machinations of the music industry Jocelyn is trapped by. Seimetz's absence is keenly felt, and even though the following four episodes will see some swift narrative progress, The Idol has set itself up with too much glitter and not enough gold.
The Idol premieres Sunday, June 9th on HBO, and will be available to stream on Max.
---
Rory Doherty is a screenwriter, playwright and culture writer based in Edinburgh, Scotland. You can follow his thoughts about all things stories @roryhasopinions.
For all the latest TV news, reviews, lists and features, follow @Paste_TV.