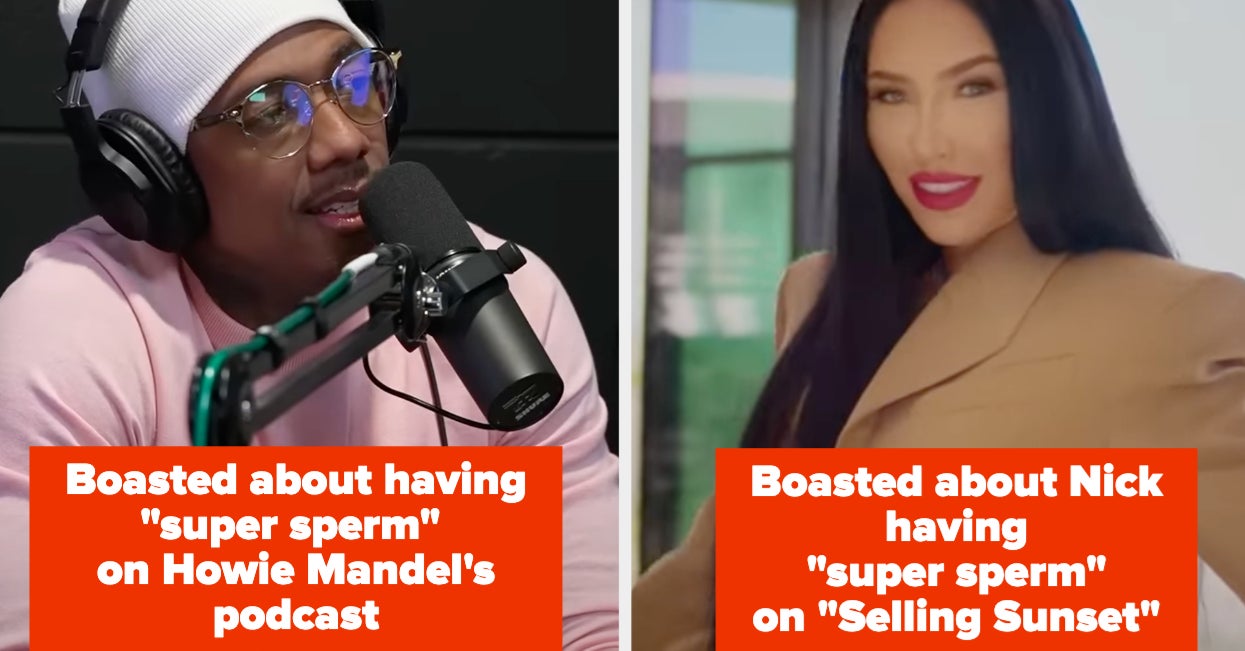 Bre Tiesi's "Selling Sunset" Costars Were Curious About Her Relationship With Nick Cannon, And The Conversation Was Bizarre From Top To Bottom,"I'm not a monogamy kind of person."
Bre Tiesi's "Selling Sunset" Costars Were Curious About Her Relationship With Nick Cannon, And The Conversation Was Bizarre From Top To Bottom
Warning: Minor spoilers for Selling Sunset ahead! 
If you haven't been following the baby chronicles that are Nick Cannon's life…climb on board, because you're about to pe headfirst into about 30 feet of water.
Nick Cannon is the father of 12 children who are mothered by six different women — and nine of those children were actually born within a span of just two years.
Nick welcomed a child, Legendary Love Cannon, with Bre Tiesi back in June 2022. Nick has since had four more children. Before having a child with Nick, Bre was a former Wild 'N Out girl and was actually married to football player Johnny Manziel from 2018–2021. She also worked at the Keller Williams real estate agency in Beverly Hills.
So, the sixth season of Selling Sunset found itself a new addition to the lineup of real estate agents when it debuted earlier this month — yep, Bre.
Now, this is when things start to get, frankly, more interesting than they already are. On Season 6, Episode 3 of Selling Sunset, the girls sat down in the office and had a talk with Bre about her relationship with Nick.
Fellow real estate agent Emma Hernan asked Bre if she's single, and Bre responded by letting everyone know that her "situation is interesting."
Bre continued to explain to the rest of the room that she doesn't want to call her and Nick's relationship "open," but that is in fact what it is. Another fellow real estate agent, Chelsea Lazkani, then asked if she would consider it a "polyamorous relationship," to which Tiesi replied, "I don't know about that. I just know we had a baby, we're really happy, so I'm really happy in my relationship now."
As the conversation progressed, it was clear that everyone really wanted to know what was actually happening with Bre and Nick.
She explained that he films for three weeks, and when he comes back, she sees him every day and every night. Well, Chelsea then took it upon herself to interrupt and say, "How are you seeing him every morning if he's seeing other people?"
Bre immediately let her know, "I know that for me, I'm going to do what works for me, and I really don't care how anyone feels about it."
Chelsea also got by sliding in a shady comment: "So he'll stop somewhere at 6:00 a.m., 8:00 a.m.; by the time he's on the third person, it's like 2:00 p.m."
And Bre handled herself and the antics beautifully by simply responding, "Who knows? He makes his rounds, girl."
After Chelsea's wild amount of questions and slightly shady comments, Bre went on to explain that she usually knows when Nick is set to have another kid. Someone off camera, over the increasing sounds of confusion, then asked, "Does he have super sperm?!" and Bre responded, "He definitely has super sperm, because my child is brilliant."
Oh, but it gets even weirder, because this isn't the first time that Nick Cannon and "super sperm" have been put in the same conversation.
Nick actually did an interview with Howie Mandel last month on his podcast Howie Mandel Does Stuff and proceeded to tell him, "I'm gonna be honest, I got some super sperm or something 'cause I've practiced birth control, and people still got pregnant."
Do you watch Selling Sunset or just have plenty to say about Nick Cannon? Please let us know what you think in the comments, because I feel like this could be a thing for a while and I need all of the jokes I can get about it.