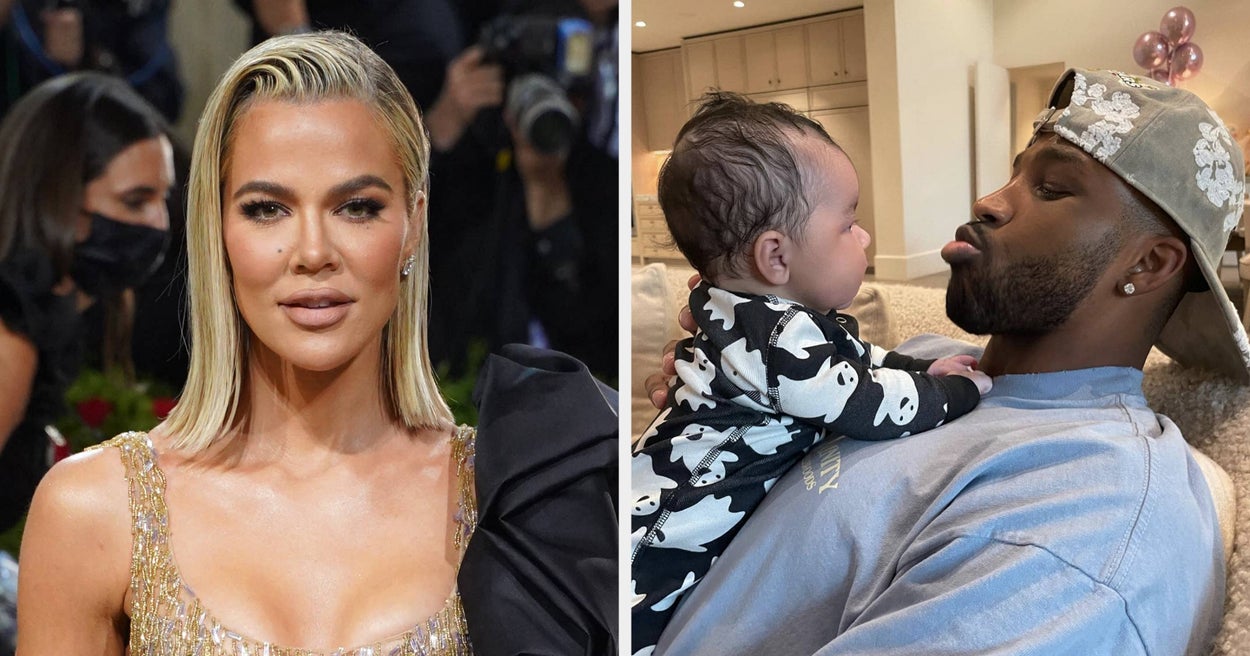 Khloé And Kim Kardashian Had A Super Honest Chat About Their Different Surrogacy Experiences After Khloé Admitted She Felt Less Connected To Her Second Child,"Kim said hers was easy. This is not easy... I wish someone was honest about surrogacy and the difference of it."
Khloé And Kim Kardashian Had A Super Honest Chat About Their Different Surrogacy Experiences After Khloé Admitted She Felt Less Connected To Her Second Child
Last summer, Khloé Kardashian and her ex-boyfriend, Tristan Thompson, welcomed their second child via surrogate.
It turned out that Tristan had secretly impregnated another woman, Maralee Nichols, outside of his and Khloé's relationship. He initially denied that the baby was his, though ultimately admitted that he was in fact the father of Maralee's son after taking a DNA test.
"Did Tristan have every opportunity to tell me? Yes," she continued. "Was Tristan going to tell me if there wasn't a baby involved? Absolutely not, and that shows a lot about his character. The entire thing is despicable."
Khloé appeared to be in a state of shock throughout the scene, even remaining uncharacteristically quiet when her family visited later to meet the little boy at her home.
Well now, Season 3 of the Hulu show has dropped, and we've learned a bunch of new details about how Khloé was coping in the wake of her son's birth.
In the premiere episode, which aired on Thursday, Khloé sat down for a candid chat about her surrogacy experience with Scott Disick and Kim, who also welcomed her third and fourth children via surrogates after suffering a series of health complications.
"A surrogate process, Kim knows, it's really hard for me," Khloé says. Kim nods in agreement, adding that Khloé "had a really hard time accepting the whole process."
"I do think that there's a difference when the baby is in your belly," she says. "The baby actually feels your real heart — think about it."
After Scott reassures her that it'll "take a minute" before she does feel connected to her son, Khloé says, "Kim said hers was easy. This is not easy."
"I definitely buried my head in the sand during that pregnancy," she says.
"I didn't digest what was happening," she continues. "So I think when I went to the hospital, I really think that was the first time that it really registered."
Khloé then reveals that she was in fact in a "state of shock" while the baby was being born, before admitting that she felt "really guilty" when she had to take the little boy from the surrogate.
"I definitely was in a state of shock — I think from my entire experience in general," she says.
You can watch the latest episode of The Kardashians on Hulu now, or on Disney+ internationally. The next episode will be available to watch on June 1.
More on this
Khloé Kardashian Shared Never-Before-Seen Footage From The Birth Of Her Son, And It Was So SweetAlex Gurley · Sept. 22, 2022
The Exact Timeline Of Khloé Kardashian And Tristan Thompson's Surrogacy Journey Has Been Revealed And It's Even Worse Than You Can ImagineStephanie Soteriou · Sept. 22, 2022
Khloé Kardashian Questioned Why Tristan Thompson Wouldn't "Wear A Condom" Or "Get A Vasectomy" After Her Raw Reaction To His Paternity Scandal Was Finally RevealedStephanie Soteriou · June 16, 2022
Here's How Each Member Of The Kardashian Family Reacted In Real Time To The News of Tristan Thompson's Shocking Paternity ScandalEllen Durney · June 16, 2022