'Based on a True Story' Stars Tease 'Incredibly Ballsy and Unpredictable' New Peacock Series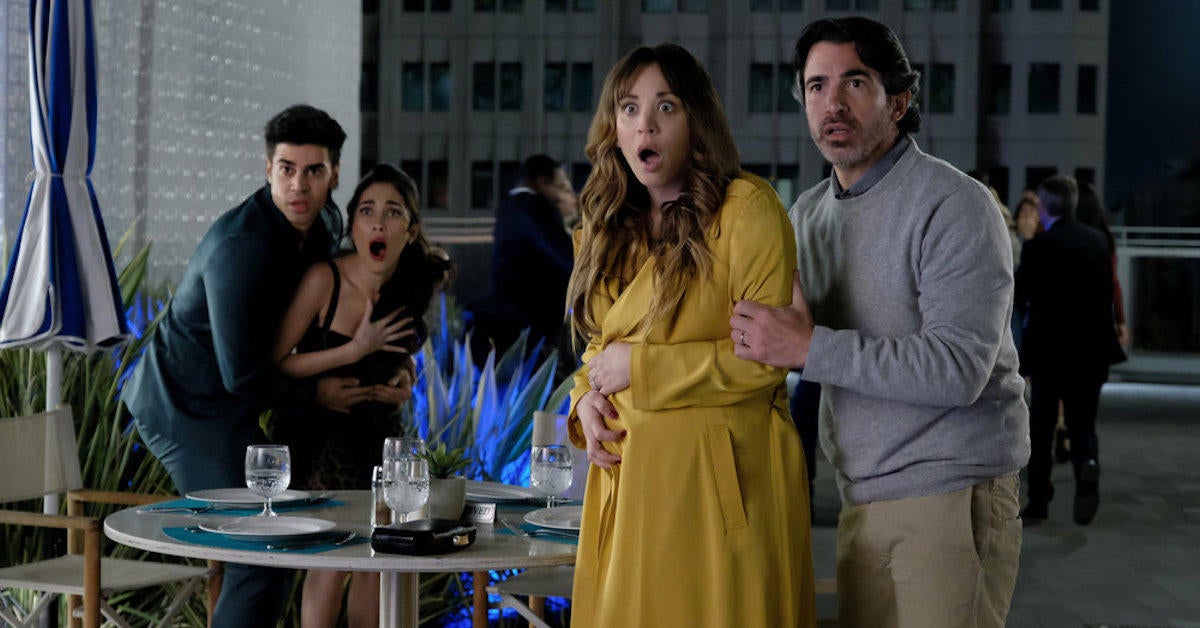 'Based on a True Story' Stars Tease 'Incredibly Ballsy and Unpredictable' New Peacock Series,True crime fans are ready to dive into the mystery behind the 'incredibly ballsy and unpredictable' new Peacock series Based on a True Story. Before all eight episodes of the Kaley Cuoco and Chris Messina-led dark comedic thriller drop on Thursday, June 8, stars Priscilla Quintana and Liana [...]
'Based on a True Story' Stars Tease 'Incredibly Ballsy and Unpredictable' New Peacock Series
True crime fans are ready to dive into the mystery behind the "incredibly ballsy and unpredictable" new Peacock series Based on a True Story. Before all eight episodes of the Kaley Cuoco and Chris Messina-led dark comedic thriller drop on Thursday, June 8, stars Priscilla Quintana and Liana Liberato opened up to PopCulture.com about the twists and turns the audience is about to embark on.
In Based on a True Story, married couple Ava (Kaley Cuoco) and Nathan Bartlett (Chris Messina) "seize a unique opportunity to capitalize on America's obsession with true crime" when they find themselves struggling to make ends meet and keep up with their wealthy friends.
Quintana, who plays the "very rich" and "very fabulous" Ruby Gale, teased to PopCulture that her character "has come up with this way in life to always get what she wants, but she doesn't really care whose expense that it's at," hinting that she can be "a little bit manipulative sometimes." Liberato, on the other hand, plays Ava's sister, Tory Thompson, whom she described as the "moral compass of the show, which sort of causes a bit of struggle and some obstacles in Ava and Nathan's life throughout the season."
Reading through the twists and turns of the series scripts for the first time was eventful for both Liberato and Quintana. "It was such a page-turner reading it, and I think that once people start watching it, they're not going to be able to stop after one or two or three episodes," Quintana said. "You've got to watch it all the way through. Treat it as a television event, a streaming event. And yeah, think of it as something to digest all at once, I think, because you're just not going to be able to turn it off." Liberato agreed, "It's a very bingeable series. Very bite-sized and fun and incredibly ballsy and unpredictable."
Tapping into the phenomenon that true crime obsession in American culture has become was a fascinating exploration for the cast, many of whom are true crime junkies themselves. "It's like a weird form of not meditation, but tapping out," Liberato explained. "Which is strange that we're tapping out to something that's so violent and true." Quintana added, "I think it's also incredibly informative and educational. I've learned so much about how to protect myself, what to do [and] what not to do." Based on a True Story drops all eight episodes Thursday, June 8 on Peacock.
0comments
Related:
Everything Coming to Netflix, Max, Disney+, Apple TV+, Amazon, Hulu and Peacock in June 2023
'Shooting Stars': Caleb McLaughlin Talks Playing Basketball Star in Peacock Film (Exclusive)